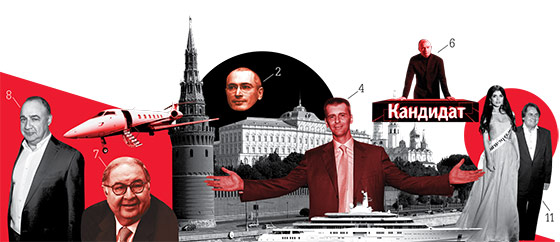 The first wave of Russian oligarchs made their money grabbing privatized state assets during the go-go nineties. The recent financial troubles in Cyprus, where Russians had over $70 billion invested in banks and companies, as well as the death of Boris Berezovsky (allegedly a suicide) after a punishing legal battle with fellow oligarch Roman Abramovich, have served as reminders to be careful players, both in their investments and personal lives. Here, some of the more noteworthy moguls.
1. Yacht King:
Roman Abramovich
He made billions selling his energy holdings to Putin's government-run oil company, Gazprom. Just before Berezovsky 's death, Abramovich won a suit for control of Sibneft, the oil company that they formed together. His other properties include the British soccer team Chelsea FC, a growing contemporary-art collection, and the world's largest private yacht, The Eclipse, rumored to have its own missile-defense system.
Worth $10.2 billion.
2. Putin's Nemesis:
Mikhail Khodorkovsky
Once the richest man in Russia, he became a vocal critic of Kremlin corruption under Putin. His opposition landed him in jail in 2003 on charges of fraud and tax evasion. (He gets out in 2014.) The state seized most of his holdings, but he was once worth $15 billion.
3. Big Spender:
Dmitry Rybolovlev
This fertilizer don famously bought the most expensive apartment ever sold in New York City, for $88 million, ostensibly as a weekend pied-à-terre for his daughter Ekaterina. More recently, he's been working behind the scenes to shore up the Bank of Cyprus, of which he owns 9.7 percent.
Worth $9.1 billion.
4. Courtside Czar:
Mikhail Prokhorov
At six-foot-eight, the majority owner of the Brooklyn Nets could be mistaken for a benched player. Last year, he ran against Putin for president, though some allege his candidacy was a sham orchestrated by the Kremlin.
Worth $13 billion.
5. Newsman:
Alexander Lebedev
Known as much for antagonizing Putin as for his banking wealth, the former KGB agent co-owns a Russian opposition newspaper as well as Britain's Evening Standard and The Independent.
Worth $1.1 billion.
6. Media Mogul:
Vladimir Potanin
The Soviet answer to Donald Trump, he hosted the Russian Apprentice, owns the company behind MTV Russia, and is one of the developers of Sochi, site of the 2014 Winter Olympics.
Worth $14.3 billion.
7. Ur-Oligarch:
Alisher Usmanov
An early investor in Facebook, Usmanov started out in the plastic-bag hustle and now controls vast holdings through his companies based in Cyprus and the Virgin Islands.
Worth $17.6 billion.
8. Music-Maker:
Len Blavatnik
Though he moved to the U.S. well before Russia's privatization gold rush, his friends back in Russia helped him invest in the metal and energy booms. Now he concentrates on Western prestige properties like Warner Music Group, purchased for $3.3 billion in 2011, and French luxury hotels.
Worth $16 billion.
9. Sparring Partner:
Arkady Rotenberg
Rotenberg recently received an astonishing $7.4 billion in contracts for the 2014 Winter Olympics, which are already believed to be the most expensive Olympics ever. He's the former judo partner of childhood friend Vladimir Putin.
Worth $3.3 billion.
10. Digital Don:
Yuri Milner
After rising to prominence during the first Internet boom by acquiring Russian equivalents to eBay, Amazon, and GeoCities, Milner became a major Silicon Valley investor as well as the owner of a Palo Alto château for which he paid $100 million (tax assessors value the property at half that sum).
Worth $1.1 billion.
11. Luxury Titan:
Roustam Tariko
A former street sweeper, he imported Ferrero Rocher chocolates in the last days of the Soviet Union. He went on to found the vodka distillery Russian Standard, then a bank with the same name. He also sponsors the Miss Russia pageant and owns a $25.5 million home on Miami's Star Island.
Worth $1.75 billion.
Have good intel? Send tips to intel@nymag.com.