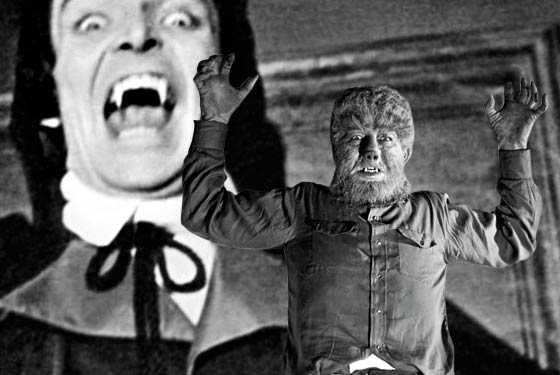 Move over, trendy vampires: The pack is back. This month, Universal updates its 1941 classic The Wolf Man with Benicio Del Toro as the accursed lycanthrope. MTV is hard at work on a TV remake of Teen Wolf, while Fox is developing Howl, about feuding werewolf families in a small Alaskan town (Wasilla?). Are werewolves—who've historically been second-class horror citizens behind chic, aristocratic vampires—finally getting their moment in the moonlight?
When Vampires and Werewolves Meet
Abbott and Costello Meet Frankenstein (1948)
Vampire Bela Lugosi turns into a bat to escape werewolf Lon Chaney Jr., who jumps out the window and mangles the bat in his claws; they both fall to their deaths on the rocks below.
Winner: Draw
Twilight: New Moon (2009)
The werewolves, who are buff Native American boys, exist to protect humanity from vampires, and are capable of killing the bloodsuckers. But Bella does choose vampire Edward over werewolf Jacob.
Winner: Vampires
Underworld Series (2003–9)
Vampires kill the leader of the Lycans, a werewolf race, with silver nitrate bullets; in a prequel, werewolves kept as servants by vampires rise up and defeat their masters.
Winner: Draw
Van Helsing (2004)
The legendary vampire-hunter Van Helsing turns into a werewolf in order to kill Dracula.
Winner: Werewolves
Why Vampires Are Cooler
"Vampires transcend our limits and werewolves wallow in them," notes Paul Bibeau, author of Sundays With Vlad. "To be a werewolf is to be hairy, sweaty, overcome with lust, and hunted as an outsider."
$191,465,414
Highest-grossing vampire movie Twilight, 2008
Total domestic box office of major studio films in various monster categories, adjusted for inflation, since 1975:
Aliens: $6,535,632,600
Killer Animals: $3,571,425,011
Vampires: $1,478,725,983
Zombies: $940,431,281
Mutants: $742,561,468
Werewolves: $405,934,313
$94,098,930
Highest-grossing werewolf movie Wolf, 1994
Moonlight Movies
1922: Nosferatu, a Symphony of Horror (vampire)
1931: Dracula (vampire)
1932: Vampyr (vampire)
1935: Werewolf of London (werewolf)
1941: The Wolf Man (werewolf)
1948: Abbott and Costello Meet Frankenstein (both)
1958: Horror of Dracula (vampire)
1961: The Curse of the Werewolf (werewolf)
1964: The Last Man on Earth (vampire)
1967: The Fearless Vampire Killers (vampire)
1975: In Search of Dracula (vampire)
1979: Nosferatu, the Vampyre (vampire)
1981: An American Werewolf in London (werewolf)
1984: The Company of Wolves (werewolf)
1985: Teen Wolf (werewolf)
1985: Silver Bullet (werewolf)
1987: The Lost Boys (vampire)
1992: Buffy the Vampire Slayer (vampire)
1992: Bram Stoker's Dracula (vampire)
1994: Wolf (werewolf)
1994: Interview With the Vampire (vampire)
1998-: Blade Series (vampire)
2003-: Underworld Series (both)
2004: Van Helsing (both)
2008-: Twilight Series (both)
2010: The Wolfman (werewolf)

Have good intel? Send tips to intel@nymag.com.