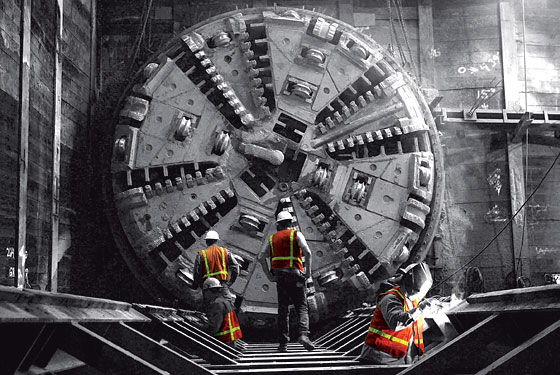 The Second Avenue subway project has inconvenienced many Upper East Siders, but things could be worse: Rail tunnels used to be created with dynamite, often with deadly results. These days, tunnel-boring machines (TBMs) do the job. The TBM digging Second Avenue's tunnel is now arriving in pieces at 91st Street, to be assembled underground.
THE MACHINE
44
Number of steel cutters on the TBM's face.
500 tons
Its weight.
$25 million
Cost to MTA to lease machine for Second Avenue project.
50–60 feet:
Distance that will be tunneled each day.
Diameter: 22 feet
Total Machine Length: 800 feet
A TUNNEL-BORING MACHINE MASHES THROUGH ROCK WITH 2.99 MILLION POUNDS OF FORCE.
(roughly the equivalent of 50 747 jet engines)
A History Of Mechanical Hole-Making
1853: Inventor Charles Wilson tests the first proto-TBM—"Wilson's Patented Stone-Cutting Machine"—in western Massachusetts. The drill gets ten feet into a Berkshire mountainside before getting stuck.
1900: Groundbreaking begins on New York's first subway line. Crews mainly use the "cut and cover" technique, gouging trenches using picks, shovels, and dynamite, then building a road back over the top. Building façades occasionally tumble into the trench.
1902: A worker blasting a tunnel in Murray Hill lights a candle, starting a blaze that ignites 548 pounds of dynamite, killing five.
1906 :So many workers die building the Pennsylvania Railroad's tunnels under the East and Hudson Rivers that managers mask the death toll by taking bodies to hospitals in Brooklyn and the Bronx. When the scandal breaks, workers unionize into what is today Local 147—the Sandhogs.
1913: The subway's second major construction push launches; workers ease traffic problems by overlaying trenches with temporary wooden streets. Trolley cars occasionally crash through the timber roads.
1952: Engineer James Robbins creates the modern TBM for a Missouri River dam project in South Dakota. In New York, highway construction takes priority over train tunnels.
1972: Workers use cut-and-cover to break ground on the Second Avenue subway line; only a mile of tunnel is completed before the seventies financial crisis halts construction.
1978: Extending what is now the F line, the MTA calls in its first TBM. The machine moles through 26 feet of earth per day, almost three times as much as the explosive-blasting method is capable of.
2007: A TBM starts linking LIRR tracks to Grand Central. By year's end, two more TBMs begin extending the No. 7 line west. And ground breaks once again on the Second Avenue subway, to be called the T line.
Have good intel? Send tips to intel@nymag.com.