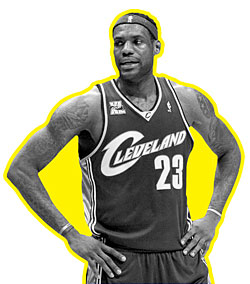 LeBron James is going to Miami; the Knicks, alas, will have to continue to rebuild the hard way. But take heart: They've signed All-Star forward Amar'e Stoudemire, traded for electric youngster Anthony Randolph, and still have plenty of extra cash. And things can hardly get any worse: Since LeBron was drafted in 2003, the Knicks have lost more games than any other NBA team. Here, what we hope is a last look back at all 72 players to hit the Garden floor in that era.
1. Shandon Anderson
Part of former G.M. Scott Layden's obsession with players from his former team in Utah.
2. Trevor Ariza
Later became key component of Lakers' 2008–9 championship team.
3. Vin Baker
Signed by Isiah Thomas after he was released by Celtics for being an alcoholic.
4. Renaldo Balkman
Taken by Thomas one spot ahead of Celtics All-Star point guard Rajon Rondo.
5. Matt Barnes
Played six games in 2005 before being waived; world champion Lakers rumored to be pursuing him.
6. Earl Barron
Came to Knicks from team called the Iowa Energy. Started six games.
7. Jonathan Bender
Ex-phenom limped out a few games for the Knicks last year.
8. Jamison Brewer
Part of the trade with the Spurs that ultimately landed David Lee.
9. Jackie Butler
Outplayed vastly more expensive centers Eddy Curry and Jerome James for Larry Brown.
10. Kelvin Cato
Plodding journeyman who mercifully ended his career at the Garden.
11. Wilson Chandler
One of the few players under contract for next season, and a key building block.
12. Mardy Collins
Mostly known for brutal foul on J. R. Smith that started a brawl.
13. Jamal Crawford
Electric scorer won Sixth Man of the Year award this season—for the Hawks.
14. Joe Crawford
Played two games in April 2009.
15. Eddy Curry
The last, portly vestige of Thomas's reign.
16. Antonio Davis
Traded for the first-round pick not used on Rajon Rondo.
17. Michael Doleac
Now getting his master's in physics at the University of Utah.
18. Toney Douglas
For now, the starting point guard.
19. Chris Duhon
Just signed four-year deal with Orlando.
20. Howard Eisley
Another Jazz castoff from Layden.
21. Steve Francis
Once-superb vet crippled by knee problems during Knicks run.
22. Channing Frye
Ended up as key starter for conference finalist Suns last season.
23. Danilo Gallinari
Probably the Knicks' best young player, made second-highest number of three-pointers in NBA last year.
24. J. R. Giddens
Received along with Bill Walker in Nate Robinson trade; team has already renounced his rights.
25. Anfernee "Penny" Hardaway
Former All-Star spent two seasons in NYC with arthritic knees.
26. Al Harrington
Second-leading scorer in 2009–10; now a free agent.
27. Othella Harrington
Now plays in Iran.
28. Jordan Hill
Traded to Houston for salary-cap space.
29. Eddie House
Received in Nate Robinson trade; won't be re-signed.
30. Allan Houston
Legitimately excellent Knick became contract albatross when knee gave out.
31. Larry Hughes
Knicks were the sixth of the seven teams Hughes has played for.
32. Jermaine Jackson
Not the singer.
33. Jerome James
Arguably worst free-agent signing in history of sports. Received five-year, $30 million deal in 2005; played four games in the last two years for Knicks.
34. Jared Jeffries
Not a bad role player. Traded away for cap space at last year's trading deadline.
35. DerMarr Johnson
Signed by Knicks one and a half years after breaking his neck in a car crash.
36. Fred Jones
Actually won the slam-dunk contest once, if you believe that.
37. Marcus Landry
Brother of Rockets star Carl Landry paid his own way to his Knicks tryout.
38. David Lee
The one player on this list to play in an All-Star Game in a Knicks jersey.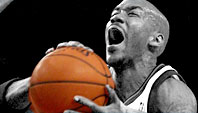 39. Stephon Marbury
Scowling, crazy face of a terrible decade.
40. Antonio McDyess
Received $26 million and played eighteen games (knee problems) during Knicks tenure. Later revived career in Detroit.
41. Tracy McGrady
Former star's cameo late last season failed to prove he can overcome knee problems.
42. Darko Milicic
Famous draft bust was traded to the T-Wolves for Brian Cardinal, who was then waived.
43. Nazr Mohammed
Averaged a near-double-double 10.9 points and 8.1 rebounds in one New York season.
44. Randolph Morris
First player in history to play in an NCAA and NBA game in the same week.
45. Dikembe Mutombo
Full name: Dikembe Mutombo Mpolondo Mukamba Jean-Jacques Wamutombo.
46. Demetris Nichols
Played two games in 2008–9 and scored five points.
47. Moochie Norris
Received for Clarence Weatherspoon in first trade Thomas ever made.
48. Zach Randolph
Consistent scorer and rebounder with persistent legal problems. Traded to cut salary.
49. Quentin Richardson
Played himself in Van Wilder.
50. Anthony Roberson
Plays in France.
51. Nate Robinson
Won three slam-dunk contests as a Knick while regularly driving coach Mike D'Antoni to drink.
52. Sergio Rodriguez
Late-season point-guard tryout in 2009–10 earned him a new contract … in Spain.
53. Jalen Rose
Now an analyst for ESPN.
54. Malik Rose
Allegedly attacked by Nate Robinson in team shower. Now a broadcaster.
55. Cheikh Samb
Sengalese center played two games in 2009.
56. Mouhamed Sene
Sengalese center played one game in 2009.
57. Courtney Sims
Played eleven minutes in one game in April 2009. Knicks lost.
58. Bruno Sundov
Seven-foot-two: Has played in Belgium and Cyprus since leaving Knicks.
59. Michael Sweetney
Known for wide bottom and supposed rebounding prowess.
60. Maurice Taylor
One of the main figures in University of Michigan basketball team NCAA-rules violations.
61. Kurt Thomas
Played seven solid seasons and averaged a double-double in 2004–5.
62. Tim Thomas
Played for Knicks three times; twice traded to Chicago Bulls.
63. Cezary Trybanski
Seven-foot-two Polish national played in three games and scored one point, or 0.3 points per game.
64. Ime Udoka
Small forward came to Knicks from the Fort Wayne Flyers and played eight games.
65. Keith Van Horn
Was actually on the cover of the NBA Jam '99 video game. Not as a Knick.
66. Bill Walker
Athletic three-point bomber was pleasant surprise for 2009–10 Knicks; will be back next year.
67. Charlie Ward
Made widely criticized anti-Semitic remarks at a team Bible study.
68. Clarence Weatherspoon
The first man Thomas traded away.
69. Chris Wilcox
Finished out the 2008–9 season with team and left as a free agent.
70. Frank Williams
Played from 2002 to '04. Arrested last year in Peoria for pot possession.
71. Jerome Williams
Waived by the Knicks in 2005 to avoid paying the luxury tax; retired two days later.
72. Qyntel Woods
Once convicted of dogfighting (a misdemeanor). Now plays in Poland.
Have good intel? Send tips to intel@nymag.com.