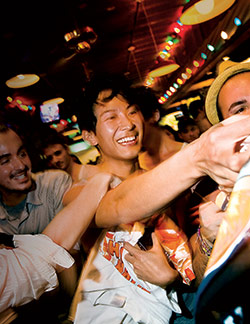 It may not show up on his résumé, but among the talents 28-year-old downtown designer Alexander Wang will bring to his new job as creative director of Balenciaga is this: The guy throws a great party. Here, a capsule history of the bashes that have followed his fall New York shows—and helped cement his popularity with fashion-world tastemakers.
Sept. 6, 2007
Garment District
People talked about:
A shirtless Steve Aoki performing for a sweaty crowd; the prom-photo booth with plastic crowns to pose with.
Sept. 6, 2008
Cortlandt Alley Basement
People talked about:
Foxy Brown getting down. Sweating. Again. (Like Wang's first party, this one seemed to lack A/C.)
Sept. 12, 2009
Mobil Gas Station, Meatpacking District
People talked about:
The hundreds-of-people-long line to get in. Grabbing free candy, soda, beer—and Veuve Clicquot—from the convenience store.
Sept. 11, 2010
Edison Parking Lot Under the High Line
People talked about:
The theme, a first for a Wang party, which incorporated bumper cars, a carousel, a bouncy castle—and Port-a-Potties—into a pop-up carnival.
Sept. 10, 2011
Pier 40
People talked about:
Getting fratty. Jamming to Odd Future. The bathtub of Budweisers. The glow-sticks, Ping-Pong tables, Jell-O shots (Cathy Horyn said they looked like "beef consommé"), and blow-up dolls.
Sept. 8, 2012
Emigrant Savings Bank Building
People talked about:
The metal detector (part of the bank-robber theme—or a symbol of the parties' increasing exclusivity). Staff wearing masks that looked like ex-presidents. A photo-studio owner getting coldcocked. What it would take to top it all next year.
Have good intel? Send tips to intel@nymag.com.