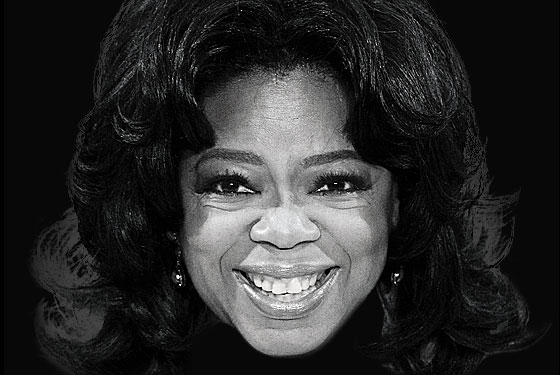 Multiplatform competition has sapped her ratings, but as Oprah Winfrey prepares for her last episode on May 25, she remains the undisputed queen of celebrity/lifestyle media, reaching more viewers a day—6 million—than the Today show. Here, a look at 25 years of being all things to all women.
PERSONAL REVELATIONS
1986
Introduces best friend, Gayle
1989
Introduces boyfriend, Stedman
1993
Introduces personal trainer, Bob Greene
2009
Introduces dog, Sadie
2011
Introduces secret half-sister, Patricia
MOST APPEARANCES BY CELEBRITY GUESTS
15
Will Smith
Billy Crystal
16
Tina Turner
Maria Shriver
Tom Cruise
Tyra Banks
18
Barbara Walters
Jim Carrey
20
John Travolta
21
Patti LaBelle
Julia Roberts
22
Halle Berry
Mariah Carey
26
Chris Rock
27
Céline Dion
GROUPS REUNITED ON TV BY OPRAH
Survivors of the Jonestown Massacre
The Little Rock 9
A family of Rwandan refugees
Cast of The Mary Tyler Moore Show
WHAT LIZ LEMON SAID THAT OPRAH SMELLED LIKE ON 30 ROCK:
Rose Water and Warm Laundry
THREE (SELF-REPORTED) OPRAH EXES
John Tesh
Reginald Chevalier*
Roger Ebert
*Billy Dee Williams look-alike; met on a pre-syndication episode on celebrity dopplegängers.
OPRAH'S (SELF-REPORTED) WEIGHT OVER THE YEARS
1987: 200
1988: 212
1988: 145
1992: 237
2004: 160
2008: 200
SECRETS REVEALED TO OPRAH
Homosexuality (Greg Louganis, 1995; Ricky Martin, 2010)
Fabulism (James Frey, 2006)
Pornography addiction (Gospel singer Kirk Franklin, 2005)
"Baby Addiction" (Nadya Suleman, 2011)
Incest (Mackenzie Phillips, 2009)
The original ending to the Twilight saga's New Moon (Stephenie Meyer, 2009)
Having the first name "Mary" (Oprah's fourth-grade teacher, Mrs. Duncan, 1989)
Abduction by aliens (Constance Morgan and Dorothy Wallis, 1987)
Being pregnant (Halle Berry, 2007)
Being pregnant while being a man (Thomas Beatie, 2008)
Favorite cereal brand (Al Gore, 2000; it's Wheaties)
MOST-WATCHED EPISODES
"Oprah Makeovers" (February 2, 1993)
"I Killed My Ex and His Wife" (March 2, 1992)
"Michael Jackson" (February 10, 1993)*
"Celebrity Hall of Fame" (February 11, 1993)
"Diet Dreams Come True" (November 15, 1988)
*Preview show that ran the afternoon of her prime-time interview with Jackson
Have good intel? Send tips to intel@nymag.com.