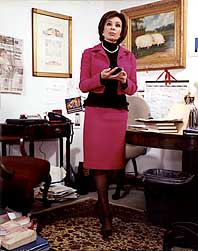 This time, Jeanine Pirro has come prepared. She's brought her chief of staff, her press secretary, and her lead policy adviser. She has her own tape recorder. The former three-term Westchester district attorney even has a large Styrofoam cup of coffee from Dunkin' Donuts whose size seems to indicate she is ready to hunker down for as long as necessary.
Pirro is in a small conference room at her campaign headquarters on the fourth floor of Gateway Plaza, a black glass office building across from the Metro-North station in White Plains. She is wearing a beautifully tailored graphite suit set off by a soft sweater-top in one of the vivid, hothouse-flower colors—today it's a sea-foam green—that have become a trademark.
Pirro smiles often and broadly, she laughs loudly, and she talks about what she calls her issues (protecting children, women, and the elderly). What she does not want to discuss is the elephant in the room: the Republican machine that had picked her as its standard-bearer against Senator Hillary Clinton, thrust her onto the front lines unprepared, and then abandoned her when it was clear she was making no headway.
"You wanna talk about my dogs?" Pirro asks at one point, only half-joking, desperately trying to change the direction of the conversation. "Look, when I realized that the political and financial support were not there to beat Hillary, I made the decision to run for attorney general. I'm a realist."

Now that she's back on familiar ground, running for attorney general, she has mostly regained her equilibrium. Gone is that caught-in-the-headlights look that was permanently stamped on her face during the Senate run. Her most humiliating moment came right at the beginning, during her announcement: the now-famous 32 seconds of silence when she tried to find a misplaced page in her speech. It was the kind of horrifying who-am-I-and-why-am-I-here mishap that anyone who speaks in public has nightmares about. Suddenly, Pirro became a punch line.

But the moment only underscored a larger truth about her Senate run. Throughout her candidacy, she seemed oddly flat, unenthusiastic, like she really didn't want to be there. Her lack of fire was obvious to anyone familiar with her usual public posture. "Her performance," says someone close to her, "clearly reflected the fact that her heart wasn't in it."

How did this ostentatious defender of victims become a victim herself, a hostage in her own campaign?
It starts, as do many Republican horror stories, with Hillary Clinton.
It is a given that New York is 51st on the list of 50 states the Republican National Committee cares about. The committee does, however, care a great deal about Hillary's career path, and doing something, anything, to diminish her potential as a presidential candidate in 2008 is a very high priority. No one in the Republican Party really thought there was much chance of beating her this year in New York, but the party wanted to at least make a race of it. By early last year, Ed Cox had already spent months traveling around the state, using his own money, to lay the groundwork for a run against Hillary. But Cox didn't exactly make anyone's pulse race. He was a perfectly decent guy—a successful corporate lawyer at Patterson Belknap Webb & Tyler—and he has impeccable Republican credentials. He is, after all, married to Richard Nixon's daughter.
But he was not the guy the party wanted to carry the flag against Hillary. Too spindly, too meek, too proper. Not the kind of candidate who'd be willing to roll up his sleeves and really get it on with her.
Pirro-for-Senate was one of those ideas—like nominating Bernie Kerik for Homeland Security secretary—that seemed like sheer genius, to the geniuses who came up with it. Although Pirro didn't have Hillary's wattage (who does?), she was glamorous, telegenic (she was a Fox News analyst, a cable veteran, and had been offered two network contracts), and wildly ambitious. Pirro was a tough prosecutor accustomed to dealing with murderers, rapists, and pedophiles; surely she'd have no trouble engaging Hillary in a little close-quarters combat. And there was the estrogen factor. Who didn't think the best way to fight Hillary was with a woman?
It was the perfect race for Pirro. She wouldn't win, of course, but that didn't really matter. She'd elevate her profile and become a national figure (like Rick Lazio?), and she'd easily raise $30 million to $40 million (Hillary is the Rosetta stone of Republican fund-raising, isn't she?). Taking on Hillary, everyone agreed, would even eliminate Pirro's husband problem: Pirro would have the protection of mutually assured deterrence. Flawed husbands would be a war neither side would want to start. And if she did a good job, the Republicans would owe her big-time. Maybe Pirro would get a federal judgeship or a cabinet post.
According to someone close to Pirro, the White House political office began calling as early as last March to try to persuade her to get in the Senate race. Pirro, though certainly flattered, was initially cool to the idea. By the start of last summer, she had already spent several months stalking the ramparts, Hamlet-like, trying to decide which office to run for. At one point she even seriously considered running for governor.
Her indecisiveness was chronicled at every turn by the press. So, well before her disastrous announcement in August, she was looking not foolish exactly, but vain and ambitious. "A lot of people started throwing things at her," says Mike Long, head of the New York State Conservative Party. "They were telling her, 'Run for governor. Run for senator.' And she went through this period of trying to decide which office to run for."
Long believes it was the wrong way to handle it. "You don't say, 'I'm running statewide, but I'm not sure for which office.' You don't run for the sake of running. You run for a particular office because you believe you can accomplish something in that office."
Of course, Pirro wasn't the only New York Republican with problems. The GOP's troubles have been mounting throughout George Pataki's third term. Republicans still appear to control huge swaths of the state, but their apparent dominance is more and more a Potemkin village. Pataki, weakened and often ineffectual, is spending much of his time and energy on a quixotic presidential run. He's "checked out," as more than one Republican operative put it. Meanwhile, the party that Alfonse D'Amato presided over is practically broke and in danger of losing its identity to rich (Bill Weld) and superrich (Tom Golisano) political sportsmen and wing nuts (senatorial candidate John Spencer) of various species.
Pirro's decision-making process was further muddled at the beginning of June by a difficult personal issue. Her 83-year-old mother was diagnosed with cancer, and Pirro was, according to an aide, preoccupied with helping her deal with the illness and the various treatment options. Kieran Mahoney, Pirro's friend and principal political adviser for fifteen years, says that despite the fits and starts, Pirro still announced her candidacy fourteen months before the election, plenty of time to run a successful campaign. The expectation was that Pirro would spend at least $30 million on her campaign, which would have resulted in a significant payday for Mahoney.
"Early on, the press created the false expectation of an imminent announcement," says Mahoney, whom many insiders blame for the debacle. "A lot of people who know Jeanine have a tendency to talk to the Fourth Estate without knowing what they're talking about. She had conversations with people that they overinterpreted."
The pressure was really amped up in the middle of June when New York State Republican chairman Steve Minarik sent a letter to Pirro signed by 46 of the state's 62 Republican county chairmen calling on her to run for the Senate. There was talk of a "dream ticket." The leadership was positively giddy. "Phone calls were made to the county chairmen telling them to get onboard or else," says someone close to Cox, who was obviously angered by this attempt to manipulate the process. This question of how candidates should be chosen is an issue that has roiled the Republicans. Both gubernatorial hopeful Randy Daniels and former Yonkers mayor John Spencer bitterly complained to me about what they believe has been an attempt by the leadership to force candidates on the party without due process.
"There's been this top-down mentality," says Senate candidate Spencer. "The leadership has said, 'Here's who we're going to nominate for this office,' and it doesn't respect the grass roots, the rank and file of the party, and the local leaders around the state."

For instance, in December, Minarik, who is a Pataki loyalist, arranged a straw vote among the party's county chairs in an attempt to get everyone united behind Bill Weld. It was a naked power play by the governor, who hates Golisano for running against him in the past, to try to shut the billionaire out of the process. (Golisano recently announced he's not running.) Nearly half the leaders didn't vote for Weld, abstained, or didn't show up, including the chairmen from the key counties of Nassau, Suffolk, and Westchester.

As the summer wore on and Pirro continued to struggle with her decision, she had a number of conversations with Conservative Party head Mike Long. It is a given that a Republican cannot win a statewide race in New York without the blessing of Long's party. Having the Conservative line on the ballot can mean as much as 150,000 votes for a Republican, which, in a state dominated by Democrats, can be huge.
"Jeanine and I had many conversations," Long says. "I negotiated with her, and I passionately pleaded with her not to run for the U.S. Senate. I told her I thought the right fit for her was attorney general. I gave her the list of phone numbers of Conservative leaders from Niagara County to Montauk. I didn't lock the door, but she knew how I felt."
By early August, Long also thought he knew how Pirro felt. The two had dinner on a Thursday night. On Friday, Al Pirro called Long and said, "I think you finally got through to her. She's going to run for attorney general."
But Jeanine Pirro's husband was apparently not privy to her innermost deliberations. The months of pressure had worn her down. "Jeanine practically began to see a Senate run as a duty or an obligation," says a source. "When you have the White House calling and promising support like that, it can be very convincing."
Pirro spent the weekend at her home in Harrison, huddled with Mahoney, in and out of meetings, reprising all the arguments one last time. Then on Monday morning, August 8, word began to leak that Pirro was running for the Senate. She formally announced on Wednesday. "The truth is," says someone close to Pirro, "she was rushed out there to make the announcement so quickly so she wouldn't have the opportunity to change her mind."
As a result, there was no time to get her prepped. She didn't get a copy of the announcement speech until Tuesday, the day before she had to deliver it. She did both the Today show and Good Morning America without even having an aide there to keep an eye on her. After months of hesitation and hemming and hawing, time that could've been used for planning and preparation, Pirro essentially was pushed out the cabin door without a parachute.
The most critical error of all (which, in the context of this fiasco, is saying something) may have been not educating her on the issues. She should have been sent to Washington to get schooled on tax policy, Medicaid reform, Social Security, farm subsidies, Iraq, Iran, and a host of other complex foreign and domestic issues she never had to deal with as a D.A. in Westchester.
Not only did she blow the announcement speech, but, sure enough, as soon as she was faced with the first budget question during a post-speech Q&A, she couldn't answer it. A reporter asked what the actual dollar impact on the federal deficit would be if the Bush tax cuts were made permanent.
"The truth is, she was rushed out so quickly so she wouldn't have a chance to change her mind."
Even if it was a "gotcha" question, she still should have been able to finesse her way through. If she had her legs under her and felt comfortable with the issues, she undoubtedly would've cruised right past it. That was only the beginning of her difficulties with the media. The New York Post surprised a lot of people by mercilessly beating up on Pirro from the moment she got in the race. This editorial decision was a surprise because Hillary had always been one of the tabloid's favorite targets. The Pirro coverage, however, was brutal. The paper set the tone with a huge front-page headline: LOVE CHILD PEACE BID. The story included photos of Al Pirro's onetime mistress and the child he fathered with her, a now-22-year-old woman.
"Look, that's what they do at the Post," says someone in the Pirro camp. "They twist the news coverage and pass the events of the day through the prism of what they can do for political effect. Rupert has cut some kind of a deal with Hillary that extends through the 2008 presidential election. She's been supportive of him, and he's decided the paper will, in effect, support her."
Once Pirro announced her candidacy and things didn't go well, the calls from Washington stopped coming. Just like that. There was no more support, no more encouragement, and no more promises. Pataki, meanwhile, who has been friends with Jeanine and Al since his days as an unknown state assemblyman, was hedging his bets like a nervous gambler. Though he energetically participated in the effort to get Pirro to switch from the attorney general's race—which is the office she wanted to run for all along—to the Senate race, apparently he was never completely convinced it was a good idea.
On August 10, the morning of Pirro's announcement, the governor called Ed Cox and asked him to come to his executive chamber on Third Avenue. Up to that day, Cox had been the leading candidate for the Republican Senate nomination and the opportunity to challenge Hillary Clinton. A candidacy, by the way, that the governor had encouraged.
At the hastily arranged meeting, Pataki told Cox he was going to endorse Pirro for Senate and appear with her later that day when she announced her candidacy. Before he ended the meeting, according to someone close to Cox, the governor told Cox not to make any hasty decisions about pulling out of the race, because he wasn't sure Pirro was going to last.
"Look," this source says, "the governor never went out of his way to do anything for her after the initial announcement. There were no more campaign appearances, no statements on her behalf. That should tell you how he really felt. He did what he did because he had to, not because he wanted to."
Most of the blame for Pirro picking the Senate race and then entering woefully unprepared has fallen on her friend and adviser Kieran Mahoney, one of the most successful Republican political consultants of the past fifteen years.
Mahoney says that the tax-cut inquiry was a "bullshit question" and that most sitting senators couldn't answer it. And in any event, it was the only one Pirro couldn't handle, which hardly constitutes being unprepared. The Q&A, he says, was clearly not the problem.
The matter of Mike Long and the Conservative Party endorsement would seem to be a more difficult issue to sidestep. It was Kieran's father, Dan Mahoney, who founded New York's Conservative Party in the sixties as a counterweight to the politics of Nelson Rockefeller. Mahoney believes that Long would've come around eventually. He wouldn't have had much of a choice, Mahoney says, because neither Cox nor Spencer would have been viable over the long haul.
"The press constantly engages in navel-gazing," he says. "They read what they collectively write about a campaign and then say that's what's going on. I almost never pay attention to what you guys are writing, and I'm usually running a campaign. There's a disconnect here. Either I'm an idiot or what you guys are writing about isn't what's really going on."
Mahoney says there are three critical big-picture keys to really understanding and assessing any campaign: the candidate's message, the political support, and the financial support. Judged by these standards, the Pirro candidacy still looks poorly conceived and executed. The closest thing to a message was its mantra, which never connected with voters, that Hillary Clinton's real goal is to run for president in 2008 and she won't complete her Senate term.
Nor was the political or financial support there once Pirro came out of the gate stumbling. The campaign was so desperate for traction, in fact, that the final fund-raising letter, mailed shortly before Pirro withdrew, was essentially a bash–Bill Clinton missive. Despite Hillary Clinton's legendary golden-goose status as a matchless fund-raising tool for the Republicans (hapless Rick Lazio raised $10.7 million, with only one fund-raising letter, over seven weeks), Pirro only raised $1.7 million in six months.
As the weeks wore on, the experience became excruciating for Pirro. She was being humiliated. But as someone who'd grown up in a working-class family and who'd fought for everything she'd accomplished, she was determined not to be seen as a quitter.
The only one who remained committed to the Senate bid besides Pirro herself was Mahoney. "Kieran is almost like Svengali or Rasputin," says Mike Edelman, a Pirro friend and Republican political commentator based in Westchester. "He had this magical hold over her. I don't understand it; his record's not all that great."
Rather than talk Pirro down from the ledge and encourage a graceful exit, Mahoney stubbornly stood by yelling "Jump! Jump!" "He kept telling her to hang in there, that it would all blow over," says a Pirro confidante. (Mahoney will have no official role in Pirro's campaign for attorney general.)
"Jeanine was really shocked at how the Governor behaved," says a friend. "He urged her to get into the race and then just abandoned her."
Of course, it didn't all blow over. Once it was clear her campaign was essentially dead on arrival, it wasn't long before everyone who had pushed her to get into the race disappeared. The White House never called. The governor never said a word on her behalf, and the party chairs who signed the draft-Jeanine letter now clamored for her to get out.
"Jeanine was really shocked and upset over the way the governor behaved," says someone close to her. "They've been friends a very long time. He urged her to get in the race, and then he just abandoned her."
Edelman is even more direct. "It's unbelievable that the governor has the nerve to be publicly mad at her when he, based on Mahoney's input, was the primary moving force behind her candidacy. It's shocking. He should be ashamed of himself for blaming Jeanine. But once you surround yourself with sycophants and yes-men, you lose the ability to make the right choices."
By late November, Al Pirro had had enough. He decided, without consulting his wife, to take matters into his own hands. In a move that infuriated Mahoney, he went to Senate Majority Leader Joe Bruno and said, according to someone familiar with what took place, "Get her out. We have to find a way to make it clear to Jeanine that this is over, that the party doesn't want her to run anymore."
But even after Bruno publicly called on her to withdraw at the end of November, Pirro still refused to step aside. "She wasn't going to get out just because someone told her to get out," says a source.
Not long after Bruno's statement, Pirro had a highly publicized private meeting with the governor during which he asked her to end her Senate campaign. But after the two-hour sit-down, Pirro went downstairs by herself, without Pataki, and said she was still running for the Senate. About ten days later, she finally quit the race.
"I think they overplayed their hand," says Long. "Once you start thinking about getting out, you know what? Get out. If she'd said yes when she met with the governor, he would've walked downstairs with her and she could've made a graceful exit. And I think things would be better for her now."
The Pirro fiasco has underscored the degree to which the Republicans have frittered away their power in the state. "It's not a pretty picture," says a Republican insider who's had a hand in many of the party's biggest victories. "We may be approaching the point where it's difficult to elect any Republicans statewide. The governor is not just the governor: He's the standard-bearer of the party, and he has a responsibility to help develop candidates and issues. He hasn't done that. It's been one-man rule. People were praying Golisano would get in the race because we don't have the money to support candidates and get our message across."
At the core of the problem, say many, is an identity crisis. "New York Republicans are really Democrats," says Mike Long, "and New York Democrats are really extreme liberals."
"We lose ground every election," says Randy Daniels (ignoring the fact that the party has won the last four mayoral and last three gubernatorial elections), "because the Republican Party has no mooring. We're trying to be Democrat lite. We're trying to present a face to New York that they expect from the other side."
Bill Weld is a case in point. Alfonse D'Amato throws up his hands at the prospect of Weld's gubernatorial candidacy. "That dope," D'Amato says when talking about Weld. "God help us if he's the nominee. It's a horrendous candidacy. I'm saying this to challenge him. When that dilettante finds out that not everybody's in lockstep with him and he's going to have opposition, he'll run for the hills."
Privately, Republican insiders have questioned D'Amato's behavior. Throwing grenades at Weld is one thing—it's not business, it's personal. The hostility stems from Weld's role more than a decade ago in pushing an investigation of D'Amato's brother, Armand. But the onetime Republican boss has not exactly been supportive of the rest of the party's candidates either. Talk has quietly circulated that he has opened a back channel to Eliot Spitzer in the hope of maintaining relationships with those in power for the benefit of his lobbying business.
When I ask Pirro about D'Amato's lack of support, she has a response ready. "Is he still around?" she says with a slightly forced laugh and leaves it at that.
After a dizzying year as one of the lead players in a Republican comedy of errors, Pirro is working hard to remain philosophical about it all. "I've learned," she says, "to go with your instincts. To go with your strengths and believe in yourself."
And, in the first bit of luck she's had since she fell down the political rabbit hole, it looks like the Democrats are headed for a bruising primary. "She'll have the field to herself while the Democrats duke it out," says her friend Mike Edelman. "You have Andrew Cuomo, Mark Green, and Richard Brodsky competing to run for attorney general. That's nasty, nastier, and nastiest, so it should be really ugly."
Pirro's other piece of baggage (some might call it a steamer trunk) is her husband, or as the Post called him in a headline last summer, PIRRO'S HUGE 'ALBERT'ROSS. Will his felony conviction for tax fraud shadow her campaign for the highest law-enforcement job in the state? "These issues have been hashed and rehashed and rejected by the voters," Pirro says. "New Yorkers are smart. They'll look at the records of all the candidates and see that I'm the only one with 30 years in law enforcement."
It's as if Pirro has woken up from her bad dream and remembered who she was. "When I was a little girl growing up in Elmira, I always wanted to be a lawyer," she says to me just before we conclude our conversation. "People used to say, 'Don't you want to be a mommy?' This is who I am. It's who I've always been. It's now up to me to tell people what I'm about."
George Pataki
He seduced her, then jilted her.

George W. Bush
He needed someone to take on Hillary.

Al Pirro
Whose side was he on?

Mike Long
He warned her not to run.

Alfonse D'Amato
He worries she can't win the A.G. race.