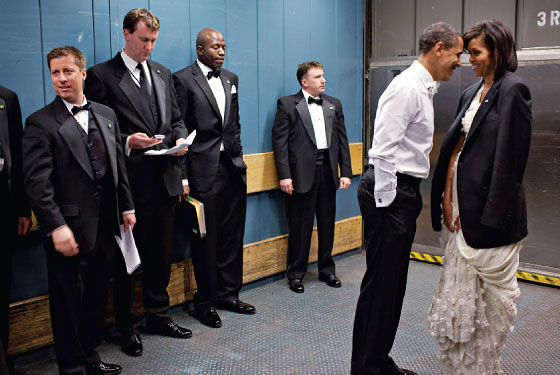 Look, Ma, no hands! Only one cool forehead and some extra-strength hairspray touch, and yet everything combusts in this Inauguration Night photo. Not since Doris Day and Rock Hudson split a pair of pajamas—also under intoxicating circumstances, if not in a freight elevator—has there been such chemistry in a shared outfit. Admit it, if you were one of the Secret Service guys, you'd find your BlackBerry suddenly compelling too. And if you're a woman, you want what she's having. Here is the answer to Freud's question; the black tie is optional.
» The Meaning of an Icon» Her Body, Ourselves» Her Old-school Parenting» Her Father's Daughter More Essays Why We Crave a Royal MichelleGood White House KeepingThe First Couple's Sexual PoliticsFrom 'Militant' to 'Princess'Extending the Obama BrandNormalizing the PresidentAbout FaceThe First Wives' ClubLittle SisterThe Fashion QuestionThe Edible & PoliticalThat's One Tall WomanWhy She Left Her Law FirmThe Suggestions in Her EyesMichelle: A LifeArtists' Interpretations
You could be uncharitable: She outranked and outearned him. And after she had gamely explained the concept of billable hours, he went on to sabotage her career, introduce her to single motherhood, and shrink her salary. Under the circumstances, the least Obama can do is offer his wife his jacket. It's been a long time, after all, since anyone sat on her stoop and aspired to be First Lady. Reese Witherspoon aside, no one goes to Harvard Law to be reduced to her wardrobe. The reason to get a fancy education is to avoid having to fuss about the fancy dress.
But we're in uncharted territory here. The gesture is sweetly old-fashioned, redolent of letter sweaters, gallantry, and Cary Grant. The girl is spicy and newfangled. She's ushering us around a social corner as much as a political one. Professional rivals, Rock and Doris leaped out of bed in those pj's the year Obama was born; only now are we discovering what a functioning marriage between equals actually looks like. Michelle Obama promises to resolve the mystery Mrs. Spitzer, Mrs. Edwards, and Mrs. McCain left us helplessly to contemplate: What purpose does the political wife serve if she is neither accessory nor casualty? After decades of fake financials and fictitious balance sheets, WMDs that weren't there and detention centers that were, our new First Lady is the genuine article. She has a real body—arms! Legs! Curves! And she has a real marriage. Here are two people whose bodies speak as eloquently as their words, who hold each other up, who between them get the temperature just right.