At the U.S. Figure Skating Championships on January 17, Evan Lysacek, wearing a futuristic ruched gray mock-turtleneck top with fingerlike black shoulder decorations, tried to clinch the win by launching his six-foot-two frame into a quadruple toe loop—not something normally part of his routine. He fell on his ass. Though a woman in the front row covered her face in horror, Lysacek got up with a smile, unshaken. Even with the fall, his performance was good enough to take second place overall, behind Jeremy Abbott (who skated flawlessly, successfully landing a quad) and ahead of his more flamboyant nemesis, Johnny Weir, who downgraded the difficulty of one jump and stepped out of another in the midst of performing.
Afterward, Lysacek remained in good spirits, sticking out his tongue and blowing kisses to his fans. "What happened here is absolutely not a reflection of what I'm going to be like at the Olympics," he promised. He is the world champion. "Even with Weir's popularity and Abbott's success, you still look at Evan as being the lead horse," says Scott Hamilton, who won the gold medal in 1984, the year before Lysacek was born. Though Abbott's now the two-time national title holder, he suffers from inconsistency—after winning the 2009 national title, he went on to place eleventh in the world championship that Lysacek won.
Lysacek is hoping be the first mainstream male figure-skating star since Hamilton. Weir, a three-time national champion who is a clever performer, always shrewdly in on the joke, was parodied in the Will Ferrell movie Blades of Glory. But he was never considered "mainstream," at least not to the figure-skating powers that be, who want to play up its speed and daring, not its shimmer and mannered style. They'd like to see a little less Nutcracker, a lot more Tony Hawk.
Figure skating has a history of feuds—Brian Orser and Brian Boitano's "Battle of the Brians," Michelle Kwan versus Tara Lipinski, not to mention Tonya Harding and Nancy Kerrigan. But Weir and Lysacek represent the two directions the sport can go in. If Weir is pushing gender boundaries, posing for BlackBook magazine in a sarong and high heels and celebrating the "magical world" of the sport, Lysacek, who as a kid did his routine to the Top Gun theme, emphasizes technical feats to the point of being criticized as robotic. It's athletics versus aesthetics, among other things, and it's also good copy, a story line to keep the fans interested and taking sides. Weir once scoffed to the New York Times that if Lysacek "doesn't want to skate to music that's pretty and wear a pretty costume, then go Rollerblade or skateboard or do one of those extreme sports."
Mainstream success would bring highly paid endorsement deals, if male figure skating can sufficiently butch itself up. "Think of American Idol—you have Adam Lambert and Kris Allen," says Michelle Kwan, whose former coach now works with Lysacek. "Weir is Lambert, he's out there, and Evan is Kris, with a wider appeal."
This is, of course, all relative. When I meet up with Lysacek at a coffee shop on the Upper East Side near the home of his costume designer and friend Vera Wang, with whom he was staying, he's wearing gooey ChapStick, his eyebrows are waxed to perfect slashes, and he's dressed in a Yohji Yamamoto gray knit cap, oversize black puffy jacket, and bright-silver high-top sneakers. Right off the bat, he's willing to admit that figure skating "is not a supermacho sport. But I love that it's so competitive; it's one man versus the other man, there's no one behind you, and there's no one around you."
Lysacek isn't exactly a beer-swillin' guy's guy. When we meet, he's wearing two rings, one from his fans and one from his ex-girlfriend, ice dancer Tanith Belbin ("I know I should take it off, I know I should let go"). His spidery masculinity is actorish and metrosexual. Back home in L.A., he says, his friends are all in "the biz."
Lysacek grew up outside Chicago. His grandmother, who dreamed of joining the Ice Capades in her youth, gave both him and his sister skates for Christmas when he was 8 years old. His mother, Tanya, signed them up for a lesson. "Initially, Evan wanted to do hockey," says Tanya. "He's not flamboyant. His goal has always been to have dads watch him skate and then see that it's okay for their sons to do this, too. Evan's always wanted people to see it doesn't have to be a feminine sport," she says. Ultimately, she recalls, he liked the sport because of "the tricks, the speed, and the fact that you could leave the ground on your skates and then land."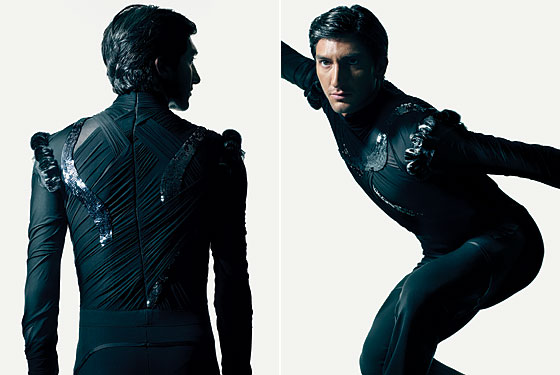 From the fifth grade on, Lysacek lived skating, traveling, training, and moving up the rankings. After high school, he took up with Kwan's coach, Frank Carroll.
Lysacek is probably best known for what happened at the Turin Olympics. After finishing tenth in the short program, he contracted a bacterial infection. "I was like, 'Send me home, send me home right now,' and they were giving me all these injections, but my veins kept collapsing because I was so dehydrated," he says. Carroll wouldn't let him quit. "He goes, 'Just think about what you're doing. This is your entire life—think about how many people and how many steps it took to get on the team, and you're going to give it up because you don't feel well? Okay, it's up to you.' " Lysacek skipped practice but skated the long program, performing one of the best routines of his career and placing fourth overall, and his grit was featured in NBC's coverage.
Figure skating has changed drastically since Scott Hamilton's day—the jumps are more daring, the skaters more muscular. But the biggest shift is the new scoring system, instituted following the 2002 Olympic scandal in which the French judge admitted to favoring the Russians over the Canadians because of pressure from the head of the French skating federation. The old system, in which each judge gave a score out of a possible 6.0, was replaced by one that awarded points based primarily on technical skills, placing less emphasis on choreography and artistic interpretation. That makes judging the sport less subjective, but many complain that it takes the artistry out, reducing routines to soulless accumulations of jumps and foot tricks. Lysacek has mastered this new system. "Every step matters now," he says. "Instead of your choreographer saying, 'Okay, now we have twenty seconds for you to do your triple axel,' it's like, 'Do two crossovers in each direction going into your triple axel, and we need multidirectional transitions, so we'll rotate the axel counterclockwise so that it's a difficult transition and entry.' "
On January 20, Johnny Weir meets me at Sassoon, where he was getting his hair done into a dramatic swirl for the premiere of his Sundance reality-TV show, Be Good Johnny Weir, at the IFC Center. Weir's wearing a top that interlaces in the back with red fabric, almost like a leotard, a metallic vest, and what could pass for leggings. He's tiny and his eyelashes curl like a Disney princess's.
On the ride downtown, he tells me that the new scoring system is exactly what has gone wrong with the sport. "It's all, 'Change your direction, change your edge, change this, change that, jump, jump, jump,' " he says. "So we've run out of time to create a story with your routine, and for me, that's what I love about figure skating, that I used to get to create this magical world for people to fall into."
He's critical of Lysacek's success at the new system. "For me, Evan's skating is a lot about fireworks. That last minute of the program he brings people to their feet because he's flailing his arms around, running and spinning fast and doing things that are exciting. But for me, I'm very much about the beauty of what you can create. Evan doesn't let himself feel as much. He does what somebody tells him will work. I'm about showing that beauty. For me, Evan comes off as cold."
As we make our way to the premiere, he tells me he's sneaking out early to see Lady Gaga at Radio City, as a guest of the singer. As for Vancouver, "I've been the underdog all season, and then this Olympics, I can just go and unleash all my diva power."
But the real gold comes after the Olympics. Lysacek today earns money from competition prizes—first place can be as much as $50,000—and doing tours, like Smucker's Stars on Ice. Evan Morgenstein, the CEO of the PMG Sports agency, who has represented Bruce Jenner, Mark Spitz, and Greg Louganis, thinks that Lysacek is primed to become a "rock star." "He's a good-looking kid, he's well spoken—in the end, every endorsement deal starts with whether you're 'mediable' or not," he says.
Lysacek is mediable. He is currently sponsored by Coca-Cola, Ralph Lauren, and AT&T, and has a contract with DNA Models. "I've never been scared to have him talk to anybody on our behalf," says Dina Gerson, the director of Olympic marketing of Coca-Cola North America (Lysacek's silhouette is currently on Coke cans). Plus there's "the inspiring story of his Torino experience, when he got sick and yet made sure to stay positive and ended up being so happy after getting fourth place … Evan appeals to moms and teens, which is our target."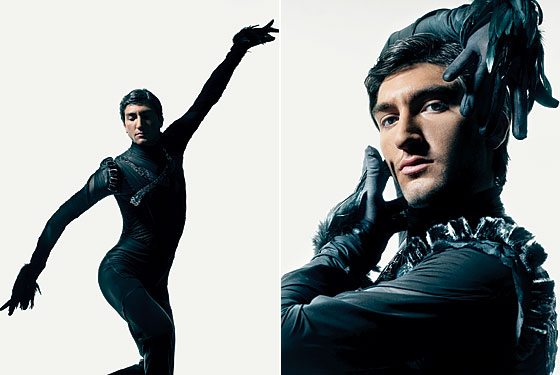 Advertisers have been less willing to bet on Weir. "Evan clearly is someone who is not being tagged with the label of being gay," says Morgenstein. "It's just the opposite as a matter of fact: Women love him, and I think men love him and that's just the way this world works, for better or for worse."
Meanwhile, the Weir-and-Lysacek show goes on. "I have a giant fan base, and I bring attention to the sport where it normally wouldn't be," says Weir. "There's been a lot of pressure put on me by people higher up in my sport. They tell me I have to act one way, and people are wanting me to fake things, be more outlandish than I actually am. They know they can't tone me down, so now they're trying to get me to be even more out there. I've been told I need to be more crazy. And they've sort of pitted me and Evan against each other like Britney and Christina. I'm Christina, of course."
Lysacek's comments on Weir are more aloof. "When people are desperately seeking attention, it's just not appealing, and I don't think it's appealing to viewers or fans or potential sponsors—it just looks desperate."
For all their played-up differences in style, both Lysacek and Weir want to be famous, and fabulous. Last month, I met Lysacek in Vera Wang's showroom, where they were putting the finishing touches on his skintight costumes. "Evan is very into fashion—after he's done skating, I think he should be a designer," says Wang. She suggested adding another bejeweled snake to the one already wrapped around his torso.
"My costumes are an evolution of what I'd wear everyday," says Lysacek. "Maybe I'm trying to play a character, like a mystical creature, but I bring a little bit of myself to the picture, as well." Then he squatted to test the elasticity of the pants, satisfied with the give.