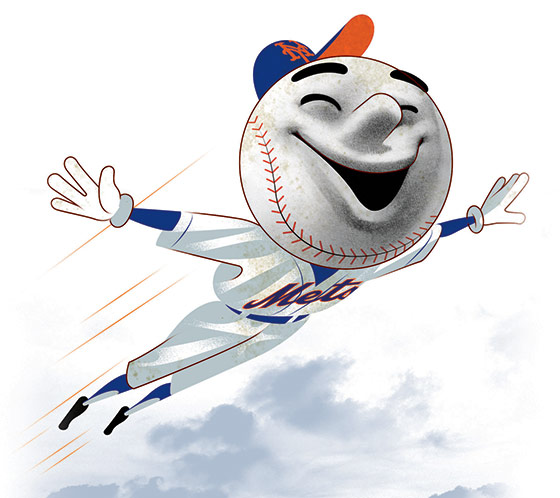 I know this isn't the type of thing people like to hear around these parts, but honestly: This city has been absolutely spoiled by success. The Yankees won a World Series just three years ago, and already there's talk of a Bronx championship drought. The Giants won two ­Super Bowls in five years­—in the most dramatic ways imaginable, I might add—and all anyone wants to talk about the summer afterward is whether the quarterbacks of the freaking Jets are going to be friends. We're handed the most organically thrilling sports story of the year in Linsanity, and just a few months later, we're complaining about the guy wanting too much money. (Already.) In a couple of months, this town is getting a whole new team. Amazing things are always happening here. Forgive Pittsburgh, Detroit, and Seattle for not having much pity for us.
But there's one sports story I think might top them all. The Jets might have more years between them and their last title—44 and counting, heading into this season—but I can't imagine anything bigger in this city than the New York Mets' winning a World Series this year, their 50th anniversary of existence. It would be the most unlikely, ludicrous, transcendent bit of sports business this city has seen in a generation. It would make the 1969 Miracle Mets look like the sun coming up in the east; it would make Mr. Met's head pop off. It would be the most jaw-dropping baseball story in a decade.
No one's talking about this, because this is the Mets, and fans, quite justifiably, have been through enough the past few years. The Mets' success heading into the All-Star break—they are among the top contenders for one of the two wild-card spots and, lo and behold, are leaving those hated Phillies in the dust—has been applauded, but cautiously so, like a parent whose child gets his or her first base hit after a whole season of strikeouts: We're happy for the kid, but that was a lot of strikeouts. Nobody wants to make this harder on everybody than it has to be. The shoe has to drop soon, right? Protect ourselves while we can.
But this season is more than half over, and the Mets have shown no signs of fading. They've had a winning record each month. The young pitchers are improving and rounding into form. The lineup is getting healthier. The rest of the division (particularly Washington) looks due for a regression. The Mets could really do this. I mean it. It could actually happen. It sort of takes my breath away to even type it.
Think about where this franchise was as it came into this anniversary season. The ostensible plan for the Mets was similar to the plan last year: Wait for it to be over. The Mets had just dropped a staggering, record-breaking $48 million in payroll from their 2011 level, in part by letting All-Star and fan favorite Jose Reyes go, and with the team undertaking a full-fledged youth movement, the idea was to get David Wright's $15 million off the books after this year. The odd thing was that this was sort of the plan for 2013 as well, when even more, $43 million, could be dropped from the payroll thanks to Johan Santana and Jason Bay. Many attributed the ­salary-dumping strategy to the financial struggles of the then-unsettled Madoff-Wilpon case (which certainly did its part to dampen fan enthusiasm), but all told, it was mostly just good business. The Mets needed to overhaul their entire operation, stop spending money as if the lack of overpaid, past-their-prime veterans were the problem (uh, it wasn't), and repair an organization that was diseased at its core. The new, wizened, intelligent management staff—from general manager Sandy Alderson to former G.M.'s Paul DePodesta and J. P. Ricciardi—­soberly assessed how much work had to be done and called only for patience.
Fans—again, for entirely justifiable reasons—were more than a little skeptical of all this and certainly not thrilled to wait around. The Mets failed to fill their home stadium for the season opener for the first time since 1997. (Santana was pitching for the first time in a year and a half. The Mets even offered free tickets for the first weekend of the ­season to fans who bought opening-day tickets. No dice.) ­Attendance was down 10 percent from last year's numbers after ­twenty games. That's particularly impressive ­because 2011 attendance was down 8 percent from 2010, which was down 19 percent from 2009, which was down 21.6 percent from 2008. Mets fans had had enough, yet they were being asked to do this for two more years. At least.
Then a funny thing started happening: The Mets started winning. Wright roared out of the gate with a .400 batting average. Santana looked healthier and was more effective than anyone could have had any right to expect. Young players like Lucas Duda, Kirk Nieuwenhuis, Josh Thole, ­Dillon Gee, and Ruben Tejada improved at a rate no one saw coming. The whole team discovered a very un-Met-like ability to come through late in games with the big hit, an unquantifiable but undeniable ­attribute of out-of-nowhere underdog teams. And, most of all, there was R. A. Dickey, the bearded, book-writing, Kilimanjaro-climbing, endlessly fascinating knuckleballer, who, after two perfectly fine seasons, somehow turned himself into Sandy ­Koufax. The Mets didn't overwhelm anybody—how could they?—but they kept plugging away and winning against teams more talented and more highly paid than themselves. That is to say, they basically turned the rest of baseball into the Mets.
Then, last month, the pièce de résistance, the evening that assured this Mets season would be remembered even if the Mets lost every game the rest of the season: Santana's historic no-hitter against the St. Louis Cardinals, the first in the franchise's history. It was a magical evening—the kind a lot more people I know claimed to have attended than would seem possible—and the sort of night that makes one wonder if there truly is something special about this year's team. If it's kismet. If, on the 50th anniversary, it could possibly be 1969 again.
Well, can it be? We're late enough in the season that the Mets at least have to try, particularly now with two wild-card spots up for grabs rather than one. (Imagine: Had that second wild card existed in 2008; the Mets' collapse would have never happened, and—who knows?—maybe Omar Minaya and Willie Randolph would still be here.) The goal of any MLB team is simply to reach the postseason and hope the randomness of the October format works for them rather than against them—ask the 2011 Cardinals whether it matters how you got into the postseason—so all the Mets need to aim for is to make it. The primary question would seem to be: Should Alderson & Co. go all-in on a season that they seemed to be writing off?
It's not an academic discussion. The Mets are blessed with two of the top pitching prospects in baseball, Matt Harvey (who should be in the majors next year) and Zack Wheeler (their booty from the Carlos Beltran trade last year). Alderson is too savvy to trade away either of those guys, but could Jeurys Familia, another Triple-A Buffalo starter, be on the table, particularly now that he's begun suffering from control issues? Right now, the Mets don't have much of a farm system to gut (even though they did have five players, including Harvey, Wheeler, and Familia, in expert John Sickels's top-120 prospects released last week); Alderson is still trying to rebuild that system, particularly through the international pipeline (see the recent signing of 16-year-old Dominican shortstop Amed Rosario, the No. 11 international prospect, according to Baseball America, to a $1.75 million deal). As much fun as this Mets run has been, this is a team with real holes right now, particularly in the bullpen and on defense. They have at least three players out of position every night, and Duda, for all the fun his bat provides, might be the worst defensive outfielder I've ever seen. He judges fly balls like he has walleye vision.
The trade market, because of that second wild card (and the subsequent prevailing sense that every team is still in the race, even if they're not), is going to be extremely competitive: To bring in the help the Mets might need will surely require more than Alderson is willing to pay. The fun of this season might not be sustainable—it's a bit of alchemy that it's gone on this long—and Alderson might be wise not to bet more than he has to on the last three months. There's no reason to double down: He can keep the rebuilding system in place while the Mets are winning. He won't risk that, and he shouldn't. Besides, they might just keep winning without any extra help. They've made it this far, after all, and guys like Dickey, Santana, and Wright (who at last is being appreciated by the fan base, just in time for free agency) have shown no sign of slowing down.
No matter what happens in the last three months, the Mets have achieved something important and lasting: They're not a joke. They have a team that is enjoyable to watch (all the more so because of their relative lack of talent), cohesive, and more than a little lovable. (Manager Terry Collins has been an underrated part of all of this.) This season is a success already, even if it all falls apart down the stretch.
It's crazy to think the Mets can keep this going, but it's crazy that it has even gone this far. I say let it ride. Let's see what these kids can keep doing. There's nothing to lose: Alderson and company are already hard at work on the foundation anyway, and this season was supposed to be lost. But it is not lost. It feels like something else. Mets fans haven't given themselves over to it yet, but if this continues … they will. It sounds insane, but hey: This is the sort of situation that can produce a ­miracle.
E-mail: will.leitch@nymag.com.