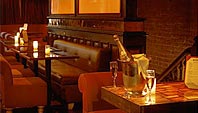 The DEN
2150 Fifth Ave., between 131st St. and 132nd St.; 212-234-3045
On the ground floor of a brownstone, this luxurious lounge fuses Soho chic with tongue-in-cheek. You can sip an Uncle Tom Collins while seated on a velvet-covered chair at a candlelit table. You can view paintings by contemporary African-American artists while catching comics from BET and HBO. Or, you can take in Soul sushi, movie nights like Black Film Fridays and Kung Foo'd Saturdays, and live R&B.
MoBay Uptown
17 W. 125th St., between Fifth Ave. and Lenox Ave.; 212-876-9300
The name comes from Jamaica's Montego Bay, but this uptown joint is actually as indebted to the American South as it is to the Caribbean. Amid sand-colored walls, you'll hear gospel, jazz, R&B, and reggae while supping on barbecued beef ribs and curried goat or sipping on local brew Sugar Hill and the smoky Harlem Mojito—which substitutes cognac for rum. At the "coupling table" bar, get ready to talk to your neighbor: Patrons are seated directly across from each other.
Lenox Lounge
288 Lenox Ave., between 124th St. and 125th St.; 212-427-0253
An historically attuned renovation in 2000 re-emphasized that this zebra-striped, Art Deco lounge deserves its landmark status. Opened in 1939, the cathedral of jazz once hosted Billie Holiday, Miles Davis, and John Coltrane and currently delivers marquee names like Hank Johnson and Carrie Jackson for a reasonable $10-$20. The small but competent kitchen spins out popular soul-food dishes like fried whiting or Southern fried chicken with sides of macaroni and cheese and sweet potatoes. One caveat: When things pick up, the service gets slow.
Revival
2367 Fredrick Douglass Blvd., at 127th St.; 212-222-8338
With specialty drinks like the Frangelico-infused Harlem Hazelnut and a chocolate martini named for Frederick Douglass, Revival trumpets its neighborhood pride with sass. By day, the space operates as a popular restaurant; at night, the happy-hour crowd gathers for half-price well drinks and beers (Mondays through Saturdays, 5 p.m. to 7 p.m.) alongside the Cajun cuisine. Every Friday evening, the 1,000-square-foot lounge next door opens so locals can alternate between dancing and trying their luck at karaoke.
Moca
2210 Frederick Douglass Blvd., at 119th St.; 212-665-8081
Though it doesn't feature live music, a hard-thumping sound system keeps the beats coming at this sleek, upscale nightclub. You're going to get frisked before you get frisky on the dance floor, but don't be put off by the gruff bouncers or the weekend's two-drink minimum. Inside, the wait staff is helpful and friendly, and the salsa, reggae, and hip-hop is a blast.
Perk's
553 Manhattan Ave. at 123rd St.; 212-666-8500
This corner jazz club may sport a quiet exterior, but looks can be misleading. Beyond the apartment-like façade and awning, musicians like organists Seleno Clarke and Nathan Lucas perform, while on the weekends a D.J. spins a mix of hip-hop and jazz a floor below. The extensive jukebox on the first floor is loaded with classic and modern R&B. As patrons at the bar are often called up to perform a song or two with the band, you're going to feel like you've discovered a secret—and with zero cover—a priceless one at that.
Additional reporting by Joe DeLessio