Ass Juice at Double Down
14 Ave. A, nr. 1st St.; 212-982-0543
The cheeky barkeeps at this punk-rock dive refuse to say what's in the Ass Juice (no relation to the equally mysterious Fart Juice at the Slaughtered Lamb). The rose-colored concoction is actually sweet and fruity, like a Hurricane. Those in search of something more exotic can turn to the Agwa de Bolivia (an herbal energy liqueur made from coca leafs) or the house specialty, bacon-infused vodka.
Bijou's Crack at The Anchor
310 Spring St., nr. Greenwich St.
The shots menu at this fashionista dance spot was created by the friends of designer and co-owner Chrissie Miller. Some of them are purely conceptual (one contains Adderrall), but for better or worse, that isn't the case with Bijou Phillips's spin on a Russian Cocaine shot. Imbibers toss back a shot of vodka and suck down a lemon wedge dusted with sugar on one side and coffee grinds on the other. (You'd don't want to know about the Hirsch's Squirt.)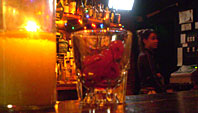 The Buck Shot at Buck's Lodge and the Pepper F*cker at Black Bear Lodge
45 Atlantic Ave., nr. Clinton St., Cobble Hill, Brooklyn; 718-624-7658
274 Third Ave., nr. 21st St.; 212-253-2178
Something about a cabin-themed bar demands a bracing shot. At Cobble Hill's Buck's Lodge, the barkeep hollers "Buck … shot!" every time someone gets "bucked up" on a shot of whiskey infused with nutmeg and cinnamon (it's best chased with upstate microbrew Buck's Piss). The Black Bear Lodge's Pepper F*cker is a punishing shot of Cuervo Gold that's infused with jalapeño and five other types of peppers. Follow it up with something sweet: Cherry Bombs are maraschino cherries soaked in Bacardi 151 rum.

The Gypsy Bitch at Mehanata
113 Ludlow St., nr. Delancey St.; 212-625-0981
Think the sign that says "Get Naked, Get A Free Shot" is a joke? The Bulgarian Bar actually makes good on the promise (two or three times a week, sometimes a couple of times a night, by the owner's estimation). If you end up in the buff, ask for the Gypsy Bitch, a mixture of coconut liqueur, peach schnapps, and vodka. Oh, and for the record, if you're really feeling randy, the bar makes good on its free-bottle offer, too.
Monica Lewinsky at Barcelona Bar
923 Eighth Ave., nr. 54th St.; 212-245-3212
At this midtown after-work joint inspired by a famous Barcelona shots bar, the Monica shot involves wearing a wig, pinning back your arms, and sucking back a whipped-cream-topped White Russian–type concoction that's sure to mess your dress. More family-friendly shots include the Harry Potter (the barkeep waves a wand over sparks of cinnamon) and the red-white-and-blue Rocky shot, pounded to the tune of "Eye of the Tiger." The Punch in the Face (Jäger, a splash of white wine, and Peach schnapps) is strictly for the brave (or stupid).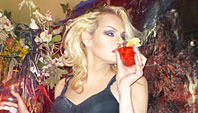 The Pink Pussy at Lucky Cheng's
24 First Ave., nr. 2nd St.; 212-995-5500
At this East Village institution, the shots are as over-the-top girlie as the bartenders. The most popular one is a sweet, candylike mix of orange vodka, triple sec, peach schnapps, grenadine, and sour mix. The others are named after the girls, from Anita's Pool Boy (which mixes vodka, rum, and gin) to Princess Diandra's Appletini, which the namesake queen threw in David LaChapelle's face to show her displeasure after a photo shoot.