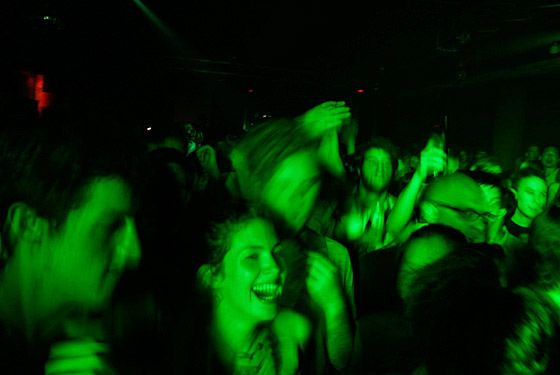 Special Disco Version; Second and fourth Wednesdays
Q-Tip and Rich Medina; Saturdays
Santos' Party House, 100 Lafayette St., nr. Walker St.; no phone
Rocker Andrew W.K.'s club Santos' Party House has flung its doors open with a flurry of beguiling D.J. nights, including Studio 54 vet Nicky Siano's Sunday nights, a W.K.–Spencer Sweeney double dip, and an evening with globe-hopping Ete D'Amour. But our favorites, so far: Special Disco Version, where LCD Soundsystem stars James Murphy and Pat Mahoney own the decks, and Friday nights with beloved Tribe Called Quest M.C. Q-Tip and old-school hip-hop D.J. Rich Medina. This one boasted an auspicious debut featuring raucous drop-ins from none other than Nas and Busta Rhymes.
FIXED
Locations and dates vary.
Last year, in support of their turn curating the Go Commando compilation series, JDH and Dave P took their semi-regular party FIXED on the road. And, in the process, revealed to dance-happy kids from Austin to Montreal what New York has long known: that the pair are connoisseurs of the D.J. form. Aside from the duo's seamlessly transitioning party mixes—featuring cuts from M83 and Cut Copy alongside Beirut remixes—FIXED can boast of pre-fame and buzzy performances from the likes of the Rapture, Hot Chip, Art Brut, Ellen Allien, Simian Mobile Disco, Justice, and the Klaxons.
Cheeky Bastard
Thursdays; Hiro Ballroom, 371 W. 16th St., nr. Ninth Ave.; 212-727-0212
The promotion team GBH, who have been booking and producing shows and parties in New York for a decade, have a healthy relationship with Hiro, running its hip-hop Skool party, as well as frequent one-off shows by dance-friendly acts like Sebastien Tellier and Booka Shade. Thursday night's Cheeky Bastard spans the GBH oeuvre, mixing up brand-name D.J.'s—a recent night coupled Depeche Mode's Martin Gore with Ghostly International's Osborne—and ready-to-blow international bands like England's Metronomy and France's the Teenagers. It's a frequent pit stop for heavy hitters from hip boutique labels (Fools Gold, Dim Mak, Ed Banger), touring musicians (members of Bloc Party, the Klaxons, and CSS have all dropped in to spin records), and scene stalwarts (Moby!).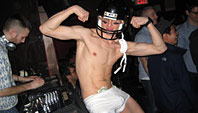 Something Tight
First, third, and fifth Thursdays; Happy Ending, 302 Broome St., nr. Forsyth St.; 212-334-9676
Happy Ending is pretty well known for its reading series, where a musician is paired with an author taking a "public risk." For pure outlandishness we prefer the bar's Something Tight party, where D.J.'s Timmy D and Telfar—who spin a satisfying mix of 90s radio jams and obscure finds—have the bi-level space swarmed with wacky kids long since past the point of caring about what they do in public. Official selection, Dance Party category, 2008 Best of New York.
Robot Rock
Fridays; Le Royale, 21 Seventh Ave. S., nr. Leroy St.; 212-463-0700
The opening of Le Royale gave GBH's prematurely deceased Robot Rock (which used to call the now-shuttered Movida home) a new shot at life. And it hasn't disappointed: Intimate, raucous live sets from the likes of Albert Hammond Jr. and Ratatat—along with D.J. sets from Eamon Harkin—have made this a perpetually tough door.
LoverGirl
Saturdays; Pacha, 618 W. 46th St., nr. Eleventh Ave.; 212-209-7500
LoverGirl boldly declares itself "NYC'S HOTTEST Dance Party for Women," and we can't really argue. Now at Pachita, the penthouse lounge at Pacha, it boasts a sexy, high-energy crowd cutting it up to DJ Mary Mac. August features appearances from scene celebs like the female MCs Kin4Life and video vixen Syn Moulin. The Anti-Underwear Go Comanda party will also stop by.
U.N.I.T.Y.
First and third Saturdays; Hugs, 108 N. 6th St., nr. Berry St., Williamsburg, Brooklyn; 718-599-5959
Finally, a dance party after our own hearts: U.N.I.T.Y.'s M.O. is a steady flow of the choicest radio jams from the halcyon days of the nineties. We're talking Keith Sweat segueing seamlessly into some Local H before jumping on Ginuwine's "Pony" and riding over to Luscious Jackson's "Naked Eye," with everyone's sing-along instincts kicking in at an extremely high volume. You no longer have to listen to Collective Soul only in the comfort of your own home.
The Rub
First Saturdays; Southpaw, 125 Fifth Ave., nr. Sterling Pl., Park Slope, Brooklyn; 718-230-0236
The D.J. trio and hip-hop historical society collectively known as the Rub have long since been a welcome local presence at a multitude of one-off parties, and they have their own program on BrooklynRadio.net. But their monthly Saturday-night jam at Southpaw, around since 2002, is still the trio's natural habitat. A no-pretense bash where Souls of Mischief, Digital Underground, and old-school Ice Cube rule the speakers? Damn, today was a good day.