Tearing the Veil of Maya
Union Hall; Sundays at 7:30 p.m.; $7
Union Hall fills up every Sunday for this weekly comedy show hosted by Brooklyn's indie-comedy laureates Michael Showalter and Eugene Mirman. The duo regularly books their buds, who just happen to be some of the other biggest names in the alt-comedy scene: Zach Galifinakis, John Oliver, Todd Barry, Mike Birbiglia, David Cross, Demetri Martin, Janeane Garofalo, and Dave Hill have all stopped by. Official selection, Best of New York 2008.
This Is New York
The Creek and the Cave; Sundays at 9 p.m.; free
Amazingly, this night of comedy hosted by Derrick Comedy—the energetic trio of Dominic Dierkes, DC Pierson, and 30 Rock writer Donald Glover—is actually worth the schlep to Long Island City on a Sunday night (if you're an LIC resident, you've probably already seen the show). The cheap sangria swirls with stand-up and sketch comedy from just-about-to-break-through locals like Aubrey Plaza (soon to be seen in Judd Apatow's Funny People) and Eric Drysdale (The Colbert Report).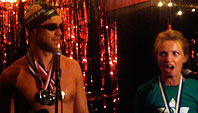 Street Meat
Cake Shop; first Monday of the month at 8 p.m.; free
Here, comedians share the stage with street performers, and not just the good ones: Street Meat promises "whacky vendors, scientologists, flute players in the port authority." It's a weird and wild night, aided by the substantial drink specials and big-deal special guests (the aforementioned Showalter and Glover have popped up). ECNY nominee Heather Fink and Rob Lathan (Human Giant) host.
Sweet
The Slipper Room; Tuesdays at 8:30 p.m.; $5
The Slipper Room's naked ladies make way for an unusually wholesome night of humor. Okay, so the comedic stylings of host Seth Herzog (Best Week Ever) and guest comics like Aziz Ansari (Human Giant) and Kumail Nanjiani might get a little blue, but Herzog's mom appears every week, which is pretty damn sweet. The crowd is a mix of fellow comics, New York media micro-celebrities, and folks confused by the sight of someone's (fully clothed) mother onstage at a burlesque bar.
Monday Evening Standup
Pete's Candy Store; every other Monday at 7:30 p.m.; free
Prolific comic Jen Dziura, host of the Williamsburg Spelling Bee and a sometime VH1 talking head, turns Über-kitschy Pete's Candy Store into the epicenter of underground comedy every other Monday night. Funny folks and those who want to sleep with them sip the Kentucky Root Beer while comics like Bex Schwartz (VH1), Becky Ciletti (New York Comedy Olympics), and Jason Schneider (Howard Stern Show) take the stage.
Thursday Night Out
The Magnet Theater; Thursdays at 7 p.m.; $7
Maybe the best deal in the New York improv scene: $7 gets you no less than four shows, pizza is free, and beer is a buck. The performers are a mix of improv veterans and students, so the quality can vary.
Family Hour With Auntie Sara
Ochi's Lounge; Saturdays at 9 p.m.; no cover, one-item minimum
Sara Benincasa (whose Sarah Palin vlogs have been featured everywhere from CNN to Margaret Cho's blog) hosts an evening of family-related storytelling from some of New York's best indie comics. With an ever-rotating cast featuring the likes of Glennis McMurray (UCB troupe I Eat Pandas) and Kevin Allison (The State).
Big Terrific
Sound Fix; Thursdays at 8 p.m.; free
Hosted by Max Silvestri (Best Week Ever) and duo Gabe Liedman and Jenny Slate (Showbiz Tonight), each week features a rotating roster of comics making moves on TV, both in front and behind the scenes: Jessi Klein (producer, Strangers With Candy), Leo Allen (ex-writer, SNL), Kristen Schaal (Mel on Conchords). Bonus: probably the best-looking crowd at any comedy show in the city.