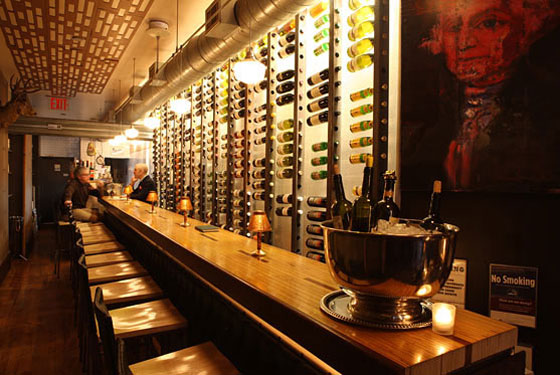 Cameo
93 N. 6th St., Brooklyn; 718-302-1180
This low-key performance venue in the back of the Lovin' Cup Cafe is angling to be the new Sound Fix Lounge. Comedy night Big Terrific has relocated, along with shows from Brooklyn bands you may be hearing way too much about in three years.
The Cooper Square Hotel Bar
25 Cooper Sq., at Bowery; 212-475-5700
This spot is quintessential hotel bar: small tables, candlelight, art books strewn behind the bar, and a warm-weather patio that fits 50. Drinks include a variety of sangrias and high-end cocktails, and, when it opens this summer, food from Govind Armstrong's Table 8.
Draft Barn
530 Third Ave., Brooklyn; 718-768-0515
Pig knuckle? Gypsy steak? Those are just two of the wonderful gut bombs on this Hungarian beer hall's menu. Pairing options abound: There are 250 bottles and counting, plus fourteen taps, all hand-plucked by lifelong beer student and owner, George Mitelman.
Mother's
347 Graham Ave., Brooklyn; 718-384-7778
This spot is a homier location from the people behind Daddy's, the go-to Graham-L-stop bar. This one's not so much for late-night raging (latest last call is 2 a.m.) as for polite conversation over microbrews and bison burgers.
Pizza Pub
294 Third Ave., nr. 23rd St.; 212-477-8100
Now you don't have to stumble anywhere to fulfill your drunken pizza needs. The Pub offers other grub, too, like burgers, fries, and cheese sticks. But the specials make it hard to turn away from the namesake delicacy: A slice and a pint of the house brew is $4.50, a full pie and a pitcher is $22, and every shot gets you a free slice.
Smyth Hotel Lobby Bar
85 W. Broadway, nr. Chambers St.; 212-587-7000
Last time out we highlighted Above Allen; now, say hello to another spot from the Thompson hoteliers. This one is a cozy, slightly vintage-skewing lobby bar; squint, with a cocktail in hand, and you might just feel like you're in Don Draper's corner office.
Veloce Club
17 Cleveland Pl., nr. Kenmare St.; 212-966-7334
The space now known as Veloce Club went through a bit of an identity crisis—switching names from Bar Veloce to Bar Tonno to Room4Dessert before going back to Bar Veloce—before arriving at its current iteration. Leather booths make a fine place to sip Italian cocktails like the Aperol spritz, or the two house drinks made from Veloce's own grappa-based liqueur.