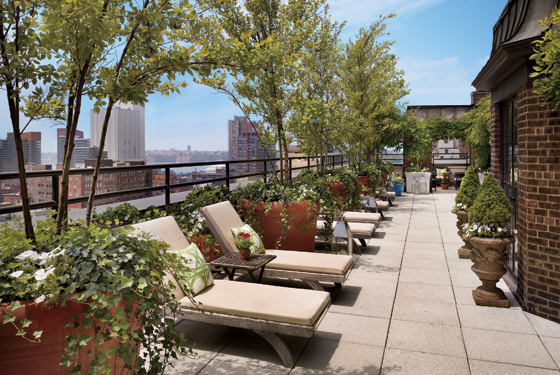 The Sky Terrace
356 W. 58th St.,nr. Ninth Ave.; 212-554-6303
Hudson Hotel's fifteenth-floor lounge isn't new, technically, although this summer the "hotel guests only" rule has been officially done away with. Now you have no excuses for not being here.
Open: Now!
d.b.a. Brooklyn
113 N. 7th St., Brooklyn; 718-218-6006
Back in January, when Grub Street mentioned d.b.a. Brooklyn's patio, it seemed like a far-off dream. Well, it's really here, folks.
Open: Now!
The Rooftop at Ravel
8-08 Queens Plaza South, Long Island City; 718-289-6101
A 6,500-square-foot roof deck at a new boutique hotel in Long Island City, of all places, featuring cabanas, frozen drinks, great views of the Queensboro Bridge, lamb sliders, a retractable roof, live D.J.'s, a movie theater, and shuttles from the nearby subways.
Open: May
Studio Square
35-33 36th St., Long Island City; 718-383-1001
And that's not all for the LIC. Joining Ravel's rooftop will be Studio Square, an 18,000-square-foot beer garden sporting graffiti, exposed brick, picnic tables, iron fire pits, a cobblestone courtyard, and a covered patio, and offering up housemade sangria and a menu of bratwurst and pulled-pork sandwiches.
Open: May
The Second-Floor Bar at the Cooper Square Hotel
25 Cooper Sq., at Bowery; 212-475-5700
A 50-person terrace with a great view from the, yep, second floor.
Open: Second week of May
Der Schwarze Koelner
710 Fulton St., Fort Greene, Brooklyn; no phone yet
Another beer garden in a neighborhood that could use one (this time, Fort Greene). The German expat couple behind the operation let Clinton Hill Blog in on their plans, including the cheap Cologne Bavarian beers (Weinstephaner, Schneider-Weisse) and food (sausages, currywurst) that will be available.
Open: June or July
Water Taxi Beach at Governors Island
Governors Island
Yes, you read correctly: Water Taxi Beach is expanding! The new Governors Island outpost (one of two new locations; see below) will feature beach volleyball, a café, an outdoor grill, a stage, and basketball courts. (Still no swimming, though we have a feeling you'll be able to overlook that.)
Open: July 4
Water Taxi Beach at South Street Seaport
19 Fulton St., at South St.
Good things continue to come in pairs. WTB's Manhattan location will boast a fish shack, a nine-hole miniature golf course, Ping-Pong tables, Skee Ball, and live music Thursday through Saturday nights.
Open: Memorial Day
Dining Alfresco

A few fine restaurants are expanding into the great outdoors this season as well: Motorino, Shang, and Kif all have open-air spaces now open or opening soon.