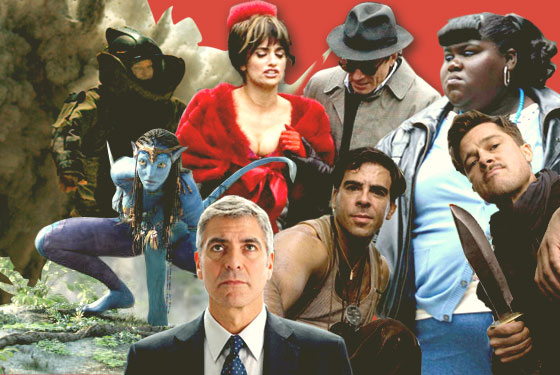 Julie Reiner's Oscar Party
The Clover Club; 3/7 at 7 p.m.; 210 Smith St., nr. Butler St., Carrol Gardens, Brooklyn; 718-855-7939
Mixologist Reiner usually has a party at her house, but this year she'll roll out an actual red carpet in front of her handsome establishment (entrance is free, and you're encouraged to dress up) and serve special Champagne drinks like the La Rosa (tequila, amaro, strawberry syrup, and Moët Rosé) and the Marquis No. 2 (pisco, lemon, raspberry, and Moët Rosé). Caviar blini and truffle popcorn with parmesan will also be on hand.
WitStream Oscar Party
The Bell House; 3/7 at 7 p.m.; 149 7th St., nr. Second Ave., Gowanus, Brooklyn; 718-643-6510
The hilarious Gabe Liedman (Big Terrific) and Jenny Slate (SNL) host this free event, but they will also be running commentary from the micro-blogging comedy site WitStream. Jokes! Everybody's got jokes.
Oscar Night at Comix
Comix; 3/7 at 6:30 p.m.; 353 W. 14th St., nr. Ninth Ave.; 212-524-2500
The folks at Comix have gone all out with a free party hosted by Danny Leary and Kambri Crews in the newly-renovated Copper Room. There'll be a raffle where you can win prizes, and adorably-named food and drink specials like the Alec Baldwings, The Blind Sidecar, and The Precious: Based on the Novel Push by Sapphire Gin & Tonic. Space is limited so RSVP to kcrews@comixny to reserve a spot.
Oscar Night at The 92Y Tribeca
92YTribeca; 3/7 at 7 p.m.; 200 Hudson St.., nr. Canal St., 212-601-1000
Dust off that bolo tie and join funny ladies (and pop culture aficionados) Michelle Collins, Sara Benincasa, and Sara Schaeffer as they provide quips to punch up your night. Bonus: admission includes a glass of champagne.
Oscar Night and the City
Alice Tully Hall; 3/7 at 7 p.m.; 1941 Broadway, nr. nr. 65th St.; 212-875-5788
This is the one if you want to pretend you're actually attending the big event. Tickets will run you $125-$250 (proceeds to benefit the nonprofit NYC & Company) but with that you'll get hors d'oeuvres, cocktails and music from Oscar-winning films performed live by the Juilliard Jazz Ensemble. You'll even receive the same official Academy Awards program as the folks over at the Kodak Theatre. Fancy!
Donatella Arpaia's Oscar Party
Mia Dona; 3/7 at 7 p.m.; 206 E. 58th St., at Third Ave., 212-750-8170
The consummate hostess throws a shindig where $25 gets you two cocktails as well as a tasting menu that includes meatballs, mini panzarotti, mini white-bean bruschetta, and panna cotta with caramel sauce. Popcorn with "edible Oscar-gold dust" is also promised.