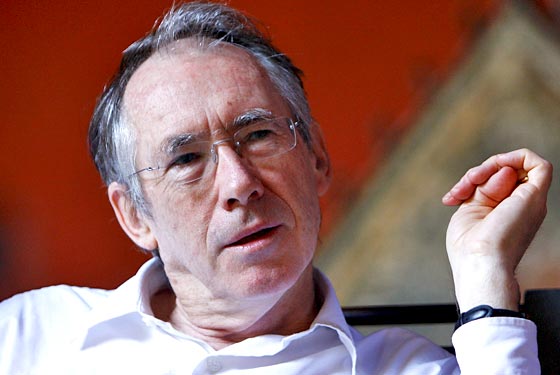 Colm Tóibín and Colum McCann
Symphony Space - Leonard Nimoy Thalia; 3/31 at 7:30 p.m; 2537 Broadway, at 95th St.; 212-864-5400
The two acclaimed Irish writers discuss their latest novels (Brooklyn and Let the Great World Spin, respectively), with a performance of their work by Tony winner Michael Cerveris.
My First New York
Barnes & Noble; 4/6 at 7:30 p.m.; 1972 Broadway, at 67th St.; 212-595-6859
Writers David Rakoff and André Aciman, and filmmaker Jonas Mekas, contributors to New York Magazine's book My First New York, share stories about their initial experiences in the city.
Alice Waters
BookCourt; 4/6 at 7 p.m.; 163 Court St., nr. Pacific St., Boerum Hill, Brooklyn; 718-875-3677
One of the great pioneers of the sustainable-food movement discusses her new cookbook, In the Green Kitchen. (Check out a recipe for Garlic Vinaigrette adapted from the book here).
Live from the NYPL: David Remnick and Ta-Nehisi Coates in Conversation
Celeste Bartos Forum at the New York Public Library ; 4/6at 7 p.m.; Fifth Ave. at 42nd St.; 212-930-0730
The Atlantic's Ta-Nehisi Coates talks with David Remnick, Pulitzer Prize-winner, editor of The New Yorker and author of the new book, The Bridge: The Life and Rise of Barack Obama. Talking points include what it means to have a black president and what it was about Obama that helped him to break the barrier.
Ian McEwan
92nd Street Y; 4/6 at 8 p.m.; 1395 Lexington Ave., nr. 92nd St.; 212-415-5500
The Booker Prize–winning author's only New York reading for his new novel, Solar, a comedic novel about climate change (yes, you read that right).
Happy Ending Music & Reading Series
Joe's Pub; 4/7 at 7 p.m.; 425 Lafayette St., nr. Astor Pl.; 212-539-8777
This month's installment of the beloved series hosts authors Sam Lipsyte (The Ask), Zoë Heller (The Believers), and Adam Haslett (Union Atlantic), with musical guest Christina Courtin.