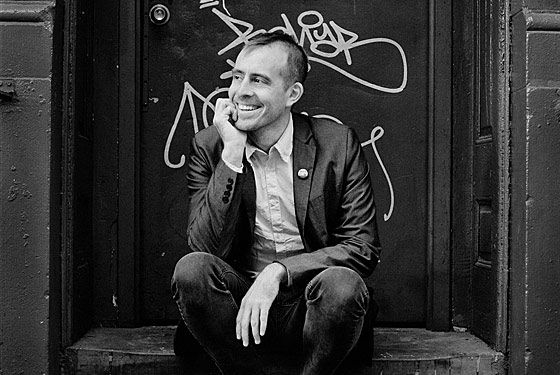 LCD Soundsystem
Music Hall of Williamsburg, 4/8 at 8:30 p.m.; 66 N. 6th St., Williamsburg, Brooklyn; 718-486-5400
Sometime between 1 a.m. and 9 a.m. on Wednesday, disco revivalists LCD Soundsystem quietly announced this surprise one-off gig on their website. Early risers and scenester tweeters were lucky to catch the news and snatch tickets before they sold out; the rest of us will have to get creative if we want to get in. James Murphy and Co. will presumably be debuting some songs from the band's new highly anticipated album This Is Happening, which comes out in May.
ARMS
Glasslands Gallery, 4/09 at 7:30 p.m.; 289 Kent Ave., Williamsburg, Brooklyn; no phone
ARMS is the new project of Brooklyn-based guitarist Todd Goldstein, a former member of the short-lived Harlem Shakes. His haunting, melancholy vocals recall those of Joy Division's Ian Curtis and even Morrissey at times, though graceful harmonies and jangly, pop-oriented guitar lines assure that ARMS is a bit more accessible to the non-doom-and-gloom crowd.
Cymbals Eat Guitars
Music Hall of Williamsburg, 4/9 at 8 p.m.; 66 N. 6th St., Williamsburg, Brooklyn; 718-486-5400
With their literary lyricism and unique chord structures, Cymbals Eat Guitars stand out among New York's heavily saturated rock scene (maybe because they're from Staten Island?). After touring behind 2009's Why There Are Mountains, the band is returning home to play the Music Hall of Williamsburg with Bear in Heaven, Brooklyn natives who have generated quite a bit of buzz with their psychedelic synth-rock style.
Ted Leo + the Pharmacists
Fillmore at Irving Plaza, 4/9 at 9 p.m.; 17 Irving Pl., nr. 15th St.; 212-777-6800
Ted Leo has been churning out consistently solid albums with his backing band the Pharmacists almost annually since 1999. The band's ninth and newest album, The Brutalist Bricks, is more of the same earnest, guitar-driven power punk that Leo's fans love. One important note: He is, proudly, from New Jersey.
Dinosaur Feathers
Union Hall, 4/10 at 7:30 p.m.; 702 Union St., Park Slope, Brooklyn; 718-638-4400
Formed in early 2009, Brooklyn's Dinosaur Feathers just released their first proper album, Fantasy Memorial. Hints of other Brooklyn bands can be heard in their music—the soaring vocal harmonies of Grizzly Bear, sixties psych rock and tribal rhythms of Animal Collective. Their charming, addictive tropical sound is sure to lure in fans beyond the borough, so catch them while they're still playing local haunts like Union Hall.
Fang Island
Maxwell's, 4/13 at 8:30 p.m.; 1039 Washington St., Hoboken, New Jersey. 201-653-1703
Brooklyn's Fang Island describe their sound as "everyone high-fiving everyone." Or you could call it hipster prog-rock. Either way, they're energetic, instantly enjoyable, and overflowing with youthful exuberance. Their new self-titled album has created substantial buzz, and Tuesday's stop at the Hoboken staple Maxwell's will be their last in the NYC area before embarking on a massive cross-country tour.