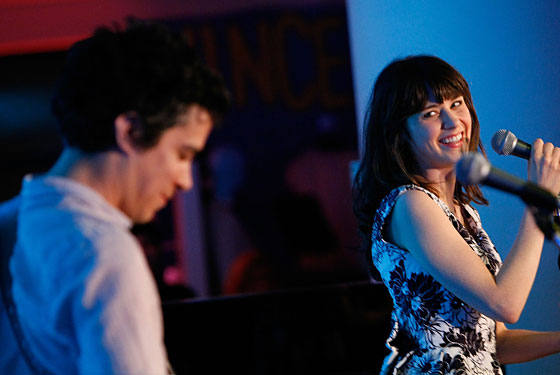 1. Spend the weekend at a beach. A Water Taxi Beach, that is. On Saturday, the Beach at Governors Island gives us a free show by Portugal. The Man, and on Sunday they welcome She & Him, featuring the folk sounds of blue-eyed temptress Zooey Deschanel. What could be more American than that?
2. Dance in a museum. MoMA P.S. 1 kicks off their excellent Warm-Up series this weekend, with live sets by Delorean, Janka Nabay and the Bubu Gang, and Glasser. While you're there, try to make the courtyard Pole Dance exhibit sing. Over in the BK, the Brooklyn Museum has two local dance acts: Analogue Transit and Dynasty Electric, as part of their First Saturday Series.
3. Watch people stuff their faces. It's that time again—time for the Nathan's Famous Fourth of July International Hot Dog Eating Contest. It's iffy whether Kobayashi will be able to compete this year (he's having issues with the Major League Eating organization), but there are plenty of other contestants hungry for the prize that you can root for. Just remember to get there early for a good spot.
4. Represent. Think you have what it takes to rock a crowd? Prove it at the Show & Prove Superbowl, which kicks off the Brooklyn Hip Hop Festival on Monday.
5. Laugh. Because you can! Cipha Sounds hosts the Fourth of July Funny Fest at Comix (tagline "Life, Liberty, and Pursuit of Funniness") with comedians from Def Comedy Jam, SNL, Comic View, HBO, and Chappelle's Show. If the eccentricities of everyday life is more your speed, revel in it at Andy Rocco's Underground Americana at the UCB.
6. Take a salsa lesson. Celebrate our melting pot by learning some Latin moves at Lincoln Center's Midsummer Night Swing series. Afterward, show off your new skills at the live performance by Colombia's La-33.
7. Shake your stuff. What better way to show your national pride than representing our country in an international burlesque contest? (Le) Poisson Rouge hosts Strip Search New York City, where contestants compete for the title of New York City's Ambassador of Burlesque. It's a prestigious honor, as the winner will then represent our city in the Toronto Burlesque Festival later in July. To which we say: USA! USA! USA!