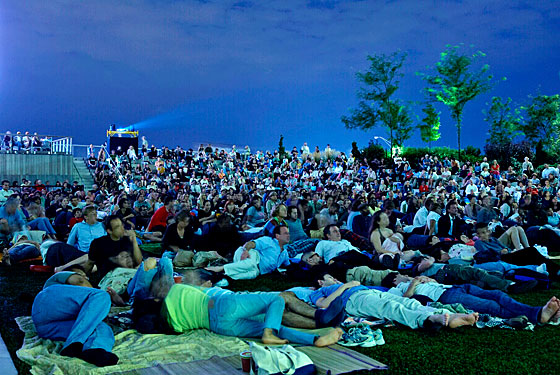 Movies With a View: Blues Brothers
Brooklyn Bridge Park; 8/19 at 6 p.m.; 1 Main St., at Plymouth St., Dumbo; 718-802-0603
There are just three films left in the Movies With a View series at Brooklyn Bridge Park. Tonight's selection is Blues Brothers. Next week they're screening Indiana Jones and the Last Crusade, and the last of the season, on September 2, is viewers' choice, so vote early and often at brooklynbridgepark.org. Music at 6 p.m.; movies start at sunset.
Movie Nights on the Elevated Acre: Muppets Take Manhattan
The Elevated Acre; 8/19 at 6 p.m.; 55 Water St., nr. Williams St.; 888-391-FEST
It's your last chance to catch one of the River to River Festival's Movie Nights this summer, but they've saved the best for last (in our opinion) with Muppets Take Manhattan. It's free, but tickets are required and will be distributed, two per person, starting at 6 p.m. at the street-level Water Street entrance. Come early for music by the Darren Wallis Trio.
Hudson River Park's River Flicks: Annie
Pier 46; 8/20 at 8:30 p.m.; Charles St., at West St.; 212-627-2121
This year, River Flicks covered the bases with movie fare for both adults and the little ones. Unfortunately, the last grown-up offering happened yesterday, but there's still one left for the kiddies with Annie (you know, the one about the lovable orphan), Friday at Pier 46. Chairs are not provided, but popcorn is.
Free Movies Under the Stars: The Blind Side
Cunningham Park; 8/23 at 8 p.m.; 196 St. and Union Turnpike, Queens
We all know Sandra Bullock got her Oscar for this one, so find out what all the hype is about at this screening. Come early for free popcorn. And it's a tearjerker, so don't forget your tissues.
Red Hook Summer Movies: Cabin Boy
Valentino Pier; 8/24 at 8 p.m.; Van Dyke St., Ferry St., and Coffey St., Red Hook
Every Tuesday until September 14, catch a flick under the watchful eye of Lady Liberty. Next week's film is Cabin Boy. Come at eight to grab a seat, and films start at around 8:30 p.m. Dogs welcome!
HBO Bryant Park Summer Film Festival: Bonnie and Clyde
Bryant Park; 8/23 at 5 p.m.; 42nd St., at Sixth Ave.
It's intrigue and cops-and-robbers excitement at Bryant Park, where they'll be screening Bonnie and Clyde for their last film of the season. This classic stars Warren Beatty and Faye Dunaway as hot-to-trot bank thieves wreaking havoc across the Midwest. Call in for an order at the 'wichcraft kiosk, then enter beginning at 5 p.m. at the Sixth Avenue side of the park.
Central Park Conservancy Film Festival
North of Sheep Meadow; 8/24–8/28 at 6:30 p.m.; Central Park West, at 72nd St.; 212-310-6600
From Tuesday to Saturday next week, the eighth annual Central Park Conservancy Film Festival will be held in the landscape north of Sheep Meadow. Films include Fame, The Taking of Pelham 123, and the viewers' pick, Woody Allen's Manhattan. Screenings begin at 8 p.m., rain or shine. Gates open at 6:30 p.m.; enter at 72nd Street. Check the official website for the lineup.