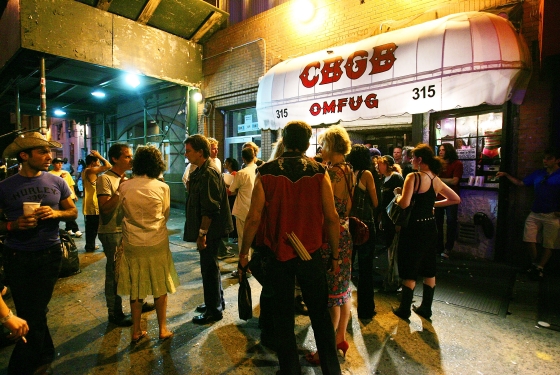 Jewish Lower East Side
4/17 at 11 a.m.; Meet at the SE corner of Delancey and Essex Sts.; $15
Pack some matzah and join Big Onion Tours for their annual Pre-Passover walk of the area that was once home to the largest Jewish community in the world. The tour spans 150 years of history, hitting spots like the Jewish Daily Forward building, the Eldridge Street Synagogue, and more.
Gowanus Artists' Studio Tour
4/17 at 2 p.m.; Meet at Four &Twenty Blackbirds, 439 Third Ave., nr. 8th St., Gowanus; $75
Tour gurus InContext once again gets creatives to open up their studios for discussion, this time in Gowanus with artists Kellyann Burns, Lisa Sigal, Rob Fischer, and Stephanie Snider. Meet at Four and Twenty Blackbirds, and don't forget post-tour drinks at Halyards. After three hours of walking, you'll need it.
Rocks Off Walking Tours
4/16-5/6; Times vary; Meetup time sent after purchase; $25
Two new downtown New York walking tours led by former CBGBs booker Jake Szufnarowski and John Joseph, frontman for the punk band the Cro-Mags. One focuses on punk and the other is on rock 'n roll, and you'll hit spots like Jimmy Page's dealer's apartment and the former Electric Circus (Now a Chipotle). Worth it just to learn—and this sounds really informative—"how to properly go #2 in the CBGBs bathroom."
"30 Plays in 30 Blocks"
4/17 at 3 p.m.; Meet at Second Ave. and Houston; Free (come with iPhone and headphones)
The Off-Off-Broadway stalwarts Neo-Futurists have teamed up with free iphone app Broadcastr to create a technology-assisted storytelling stroll down Second Ave. Each block, from Houston to 30th St. is "tagged" with a unique location-based audio play, but never fear, if you don't have an iPhone, you can procure a podcast version by emailing kate@broadcastr.com for a link, and still attend the afterparty at Paddy Reilly's bar.
Run for the Parks
4/17 at 8 a.m.; Start at East Dr. at 68th St.; $33-$40; $18-$25 New York Road Runners
Okay, technically not a walking tour, but this 4-mile race benefits the City Parks Foundation and takes you through scenic Central Park. Start at East Drive at 68th Street and wind through a route past Cleopatra's Needle, the reservoir, and Strawberry Fields. Sunny Spring weather is expected for Sunday, so start stretching!