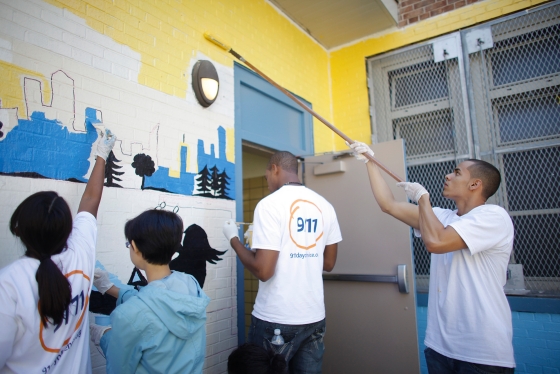 Care Packages and Revitalization at P.S. 140 M
P.S. 140 M; Attorney St., nr. Rivington St.; 212-677-4680
New Yorkers Volunteer is partnering with MyGoodDeed, New York Cares, and the Corporation for Nation & Community Service to host two service projects at P.S. 140 M. Prepare the Lower East Side public school for the new school year or write cards and send care packages to military service members overseas. Participants must be at least 18 years of age. Register at newyorkcares.org (orientation not required); 9/11 from 10 a.m. to 1 p.m.
9/11 National Day of Service and Remembrance
JCC; 334 Amsterdam Ave., nr. 76th St.; 646-505-4444
The JCC in Manhattan is hosting a day of community service in remembrance of 9/11, to take place at the building and various nearby locations. Volunteers will serve lunch at a senior citizens' center, clean up areas of Riverside Park, create welcome kits for children in hospitals, or paint a nonprofit thrift shop, among other activities. All ages are welcome, and breakfast will be served before volunteers select a project to work on for the day. Call 646-505-4450 to register, or visit jccmanhattan.org for more information; 9/11 from 10 a.m. to 2 p.m.
Cooking and Planting in Newark
New Hope Village; 195 W. Market St., nr. Norfolk St.; 973-623-0206
Help plant a September 11 Memorial Garden at New Hope Village, an affordable housing facility that offers day care programs for children and activities for seniors. Volunteers will also help cook and serve food to seniors. Register at jerseycares.org or call 973-424-1091; 9/11 from 11 a.m. to 4 p.m.
DOROT's Rosh Hashanah Package Delivery
DOROT; 171 W. 85th St, nr. Amsterdam Ave.; 212-769-2850
Visit and deliver meals to homebound seniors while commemorating the tenth anniversary of 9/11 at one of three DOROT locations, including the Upper West Side, the East Side, and Scarsdale in Westchester. There will be arts and crafts for participating children, and an orientation at the beginning of the event. All volunteers must bring a photo ID to participate; register online before Tuesday, September 6 at dorotusa.org; 9/11 from 10 a.m. to noon
"Hand in Hand, Remembering 9/11"
Line will begin in Battery Park and go up the West Side
To commemorate the tenth anniversary of 9/11, leaders in lower Manhattan are organizing a hand-in-hand line to go up the west side. After, participates can contribute mementos to a Wall of Remembrance, observe a tree planting in Battery Park City, and volunteer at a local nonprofit. Register in advance at handinhand911.org; 9/10 at 8:46 a.m.
Operation Shoebox
Operation Shoebox; 152 U.S. 206, nr. Park Ave., Hillborough, NJ; 908-698-0333
Help Operation Shoebox New Jersey collect supplies and send care packages to U.S. troops based overseas. Volunteers will sort donated food and hygiene items, and assemble care packages. Register at jerseycares.org or call 973-424-1091. Visit opshoeboxnj.org for more information; 9/9 from 6 p.m. to 8 p.m.
Rebuild the National 9/11 Flag
Various locations
The National 9/11 Flag has been touring America for the past several years, as it is displayed and restored through a nationwide effort. When complete, the flag will become part of the permanent collection of the National September 11 Memorial Museum at the World Trade Center. Help the New York Says Thank You Foundation achieve their goal by sponsoring a stitch for $5, adding a loved one to the Honor Roll for $10, or nominating a service hero to contribute a stitch at nycharities.org/app/911flag; 9/10 at 8:46 a.m.
St. Francis Xavier Welcome Table
St. Francis Xavier; 55 W. 15th St., nr. Sixth Ave.; 212-627-2100
Contribute to St. Francis Xavier's weekly meal service that feeds almost a thousand people. Volunteer for the morning shift to prepare food, or the afternoon shift to serve meals and clean up after the event. Must be at least 16 years of age to participate, call 917-502-4759 to sign up; 9/11 from 8:45 a.m. to 11:30 a.m. and 11:45 p.m. to 3:30 p.m.
Visit Belvedere Castle With Regent Family Residence for the Homeless
Regent Family Residence for the Homeless; 2720 Broadway; nr. 104th St., 212-865-7000
Visit Belvedere Castle and picnic in Central Park with the children of Regent Family Residence by participating in a service event organized by Volunteers of America. Bring a bagged lunch for you and your child buddy. Call 212-865-7000 or visit voa-gny.org for more information; 9/11 from 11 a.m. to 4:30 p.m.
.