The Library Bar
Nomad Hotel, 1170 Broadway, at 28th St.; 212-796-1500
Despite its somewhat opulent design and monogrammed coasters, the NoMad hotel bar nurtures a casual air. Head bartender Jessica Gonzalez of Death and Co. crafted a specialized cocktail menu that demands thorough review: The delicious Satan's Circus achieves a delicate balance between rye whiskey, maraschino liqueur, and a sharp Thai chili kick, while sugar cane, lime, and a sprig of mint complement the Tin Pan Alley's mix of island rums and licorice absinthe.
Richlane
595 Union Ave., nr. N. 11th St., Williamsburg; 347-422-0617
This space plays by all the Williamsburg watering hole rules—old, vintagey accents, industrial-themed lighting, and housemade cocktail accoutrements in Weck jars—but its slightly-off-the-beaten-path location makes it a nice break from the usual. The V-shaped bar echoes the shape of the space and allows for prime people-watching. Moderately-priced cocktails are hit-or-miss, but when they're good, they're really good, using ingredients like dried rose petals, ginger liqueur, and almond syrup.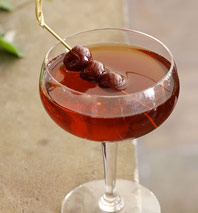 The Daily
The Public, 210 Elizabeth St., nr. Prince St.; 646-588-4459
The Daily—located where the now defunct Monday Room used to dwell—is directly adjacent to Public, but it's its own space and venue. And what a venue it is: The cocktail bar is a beautiful mix of polished leather booths, enormous mirrors, and just enough contemporary art to remind you that you're in Soho. The cocktail culture here is serious: Tinctures and bitters and all manner of specialized devices line the bar, fresh fruit and garnishes add some color, and an apothecary-like shelf of Mason jars filled with all manner of mixological wonders looms over it all. Expect the menu of daily cocktail specials and haute cuisine to change up regularly.
The Shanty
New York Distilling Company, 79 Richardson St., nr. Lorimer St., Williamsburg; 718-412-0874
A bar opened by Brooklyn's New York Distillery Company to ply their wares, The Shanty itself is nothing special to look at: spare brick walls, some post-industrial lighting fixtures, and exposed piping tracing the ceiling. But the cocktails are a different story. They feature Navy Strength and Dorothy Parker Gin (with notes of hibiscus, elderberries, and more) made right next door, and soon the bar will roll out Rock and Rye liquor, a deadly combination of whiskey and rock candy.
Booker and Dax
207 Second Ave., at 13th St.; 212-254-3500
Located in the back of Ssäm Bar, this spot is pretty much everything you'd expect from the people who brought you cereal-milk soft serve and crack pie. Booker and Dax is officially under the guidance of FCI's Dave Arnold, but there's still plenty of Momofuku and David Chang spirit throughout. Communal tables are available, but the prime seats are at the bar watching the bartender chill your glass with a smoking wisp of liquid nitrogen or firing up a glass of cognac with a 1500-degree hot poker. The surprises don't end there: That clear drink in your hand is actually a Bloody Mary (Lady of the Night), and your Manhattan is perfect every time, because it was made several hours ago and chilled in the fridge to avoid using that pesky ice stuff.
Ginny's Supper Club
310 Lenox Ave., nr. 125th St.; 212-792-9001
Directly downstairs from Marcus Samuelsson's Red Rooster, the chic, retro supper club is all mirrors, tapered columns, patterned screens, and soft lighting. The stage at the far end of the club is a busy little place: You'll find Latin, blues, and just about every genre of music you'd expect (or demand) to hear in Harlem. Young and old wet their beaks at the bar, and though there are some soul food staples on the menu of small plates, you'll be able to see Asian and French influences as well.
Lenox Social
321 Lenox Ave., nr. 126th St.; 212-510-8552
There's something for nearly everyone here, with a sturdy comfort-food menu, friendly scattershot décor, and a multipurpose space that simultaneously qualifies as sports bar, group-meeting ground, and quiet dinner destination in Harlem. With a craft-heavy draft line, a menu of re-fashioned fast-food standards like "cheeseburger spring rolls," and a full liquor shelf (sans cocktail list), the Social nurtures a business-casual atmosphere in keeping with the string of upscale restaurants (like Chez Lucienne and Red Rooster) that have populated nearby blocks in recent years.