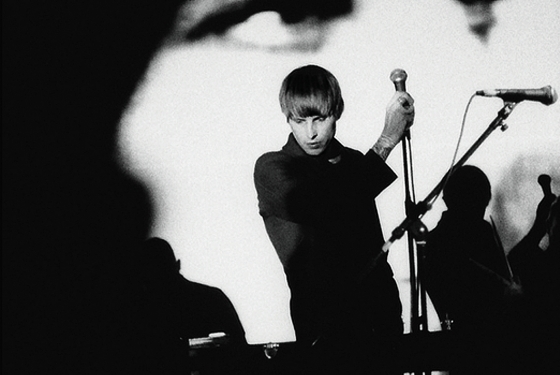 Raekwon
B.B. King Blues Club & Grill ; 4/26 at 11 p.m.; 237 W. 42nd St., nr. Seventh Ave.; 212-997-4144
In a tour named after his latest mix tape, Unexpected Victory, the Wu-Tang member hits Times Square with a plethora of friends, including featured performers Maino and Action Bronson.
Cold Cave
Solomon R. Guggenheim Museum; 4/27 at 7 p.m.; 1071 Fifth Ave.,at 89th St.; 212-423-3500
The dark, grinding synth-pop of Cold Cave arrives at the Guggenheim as part of a music series accompanying an exhibition of John Chamberlain sculptures. The match between musicians, art, and venue seems surprisingly right.
Yann Tiersen
Irving Plaza; 4/27 at 8 p.m.; 17 Irving Pl., at 15th St.; 212-777-6800 ,
Accordion fiend and avant-garde composer behind the Amélie score, the virtuosic French multi-instrumentalist—who counts Krautrock among his influences—plays in support of his latest, Skyline.
The Feelies
The Bell House; 4/27 at 8 p.m.; 149 7th St., nr. Second Ave.; 718-643-6510
It took a twenty-year hiatus for the nineties strummers to fully embrace nostalgia, as they do in the recent Here Before.
Squeeze
Roseland Ballroom; 4/28 at 6 p.m.; 239 W. 52nd St., nr. Broadway; 212-247-0200
The New Wave pioneers have a few festival shows this summer, but swing by for a couple of gigs in the area with fellow old-schoolers the English Beat, whose catalogue will be reissued this summer.
Archers of Loaf
Music Hall of Williamsburg; 4/29 at 8 p.m.; 66 N. Sixth St., nr. Wythe Ave., Williamsburg; 718-486-5400
Last year's reunion events for nineties indie-rock icons expanded from a one-off concert in their North Carolina hometown to a full tour. Snag tix before they get tired of doing shows.
Doe Paoro
Cameo; 5/1 at 8 p.m.; 93 N. 6th St, nr. WytheAve., Williamsburg, Brooklyn; 718-302-1180
This Brooklyn singer-songwriter envelops her direct lyrics and strong voice with a blanket of ethereal ephemera in a genre she has termed "ghost soul." She plays with Aaron Pfenning's (Chairlift) Rewards.