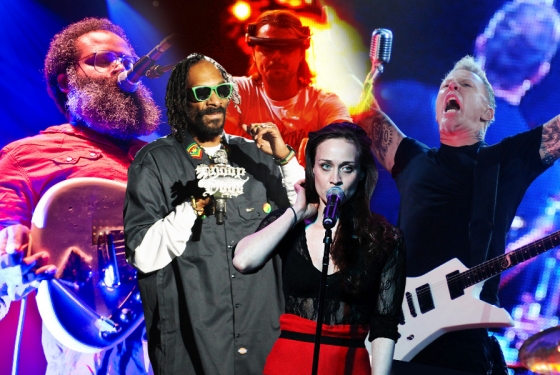 Governors Ball
A potent rock lineup moves from Governors Island to Randall's Island, but keeps its old name.
When: June 23-24
Where: Randall's Island Park; governorsballmusicfestival.com
Risk Heatstroke For: Two stages of acts including Beck, Passion Pit, and the return of the lovely Ms. Fiona Apple.
Getting There: Easy-ish, if you don't confuse it with Roosevelt Island.
Price Gouging: Medium. $95 bucks a day gets you a crazy good lineup. However, shuttles and ferries cost extra.
Keep Your Eyes Open: There'll be—in addition to the gourmet food (a requirement for music fests these days) and Ping-Pong—a "Silent Disco," where all the participants will be dancing to presumably the same music, heard through headphones.
Orion Music Festival
A weekend festival for metalheads and the people who love them.
When: June 23-24
Where: Bader Field, Atlantic City, NJ; orionmusicandmore.com
Risk Heatstroke For: Old-school Metallica—playing their "black album" on one night and Ride the Lightning the other—Arctic Monkeys, Fucked Up, Modest Mouse, and Best Coast.
Getting There: Medium—take a bus or a car. Or just follow the sweet guitar riffs.
Price Gouging: Medium: it's $90 per day. Drop $750, however, and you get access to a lounge with "relaxed seating," booze, and premium views.
Horror Story: In "Kirk's Crypt" Kirk Hammett of Metallica will be previewing selections from his upcoming book Too Much Horror Business - The Kirk Hammett Collection, as well as showcasing his horror memorabilia collection.
CBGB Music Festival
The New York punk palace lends it's name to a fest that aims to honor raucous rock 'n roll with music, film, and comedy.
When: July 5–8
Where: 40 different bars and venues throughout Manhattan and Brooklyn, culminating in a free show at Central Park's SummerStage; cbgb.com
Risk Heatstroke For: Agnostic Front, Fishbone, Guided by Voices, Cloud Nothings, The War on Drugs, The Pains of Being Pure at Heart, Craig Finn
Getting There: Easy. The bevy of venues guarantees a show near you or your favorite train.
Price Gouging: Low. CBGB's music fest is selling badges for $79.00 that grant you entry to every show on a first-come, first-served basis. ($159 for a film pass)
Punk Rock Revival: The festival is being organized by the group of investors who bought the rights and assets to CBGB last year and plan to reopen the club in a new location.
Brooklyn Hip Hop Festival
A celebration of hip-hop music and culture, straight outta Brooklyn.
When: July 9-14
Where:Throughout Brooklyn from Williamsburg to Fort Greene to Dumbo; bkhiphopfestival.com
Risk Heatstroke For: Bustaaaaaaa Rhymes. And the "Show and Prove" MC competition. Maybe you have some skills of your own to show and prove?
Getting There: So easy. Buy a Metrocard. Hop on a train. Boom.
Price Gouging: Not too bad at all. Tickets for individual events run around $10, with a week-long pass coming in at $100.
Film Fun: The festival also has a film portion, the first time they've done it. On the lineup: The graffiti doc Wild Style; a Mobb Deep documentary; Nelson George's The Announcement, about Magic Johnson.
4Knots Festival
The Village Voice event will probably definitely overcrowd the South Street Seaport.
When: July 14
Where: South Street Seaport; villagevoice.com
Risk Heatstroke For: Indie rock alums Archers of Loaf and new(er) kids on the block The Drums, Hospitality, and Bleached.
Getting There: Easy. The A, C, J, Z, 2, 3, 4, and 5 all stop at Fulton Street. Or you can walk. Or swim.
Price Gouging: None. The event's free for all. The cost of a hot dog on the Seaport, however, is a different story.
After the Party There's The: The festival is free but for $15 you can keep the party going at the afterparty at Beekman Beer Garden and Beach Club, hosted by DJ Jonathan Toubin and with a performance by the Black Lips. Cop a ticket here.
Gathering of the Vibes Music Festival
Connecticut's storied annual festival isn't just for hippies, but they'll definitely feel at home.
When: July 19–22
Where: Seaside Park, Bridgeport, CT; gatheringofthevibes.com
Risk Heatstroke For: Primus, Phil Lesh, Yonder Mountain String Band, Primus, Zappa Playing Zappa, and The Avett Brothers.
Getting There: Medium. Being 60 miles north makes it a challenge for any city mouse without a car, but MetroNorth, Amtrak, and the Port Jefferson Ferry are all making stops nearby.
Price Gouging: Medium. To get the most bang for your buck, we recommend pulling a Bonnaroo and staying on the campgrounds. Advanced passes for four days of music and three nights of camping will cost you $205.
Deadhead Heaven: Launched in 1996, the Vibes was created to celebrate the Grateful Dead after Jerry Garcia's death. With that spirit in mind, attendees are encouraged to pack their bongs.
Catalpa Music Festival
Randall's Island gets its own mini-Lollapalooza.
When: July 28–29
Where: Randalls Island Park; catalpanyc.com
Risk Heatstroke For: The Black Keys, Girl Talk, A$AP Rocky, Zola Jesus, Hercules and Love Affair, and saving the best for last, Snoop Dogg, who'll perform his album Doggy Style.
Getting There: Easy-Medium. Take your pick: You can drive, ferry, bus, bike, or walk to the island.
Price Gouging: Medium. At $140 a pop, weekend passes are a little overpriced, especially for a festival with so few bonafide headliners.
Skank it Up: High Times will curate a reggae stage featuring the High Times Cannabis Cup Band.
Afro-Punk Festival
A multi-culti music fest with an urban skater twist.
When: August 25-26
Where:Commodore Barry Park, Brooklyn; afropunkfest.com
Risk Heatstroke For: Erykah Badu, Janelle Monae, Gym Class Heroes, Das Racist, Ninjasonik.
Getting There: So easy. It's right by the BQE. Also, subways.
Price Gouging: Save your cash for a skateboard; it's free.
But Please Don't Hurt Yourself: Dust off your board for Nike's Battle for the Streets Skate and BMX Competition. Participants are chosen by video uploads, so throw in some fancy editing along with those kick flips.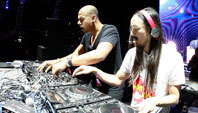 Electric Zoo
An open-air Labor Day weekend beat-party.
When: August 31-September 2
Where: Randall's Island Park; madeevent.com
Risk Heatstroke For:Axwell, David Guetta, Steve Aoki, Sasha, Tiesto
Getting There: A breeze (kinda). You can drive, take a ferry, shuttle bus, or your own feet. Or a bike. Or a Pedicab. So many options! However, note that your bikes are not allowed on ferries or buses, so you gotta pick one.
Price Gouging: Medium. $115 a day or $299 for the weekend.
Kids Will Be Present: Be aware that it's an all-ages event, which means awesome kid-friendly activities like face-painting. Also, they encourage silly hats (but no glowsticks).
Rock the Bells
Hip-hop and you don't stop.
When: Sept 1-2
Where:PNC Bank Arts Center, Holmdel, NJ; rockthebells.net
Risk Heatstroke For:Bone Thugs-n-Harmony, Nas, J Cole, Ice Cube, Dipset, Salt-N-Pepa, Future.
Getting There: Difficult. Gotta figure out how to get to Holmdel, NJ.
Price Gouging: Medium-High. Not because of the ticket itself (a $115 ticket—the cheapest seats—gets you in both days), but you'll have to figure out transportation and where to spend the night.
Bring Your Autograph Book: A $450 VIP ticket gets you a backpack, drink tickets, access to a VIP restroom (which, let's face it, might be worth it), and face time with some of the artists at a meet-and-greet.
Budweiser Made in America Festival
Jay-Z continues to conquer the East Coast, one city at a time.
When: September 1-2
Where: Ben Franklin Parkway at Eakins Oval; Philadelphia, PA madeinamericafest.com
Risk Heatstroke For: Jay-Z, Pearl Jam, Santigold, Skrillex
Getting There: Slightly difficult, just because of the hassle. Buses and trains are pretty easy to come by, though.
Price Gouging: Not too bad, if you don't consider transportation and hotel costs. If you buy them early, they'll run you $135-175 for two days of premium entertainment. Also, this is a Jay-Z joint, so there is such a thing as a "Platinum VIP Cabana." Who knows how much that will cost.
For Bikers: Congratulations, bicyclists, you're not only keeping it green (and probably have amazing thighs), but there is special storage for your vehicle at the festival once you get there. So bike away!
Festival City
The summer-long fests that make NYC the greatest place in the world to catch a good show.

Celebrate Brooklyn
Citiparks Foundation's Summerstage
Hudson River Park's RiverRocks
Lincoln Center Out of Doors
Madison Square Music: Oval Lawn Series
River to River

Jazz and Classical Music Fests
Culture yourself.

Chelsea Music Festival
Lincoln Center Festival
Metropolitan Opera Summer Recital and HD Series
>Mostly Mozart
New York Philharmonic: Summertime Classics
River to River
Bard Music Festival and Bard Summerscape
Caramoor International
Undead Jazzfest
Summerstage: Charlie Parker Jazzfest
Make Music New York