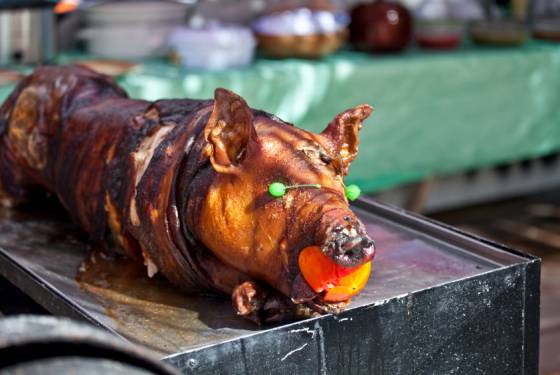 Pig Island 2012
Colonels' Row, Governors Island; 9/1 at from 11:30 a.m- 4:30 p.m.
This third-annual porcine event features 25 New York chefs working on 80 New York hogs (that's pigs, not motorcycles). The brewers and vintners are also New York–based—Sixpoint will provide craft beer, and New York state winemakers are in charge of the vino(s). Representatives of Talde, Egg, Parish Hall, Dinosaur BBQ, Delicatessen, and more will report for duty for the porky feast, and food is guaranteed until 3 p.m. Tickets are $85, but buy before Aug. 24, and get $15 off. A portion of the proceeds go to Food Systems NYC, and kids 12 and under are free with a parent.
Rub-a-Grub
Do or Dine; 9/3 at 5 p.m.–midnight; 1108 Bedford Ave., nr. Quincy St., Williamsurg; 718-684-2290
Bed-Stuy staple Do or Dine will provide the backyard, Sound Liberation Front will provide the beats, and Food Network Star Justin Warner and George McNeese will provide the grub at this Labor Day party. The Do or Dine chefs cook to the sounds of Rich Medina, Queen Majesty, and others in the backyard of the "fine-diving," disco-balled restaurant. Advance tickets are $20, and VIPs are $35, and only 100 are available
Hammer & Claws Blue Crab Feast
The Terminal Stores; 9/7–9/9, various times; 269 Eleventh Ave. at W. 28th St.; 646-822-9469
Summer's winding down, but don't feel cheated—you can still have an all-you-can-eat and all-you-can-drink outdoor feast at this second-annual crab fest in historic West Chelsea. Tens of thousands of Old Bay–licked Chesapeake Bay blue crabs will be in attendance, wine and Abita beer will be flowing, and New Orleans root beer will be available at this all-ages event. Plus, Utz will provide snacks, and Ricks Picks will bring the pickles. Tickets for each seating (four over three days) are $89, includes a crab hammer, and part of the proceeds go toward the Chesapeake Bay Foundation.
Meatopia
Randalls Island; 9/8, 5–9 p.m.; 1 Randalls Island, nr. Randalls Island Park
If you haven't been able to tell, outdoor meat-grilling and free-flowing beer is the unofficial theme this week. James Beard Award–winning food writer Josh Ozersky hosts the third-annual carnivorous festival presented by Whole Foods. City of Meat is the theme, and live music provides the background for top chefs like Marc Forgione, April Bloomfield, Michael White, and others. General admission is $140, but Thrillist has a deal for $130 that gets you in an hour earlier with some VIP access to specialty dishes like "charred and scuffed" prime rib steaks. Everyone gets endless tastes from the Darby, RUB, Mile End, etc. until 9 p.m., plus events like a best butcher contest and a 1,000-pound steer roast hosted by meat king Pat LaFrieda himself.
Julia @ 100: A Celebration
Consulate General of France; 9/12, 6:30–8:30 p.m.; 934 Fifth Ave., nr. E. 75th St.; 212-580-3109
The Francophile virtuoso may have turned 100 on August 15, but perhaps the most "official" New York birthday celebration for Julia Child will be at the French Consulate. The reception will celebrate the life and legacy of the Grande Dame, with catered nibbles inspired by her very own Mastering the Art of French Cooking and a cake by the artist known as Sylvia Weinstock. Tickets are $65.
Feast of San Gennaro
Grand St. at Mott St.; 9/13, 2–3 p.m.; 212-768-9320
The annual Feast of San Gennaro kicks off in Little Italy with a cannoli-eating contest. The winner of the six-minute-long competition will be crowned "The World's Champion." The rest of the festival will feature live music, cooking demonstrations, and parades, running along Mulberry Street from Houston to Canal through Sept. 23.