Die! Die! Die!
Le Poisson Rouge; 10/16 at 5:45 p.m.; 158 Bleecker St., nr. Thompson St.; 212-505-3474
Ferocious noise punkers maximize their potential for exposure with five shows in four days, one being this CMJ showcase with fellow New Zealanders Six60, Ghost Wave, Popstrangers, Lawrence Arabia, and Tom Lark.
Foxygen
Mercury Lounge; 10/16 at 7 p.m.; 217 E. Houston St., nr. Ludlow St.; 212-260-4700
Bicoastal duo Foxygen takes pretty much every great rock figure from the last 50 years and mushes them up into a big fuzzy mess. But it probably sounds even better than that.
Robert Glasper
SOB's; 10/16 at 7 p.m. and 9:45 p.m.; 204 Varick St., at W. Houston St.; 212-243-4940
It's been a big year for the jazz keyboardist, recently releasing a remix of his album Black Radio, which was released earlier this year and featured special guests Erykah Badu, Lupe Fiasco, and Yasiin Bey.
Elephant Stone
Arlene's Grocery; 10/17 at 8 p.m.; 95 Stanton St., nr. Ludlow St., 212-995-1652
Combining vintage indie-pop with classical Indian sitar music, Canada's Elephant Stone touches down in places George Harrison only dreamed of.
Icona Pop
Glasslands Gallery; 10/17 at 8:15 p.m.; 289 Kent Ave., nr. S. 1st St.; 718- 599-1450
You may remember these sugary sweet Swede popsters from their "I Love It" being stuck in your head all summer. Expect a D.J. set full of pummeling beats and anthems that even a cool-for-school CMJ crowd will bop along to. With Dum Dum Girls and Savages.
Little Green Cars
The Slipper Room; 10/17 at 8:30 p.m.; 167 Orchard St., nr. Stanton St.; 212-253-7246
The emotionally raw harmonizing of this Irish five-piece belies their young age: not yet able to drink legally in the U.S. A Glassnote showcase with Robert DeLong and Daughter, in the all new Slipper Room.
Mr. Muthafuckin' eXquire
SOB's; 10/18 at 11 p.m.; 204 Varick St., at W. Houston St.; 212-243-4940
If you were to channel the last twenty years of underground rap into something resembling a party, what would you get? Most likely, you would get this gleefully drunk and profane Brooklyn hero.
King Tuff
Knitting Factory; 10/18 at 7 p.m.; 361 Metropolitan Ave., at Havemeyer St., Williamsburg; 347-529-6696
Also known as distortion-heavy scuzz rock by Kyle Thomas, with a bent toward pop (complete with hand claps) that may be explained by a love of Justin Bieber.
Pissed Jeans
Knitting Factory; 10/18 at 7 p.m.; 361 Metropolitan Ave., at Havemeyer St., Williamsburg; 347-529-6696
Despite all protestations, punk will never die when bands as good as Pissed Jeans will still be screaming over post-hardcore noise.
Angel Haze
Gramercy Theater; 10/19 at 8 p.m.; 127 E. 23rd St., nr. Lexington Ave.; 212-614-6932
In this new rap era, having an interesting Tumblr can seem more important than old-fashioned lyrical skills. Haze has plenty of the latter and a way with boasting: If you're a non-native who claims to "run New York," you better be able to prove it. She can.
AraabMuzik
Webster Hall; 10/19 at 10:30 p.m.; 125 E. 11th St., nr. Third Ave.; 212-353-1600
The hip-hop producer approaches the pads of his MPC sampler like a concert pianist playing Rachmaninoff. His live sets often dip into blunt, party-rocking EDM.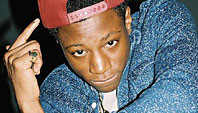 Joey Bada$$
Villain; 10/19 at 7 p.m.; 50 N. 3rd St., nr. Kent Ave., Williamsburg
Old New York rap flow from a 17-year old Brooklyn emcee. A Pitchfork showcase with Death Grips, LE1F, DIIV, Holy Other, METZ, Merchandise, Daughn Gibson, Hundred Waters, and Angel Haze.
Electric Guest
Irving Plaza; 10/20 at 8 p.m.; 17 Irving Pl., at 15th St.; 212-777-6800
The lead singer of these soul-poppers is the brother of former SNL writer Jorma Taccone, which explains why he's written songs for the Lonely Island.
Eureka California
Public Assembly; 10/20 at 8:30 p.m.; 70 N. 6th St., nr. WytheAve., Williamsburg; 718-384-4586
This young indie-rock (in the best sense) trio from Athens, Georgia, makes the kind of sloppy, gleeful noise that sounds like a forgotten seven-inch single from 1992.
Kendra Morris
Rockwood Music Hall; 10/20 at 12:00 a.m.; 196 Allen St.,nr. Houston St.; 212-477-4155
With her own spaghetti-westerned take on vintage soul, Kendra Morris stands out in the retro-R&B field with a serious wail and an eclecticism that others can't match.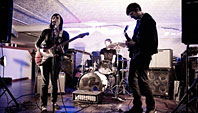 Radical Dads
Legion; 10/20 at 1 p.m.; 790 Metropolitan Ave., at Humboldt St., Williamsburg; 718-387-3797
This Brooklyn band has been slowly growing in stature, converting more and more people on the strength of their lo-fi, fuzzed-up indie, with a great shouter in Lindsay Baker.
She Keeps Bees
The Paper Box; 10/20 at 2:45 p.m.; 17 Meadow St., nr. Waterbury St., Bushwick
Another blues-rock duo? Don't let that scare you. Primal and emotive, Jessica Larrabee can howl and play with the best of them.
Wooden Indian Burial Ground
Leftfield; 10/20 at 7 p.m.; 87 Ludlow St., nr. Delancey St.
Portland, Oregon's Wooden Indian Burial Ground takes scuzzy and fuzzy West Coast psychedelic garage right where it should always be: howling over feedback with a spine.
Note: Folks are fickle, and times and locations are all subject to change. Check the CMJ Marathon's Official Website (and the weather–do you need an umbrella?) before heading out.
The C Stands for Comedy

CMJ's not just for music; there are funny things, too! On 10/16, catch some stand-up by Robert Kelly, Joe Derosa, Colin Quinn, Rich Vos, and Keith Robinson at Comedy Cellar at the Village Underground, while on 10/19 at Union Hall, Greg Barris's Heart of Darkness makes an appearance, with guests Dave Hill and Roger Hailes. UCB gets in on the act with the first ever Comedy Music showcase on 10/18 with Ben Lerman, Jen Kwok, Rob Paravonian, Stuckey and Murray, Jessica Delfino, and Summer and Eve. Because comedy and music make great bedfellows.
What's in a name?

If you're not hungry when you show up to the festival, some of these bands—with names like Butter the Children, Fat History Month, Salt to Bitters, Black Light Dinner Party, and Casey Veggies—might help you get there. (Or possibly have the opposite effect: Butter the Children?!?)