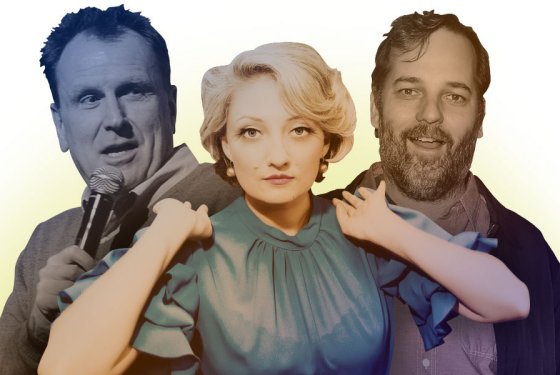 50 Shades! The Musical
Gramercy Theater; 1/11 at 8 p.m., 1/12 at 4:45 p.m. and 8 p.m.; 127 E. 23rd St., nr. Lexington Ave.; 212-614-6932
Longed for a musical parody version of Fifty Shades of Grey? You're in luck. This weekend the Fringe Fest sensation by comedy troupe Baby Wants Candy hits the stage loud and proud with songs like "They Get Nasty," and "There's a Hole Inside of Me." Midtown won't know what hit 'em.
NYC Podfest
The Pit; 1/12 and 1/13; 123 E. 24th St., nr. Lexington Ave.; 212-563-7488
You've LOL'd with them in private, now see them live in the first ever festival of podcasts, featuring Dave Hill's "Podcasting Incident," Myq Kaplan's "Hang Out With Me," and much more. See nycpodfest.com for the schedule.
Colin Quinn
Upright Citizens Brigade Theater; 1/14 and 1/21 at 8 p.m.; 307 W. 26th St., nr. Eighth Ave.; 212-366-9176
Recently the comedian has been dropping in to clubs around town to work on material for his upcoming Off Broadway show Unconstitutional. Show your support for just $5.
Harmontown
The Bell House; 1/16 at 7:30 p.m.; 149 7th St.,nr. Second Ave., Gowanus, Brooklyn; 718-643-6510
Dan Harmon, last seen as the pugilistic showrunner for Community, and Jeff Davis, of Whose Line Is it Anyway?, get weird on the live show of their podcast, with special guests.
The Rejection Show
Upright Citizens Brigade Theater; 1/16 at 9:30 p.m.; 307 W. 26th St., nr. Eighth Ave.; 212-366-9176
It's possibly a little early in the new year to be down on yourself, but hey, what doesn't kill you makes you stronger, right? Join host Jon Friedman and his band of rejected comics and writers as they dwell in their failures all for your amusement.
Mike Birbiglia
Union Hall; 1/17 at 8 p.m.; 702 Union St, at Fifth Ave., Park Slope; 718-638-4400
The This American Life contributor and everyone's favorite sleepwalker wanders into Union Hall for a casual night of stories and special guests. He'll even take requests.
Winter Comedy Jam
The Beacon Theater; 1/19 at 7 p.m.; 2124 Broadway, nr. 74th St.; 212-465-6500
The weather may not be all that wintery at the moment, but no excuse is needed to chill with D. L. Hughley, Bruce Bruce, Earthquake, Smokey Suarez, and Joe Torry.
The First Novelization: A Reading Series Based on the Original Motion Picture
Union Hall; 1/19 at 8 p.m.; 702 Union St, at Fifth Ave., Park Slope; 718-638-4400
A night to revitalize movie novelization, a dying and long-neglected art form. Comedians and writers bring to life selections from a forgotten literary past, including Pretty in Pink, Rambo 4, and our personal favorite, Grease 2. Capping the night is a performance from female rap troupe HJA.