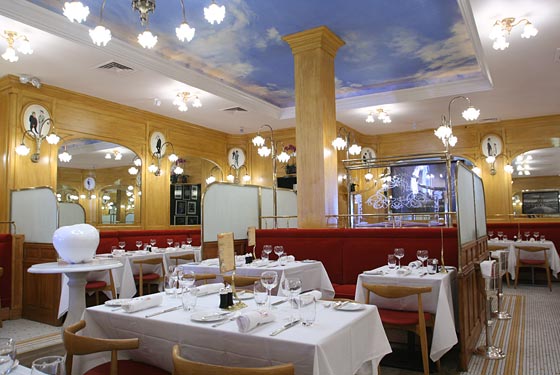 NoMad
1170 Broadway, at 28th St.; 212-796-1500
Daniel Humm's flatiron spot is gracing mothers with a prix fixe menu ($95) once again. The four-course meal includes the likes of king crab tagliatelle and slow-cooked hake served with the true harbinger of spring: ramps.
Available noon to 9 p.m.
The National
557 Lexington Ave., at 50th St.; 212-715-2400
Bob Parins and the Pint-Sized Cocktail Orchestra provide tunes while you wash down specials like a shrimp and asparagus omelette and duck biscuits and gravy, plus Champagne-based cocktails like the blueberry, Creme de Violette, and lemon "Mom's Delight".
Available 11 a.m. to 3:30 p.m.
Ai Fiori
400 Fifth Ave., 2nd fl., at 36th St.; 212-695-4005
Opulence comes in a prix fixe lunch menu here ($72), where mom can choose from French- and Italian-inspired dishes like the Uovo in Brudo (slow poached egg, black truffle, Parmesan, focaccia) and Trofie Nero (ligurian crustacean ragu, seppia, scallops, and spiced mollica).
Available 11:45 a.m. to 2:15 pm.
Felidia
243 E. 58th St., at Second Ave.; 212-758-1479
If your siblings are coming to Mother's Day, teach mom that you've all finally learned to share at Felidia. The three-course Mother's Day feast includes Octopus Salad, Filet Mignon Tagliata, and thirteen other tasting dishes ($105).
Available noon to 7:30 pm.
Ben & Jack's Steakhouse
219 E. 44th St., nr. Third Ave.; 212-682-5678
Ben & Jack's Steakhouse is serving up a hearty prix fixe dinner menu ($65) including filet mignon, Maryland crab cakes, and mashed potatoes. Turn Mother's Day into a competition by seeing who can save room for dessert.
Available noon to 10:30 pm.
Aquavit
65 E. 55th St., at Madison Ave.; 212-307-7311
Aquavit's four-course prix fixe will leave no mother unstuffed ($78). Venture to the Scandinavian restaurant for Klädesholmen Matjessill Herring, Air Dried Washu Beef, or Berkshire Pork Shoulder served with onions, tapioca, and celeriac.
Available 11:30 a.m. to 3:30 pm.
Smoke Jazz & Supper-Club Lounge
2751 Broadway, at W. 106 St.; 212-864-6662
For the self-described "hip" mom, try Smoke Jazz & Supper-Club Lounge. Plates like Lobster Benedict ($24.95) served with tater tots and Short Rib Hash ($18.95) fill the menu. Spread smooth honey butter on your Buttermilk Fried Chicken with Waffles ($18.95) to the tune of even smoother jazz.
Sets by Annette St. John and her trio will begin at 11:30 a.m., 1 p.m., and 2:30 p.m.
Garage
99 7th Ave., at Grove St.; 212-645-0600
West Village jazz staple Garage is cooking up a Mother's Day prix fixe brunch ($49.95). "Course One" is listed simply as "Champagne Cocktail or Refreshing Mimosa," and for a second course, choose from Lobster Bisque and brunch fare like Filet Mignon Benedict or French Vanilla Bean Soaked French Toast all complemented, of course, by live jazz.
Available 11 a.m. to 4 p.m.
The Marrow
99 Bank St., at Greenwich St.; 212-428-6000br>The Marrow's three-course prix fixe menu includes such dishes as Lightly Cured Arctic char served with roasted baby beets and Mortadella Eggs Benedict. Embrace the Germanic half of this fusion restaurant with the German Chocolate Sundae for dessert.
Available 11 a.m. to 2:30 pm.
Café Condesa
180 W. 10th St., at 4th St.; 212-352-0050
Go global with brunch at Café Condesa. Latin American touches spice up French and Italian dishes, leading to the likes of the Goat Cheese Galette ($9) of roasted red peppers and black olive pastry over mesclun with goat cheese vinaigrette; and the Torta de Milanese ($9.75) of breaded chicken breast, tomato, onions, avocado, and chile mayonnaise.
Available 10 a.m. to 6 p.m.
Pera Soho
54 Thompson St., at Broome St.; 212-878-6305
If your mom's up for trying something new, stop by for Pera Soho's less traditional three-course brunch menu ($27). Think White Chocolate Pancakes with Strawberry Butter, Brioche French Toast with Blueberries and Fig Chutney, or Marinated Hanger Steak with Roasted Vegetable Cous Cous.
Available 11 a.m. to 4 p.m.
Il Buco Alimentari
53 Great Jones St., at Bowery; 212-837-2622
This charmingly rustic spot will be open for a Mother's Day helping of their homemade ricotta served with seasonal jam, Marcona almonds, and maple syrup. Peruse the butcher case afterwards and treat brunch as a trip to an old-world salumeria.
Breakfast available 9 a.m. to 11 a.m.; Brunch, 11 a.m. to 3 p.m.
Tocqueville
1 E. 15th St., at Fifth Ave.; 212-647-1515
Greenmarket-inspired fare fills the prix fixe brunch menu at Tocqueville. Take mom to the Union Square restaurant for entrees like Truffle Creamy Parmesan Grits and Sunny Side Up Country Egg with house-cured veal bacon or Greenmarket Hash and Double Smoked Bacon with poached araucana egg, ramps, herb crème fraîche, and grilled sourdough bread.
Available 11 a.m. to 3 p.m.
Green Table
75 Ninth Ave., at 16th St.; 212-741-6623
Brunch at Green Table is ideal if your locavore mother is also a health nut. Nestled in the heart of the Chelsea Market, this health food spot prides itself on fresh, local fare, like the Vegetarian Mushroom Pot Pie of organic mushrooms and vegetables with a whole-wheat crust.
Available 11 a.m. to 4 p.m.
Sea Grill
19 W. 49th St., at Rockefeller Plz.; 212-332-7610
The seafood shrine will be serving up two prix fixe brunch menus ($60, $29) this Mother's Day: The adult menu includes the likes of lobster, shrimp, and clam chowder, jumbo lump crab cakes, and grilled Mediterranean branzino, and the pediatrician crowd isn't patronized with the likes of chicken fingers, either — shrimp cocktail appetizer, anyone?
Available 10 a.m. to 3 p.m.
Mermaid Inn
568 Amsterdam Ave., at 88th St.; 212-799-7400
Encourage mom to add lobster to her eggs Benedict at the Upper West Side's Mermaid Inn (http://nymag.com/listings/restaurant/mermaid-inn02/). The challah French toast and, more important, Mermaid Bloody Marys are only available at this location.
Available 11 a.m. to 3:30 p.m.
Redeye Grill
890 Seventh Ave. at 56th St.; 212-541-9000
This midtown seafood staple is adding motherly love to their à la carte menu of local fish. Split the three-tier Redeye Grand Platter of stone crab claws, lobsters, oysters, clams, u-8 shrimp, and salmon tartar with mom while she is showered with complimentary rounds of Prosecco and chocolate for dessert. Brunch menu available 11:30 a.m. to 4 p.m.; Mother's Day extras all day.
L'Amant
235 West 12th Street, at 28th St.; 646-476-8731
If your mother owns Eiffel Tower memorabilia, indulge her inner francophile at L'Amant. Small touches, like the French novels scattered throughout the space or the Mother's Day cocktail appropriately named La Mère (Wodka Vodka, Cocchi Americano Rosa, fresh lime juice, homemade strawberry syrup, fresh basil, and soda) make this lounge a charming spot to order a plate of Calamari Grand Ma (served with veal, pork, tomato sauce, and rice) and tell your ma tu l'aimes.
Available all day.
Benoit
60 W. 55 St., at Sixth Ave.; 646-943-7373
The Parisian bistro will serve up an à la carte menu that includes such French-inspired plates as the twice-baked upside-down Comte cheese Souffle and hand-chopped beef tartare.
Available 11:30 a.m. to 3:30 p.m.
JoJo
160 E. 64th St., at Lexington Ave.; 212-223-5656
You'll have no problem swallowing the gossamer desserts at this refined tea room, such as Warm Rhubarb Crisp served with basil ice cream, which comes at the end of the prix fixe menu ($32).
Available 11 a.m. to 3 p.m.