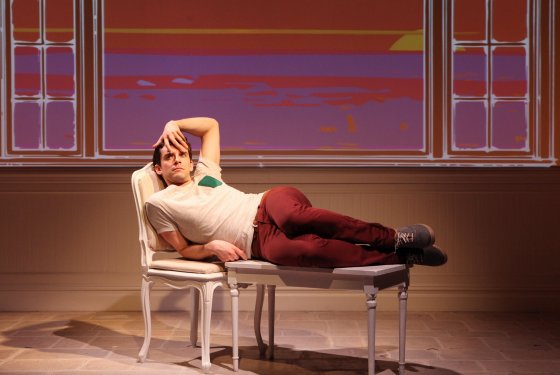 The Explorers Club
Manhattan Theatre Club's City Center Stage I; Through July 21; 131 W. 55th St., nr. Sixth Ave.; 212-399-3000
Like a colonial cocktail fizzing beneath a bushy mustache, Nell Benjamin's amiably corny costume farce—one wacky day in the life of a National Geographic–esque society of nitwit dilettantes in Victorian London—tickles harmlessly, thanks to its sparkling assemblage of comic talent and the Cirque du Soleil bartending of Carson Elrod as a blue-skinned "savage."
Buyer and Cellar
Barrow Street Theatre; Through Oct. 13; 27 Barrow St., at Seventh Ave.; 212-243-6262
Jonathan Tolins's multicharacter megalogue—starring the ticklishly talented, ultracarbonated Michael Urie—imagines the life of an employee on Barbra Streisand's Wonka-like estate, slyly and hilariously corkscrewing a story of gay-icon worship with a treatise on our star-fucking (sorry, ­"aspirational") economy.
Monkey: Journey to the West
David H. Koch Theater, Lincoln Center for the Performing Arts; Through July 28; 20 Lincoln Square, at 66th St.; 212-870-5500
There are about 1,000 reasons to see Damon Albarn, Jamie Hewlett, and director Chen Shi-Zheng's gaudy, goofy flagship popera opening this year's Lincoln Center Festival—but if you go in expecting those reasons to align in perfect concert, you'll likely find yourself perplexed.
Choir Boy
City Center; Through July 21; 131 W. 55th St., nr. Seventh Ave.; 212-581-1212
Stirring shards of glass into creamy harmonies, Tarell Alvin McCraney's Choir Boy starts strong and just keeps on exceeding its faintly after-school-special-y premise: The flamboyantly "out" tenor Pharus (an extraordinary Jeremy Pope) leads the acclaimed gospel choir at a historically African-American all-male preparatory academy, and not everyone's delighted about that.
The Unavoidable Disappearance of Tom Durnin
Laura Pels Theatre ; Through Aug. 25; 111 W. 46th St., nr. Sixth Ave., 212-719-9393
Steven Levenson follows up The Language of Trees, his delicate cartography of modern American distress, with a straightforward story of a prodigal father's return.