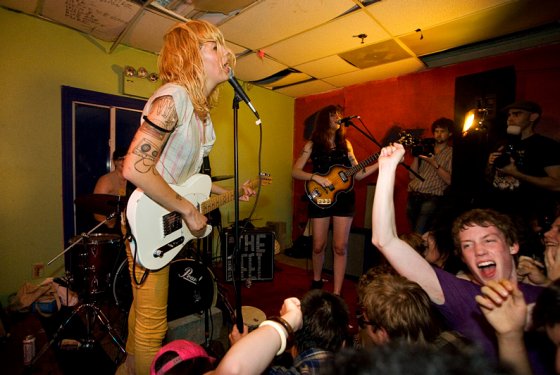 1. You may know this weekend's comedy offerings from stints on the small screen: Whitney's Chris D'Elia hangs out in Times Square on Friday and Saturday, while The Office's David Koechner talks about his kids at the Gramercy Theater on Friday.
2. Or if it's moody Swedes you're after, the four dudes that make up the Mary Onettes get synthy at Glasslands on Sunday.
3. The Vivian Girls play their last dream-pop shows at Death by Audio on Saturday and Baby's All Right on Sunday.
4. While on the same days, the Bell House has a tribute to the Man in Black with the Johnny Cash 82nd Birthday Bash. Ring of fire, indeed.
5. Step your hot-mess game up for the Hot Mess Drag Revue on Friday at midtown club BPM (formerly XL) …
6. Or get glammed up for one of these Oscar-watching parties on Sunday.
7. The plush, tremulous alto sounds of Maude Maggart will be beamed in to the Café Carlyle on Friday and Saturday.
8. While Wozzeck, Alban Berg's elusive opera about a hapless soldier driven to murder, makes an appearance Friday at Carnegie Hall. Happy Weekend!