The Waverly Inn: Absinthe-Minded Martini, Waverly Sazerac
16 Bank St., at Waverly Pl.; no (useful) phone
Graydon Carter's semiprivate club carries over absinthe's tradition as the spirit of choice for the artistically inclined: from Rimbaud and Toulouse-Lautrec to… Well, we're not sure who dines there; we don't have that kind of pull. But if you get in, your choice is between the Martini (absinthe, Martin Miller's gin, fresh sour mix, an orange twist) and the Sazerac (Sazerac rye, absinthe, Peychaud's bitters, dash of lemon). $15 each.
STK: Absinthe Drip
26 Little W. 12th St., nr. Ninth Ave.; 646-624-2444
STK, a lounge-inspired take on the modern steakhouse, does absinthe the old-fashioned way. The Absinthe Drip dilutes the spirit itself with sugar and water. But this isn't your semester abroad in Prague—don't ask for it to be set on fire. $18.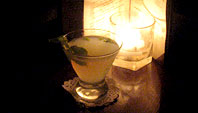 The Dove Parlor: The Green Fairy
228 Thompson St., nr. W. 3rd St.; 212-254-1435
The faux-nineteenth-century holdover Dove Parlor doesn't get too complicated, either. The Green Fairy is one part absinthe, three parts water, a little bit of simple syrup, and a pair of fresh mint leaves torn into the drink to release their flavor. Co-owner Jennifer Armstrong cites the cocktail's delicate natural licorice flavor, herb flavors, and—of course—its clean, clear buzz. $15.
Suba: Absinte Mojito
109 Ludlow St., nr. Delancey St.; 212-982-5714
Suba's underground dining lairs are great places to imbibe absinthe while raising the spirits of the liquor's disreputable past. Absinte liqueur, Voss Norwegian spring water, and cane sugar muddled with lime, mint, and a touch of lemon juice make for a powerful punch. "Limit of one visit to the 'green fairy' per customer," Suba's menu insists. "[W]e don't want anyone cutting off an ear." $25.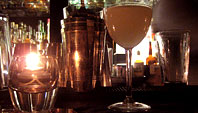 PDT: Corpse Reviver No. 2
113 St. Marks Pl., nr. First Ave.; 212-614-0386
Adam Platt recommends this "mind bending off-the-menu" cocktail along with "a generous helping of fluffy gold tater tots from Criff Dogs, next door." PDT's head bartender, Jim Meehan, makes the surprisingly delicious sweet drink with Plymouth gin, fresh lemon juice, Lillet Blanc, Cointreau, and just an absinthe rinse. Meehan says, "Corpse revivers were once an entire category of drinks that were traditionally served as a hair of the dog. Wouldn't it be nice to see the Corpse Reviver #2 being served at brunch, instead of mimosas and Bloody Marys?" $12.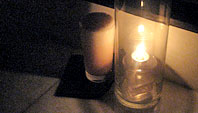 Death & Co.: Morning-After Fizz, Joy Division
433 E. 6th St., nr. Ave. A; 212-388-0882
First up is a twist on the Morning-lory Fizz, made with scotch, lemon juice, simple syrup, a couple of dashes of Peychaud's bitters, an egg white, and, again, an absinthe rinse. This tart cocktail is topped with soda water and ends up with a foamy dome. Off the menu is the Joy Division, named by a regular: gin, dry vermouth, Cointreau, and two or three dashes of absinthe stirred and served up. Each $12.
Employees Only: Martinez, Billionaire Cocktail
510 Hudson St., nr. Christopher St.; 212-242-3021
The thirties throwback Employees Only has no shortage of cocktail ingenuity, as demonstrated by the Ginger Smash and Fraise Sauvage. Their absinthe offerings are further proof: The Martinez is Beefeater gin, maraschino liqueur, Bianco vermouth, and just a few dashes of absinthe bitters; the Billionaire Cocktail brings back the absinthe bitters, and shakes it up with Baker's bourbon, lemon juice, and homemade grenadine. $13, $15.