La Maison du Chocolat
30 Rockefeller Plz., at 49th St.; 212-265-9404 (see other locations)
Nicolas Cloiseau, Master Chef at at La Maison du Chocolat has created an 11-pound atelier tableau to capture your imagination and capture your wallet ($1200). Never fear, there are smaller pieces to be enjoyed, such as a Chef Egg ($90), made of white and dark chocolate. At .6 lbs, it's more than enough.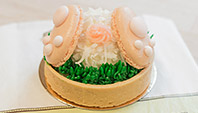 Bouchon Bakery
10 Columbus Cir., nr. 58th St., 212-823-9366 (see other locations)
Hey, guess what? Bunny Butt! As in Bouchon's "Bunny Butt" Tart ($6.95), made of coconut custard with a vanilla mousse dome rolled in coconut, macaron bunny feet and buttercream grass. Available only at the Rockefeller Center location, but all stores have marshmallow eggs, (6 for $12), hot cross buns ($3.25), linzer spring cookies ( 2 for $7) and more.
Dominique Ansel Bakery
189 Spring St, nr. Thompson St.; 212-219-2773
The gastronomic wizards at Dominique Ansel also know their way around making things just plain adorable. Case in point: these Peep-a-Boo marshmallow chicks, in a real egg shell, with a salted caramel filling (6 for $27) .



Papabubble
380 Broome St., nr. Mulberry St.; 212-966-2599
Indulge your sweet tooth a little or as much as you like, with the handmade Hop To It Easter Mix (from $5.50). You'll find melon bunnies, orange Easter Eggs, and mango, pear, and raspberry pillows. Order online or hit the store, with the added bonus of watching artisans work, plus free samples.



FP Patisserie by François Payard
1293 Third Ave., nr. 74th St.; 212-717-5252 (see other locations)
No animals were harmed in the process of making these large safari-themed eggs ( $39), which bring new meaning to the hunt. Available in snake, cheetah, and zebra print, the shell is dark chocolate, with a variety of handmade edible treats inside.
Mitchmallows
MitchMallows.com
Once upon a time, there was this guy named Mitch, who decided he wanted to learn how to make marshmallows. And so, the handmade Mitchmallows was born. For Easter they'll be delivering these whimsical vanilla and white-chocolate Mitchies Chickies ($18.95 for 12) through Saturday.
BabyCakes
248 Broome St., nr. Ludlow St.; 212-677-5047
Gourmands with limited diets already know about BabyCakes, the gluten-free, vegan, and kosher bakery. This Easter they're serving up serves up moist vegan and gluten-free and oh-so cute mini bunny donuts ($2).


Jacques Torres Chocolate
350 Hudson St., at King St.; 212-414-2462 (see other locations)
Bigger is better to this chocolatier, and who are we to disagree? Especially when it gets us this happy bunny, the size of a small, 2-foot child ($99) .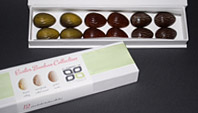 Tumbador
34 34th St., nr. Second Ave.; 718-788-0200
Variety is the spice of life with the Easter Bon Bon Collection (12 for $24), which comes with four each of banana nutmeg, creme fraiche salted caramel and graham cracker spread bonbons. Mix it up even more with the Easter Collection, serving up six bon bons, three caramel filled devil's food cake Lil' Eggs and two Easter themed lollipops ($36).