La Maison du Chocolat
30 Rockefeller Plz., at 49th St.; 212-265-9404 (see other locations)
This little guy dreams of big things in this "Easter Flight" tableau, $160.
Jacques Torres Chocolate
350 Hudson St., at King St.; 212-414-2462 (see other locations)
Take a trip to the barnyard with these handsome chocolate friends. Pig, $12; Rooster (hand-painted), $35; Lamb, $25.
Dominique Ansel Bakery
189 Spring St, nr. Thompson St.; 212-219-2773
When words fail, turn to these adorable emoji eggs made with milk chocolate and decorated with white and dark chocolate, $12.50.
FP Patisserie by François Payard
1293 Third Ave., nr. 74th St.; 212-717-5252 (see other locations)
From sweet to sophisticated (and a little sassy), Payard's got you covered, whatever your personality. Daisy Egg, $39; Haute Couture Egg, $39.
Vosges Haut-Chocolat
132 Spring St., nr. Greene St.; 212-625-2929
Have a magical woodland adventure with hazelnut, lemon-strawberry, and pistachio-filled rabbits, clementine-ginger toffee, organic peanut-butter eggs and enchanted toadstools with hazelnut ganache, reishi mushroom, and white chocolate. Easter Egg Extraordinaire, $75; Wandering Rabbits, $24.
Bien Cuit
120 Smith St., nr. Pacific St., Boerum Hill; 718-576-3760
These speckled macarons may like to pretend they're eggs, but they're not fooling anyone. (Fun to see them try, though.) $1 each.
ROYCE' Chocolate
509 Madison Ave., nr. 53rd St; 646-590-0650
253 Bleecker St., at Cornelia St.; 646-524-5554
The Japanese bean-to-bar chocolatiers are offering a choose-your-own-adventure Easter. Start with a basket for $10 and fill it with whatever exquisite treat your heart desires, with help from sales associates if needed. Amande Chocolat roasted almonds, $14; Fruit Bar Chocolate, $17; white chocolate bar, $8; Nama Chocolate "Champagne (Pierre Mignon), $18; Nama Chocolate "Ghana Bitter", $18; Prafeuille Chocolat "Maccha" $18.
Dylan's Candy Bar
1011 Third Ave., at 60th St.; 646-735-0078
Be precious in pastels with this year's new offerings from the Upper East Side candy haven. Easter Marshmallow Crème Bar $3.25; Easter Paint Can, $17; Mini Chocolate Bunny Easter Basket, $30; Easter 18 Chocolate Square Pack, $14.
Mouth
Online only
There's something for everyone with three tiers of gifts from Mouth. This medium-size "Extra Sweet" package will satisfy even the pickiest candy-lover. Alma Chocolate chocolate bunnies, $5.60; Whimsical Candy Lah-Dee-Dah, $8; Quin Candy's Dreams Come Chew, $12.50; Organic Candy Factory jelly beans, $9.50–$13; the Salty Road's Sea Salt Caramel Taffy, $7.50; Frittle Peanut Butter Squares, $9.50; Megpies tart, $4.25; Fixx Chocolates peanut butter and passion fruit jelly chocolate bar, $9.75; Grey Ghost lemon sugar cookies, $12.50; Papabubble strawberry candy, $7.50; Malvi sea salt caramel marshmallow cookies, $8; Full basket, $100.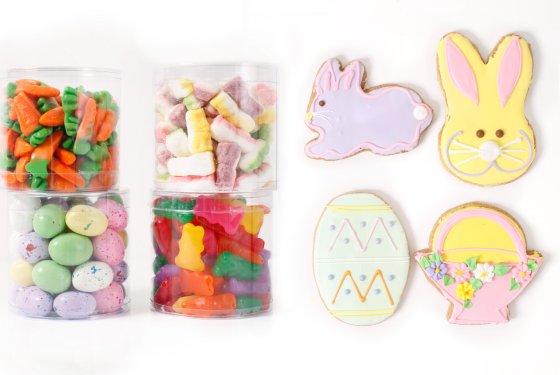 Eli's Manhattan
1411 Third Ave., at 80th St.; 212-717-8100
E.A.T. Gifts
1062 Madison Ave., at 80th St.; 212-861-2544
For the traditionalist with a sweet tooth, Eli Zabar offers shortbread cookies and tubs perfect for sharing. Or keeping for yourself. Cookies from Eli's Manhattan, $4.50; Easter-candy sets from E.A.T. Gifts, carrots and gummy bunnies, $14, chocolate eggs, $16.50.