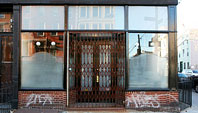 Hotel Delmano
82 Berry St., nr. N. 9th St., Williamsburg, Brooklyn; 718-387-1945
Williamsburg's first cocktail palace already boasts a tricky entrance policy, with a doorman turning away parties and taking cell numbers. Thank (or blame) mixologist Jeff Hansen's takes on the Corpse Reviver No. 2, startling design from barchitect Michael Smart, and very Brooklyn celebs (hello, Kyp Malone!).
12th St. Ale House
192 Second Ave., nr. 12th St.; 212-253-2323
Despite an impressive pedigree, 12th St. Ale House hasn't quite found its footing: multiple plasmas, but no jukebox? But we remain confident that this neighborhood joint, from the proprietors of the venerable Magician and Tile Bar, will eventually join its siblings as a cozy place for serious drinking.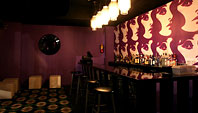 Le Royale
21 Seventh Ave. S., nr. Leroy St.; 212-463-0700
Grub Street was geeked on Le Royale before it ever opened, calling it a "Good Samaritan of a club that's attaching some big ol' jumper cables to our fair city's nightlife." It's too early to say if promoters still need AAA, but Le Royale lives up to early billing: Deco glamour, models, and event promoters GBH's excellent music bookings.
Spur Tree
76 Orchard St., nr. Broome St.; 212-477-9977
The paint had barely dried at Marc Solomon's revitalized Red Stripe Lounge when an ownership shake-up led to this name change. Now redubbed Spur Tree, the bar is still all about Jamaica.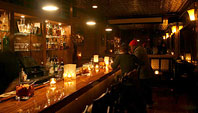 The Hideout
266 Adelphi St., nr. DeKalb Ave., Fort Greene, Brooklyn; 718-855-3010
"We want to keep things signature," explains co-owner Qaseem Muhammad. So far so good: This pseudo-speakeasy, hidden behind three shiny black garage doors, has a six-page cocktail menu with evil-sounding house drinks like the Snow Mosquito and $50 shots of Pappy Van Winkle.
Dram Shop
339 9th St., nr. Fifth Ave., Park Slope, Brooklyn; 718-788-1444
"Angry Wade" Hagenbart's second Brooklyn bar specializes in bourbon and Scotch and boasts of a shuffleboard table and a Mexican-accented pub-grub menu.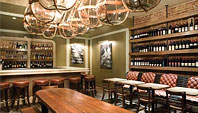 Felice Wine Bar
1166 First Ave., at 64th St.; 212-593-2223
Focaccia Fiorentina is now Felice Wine Bar. Chef Simone Parisotto's menu of focaccias, pastas, and risotti is impressive, but the design, including a deconstructed-barrel vestibule and a glass-jug chandelier, keeps the focus on the wine.
124 Rabbit Club
124 Macdougal St., nr. W. 3rd St.; 212-254-0575
Another pseudo-speakeasy, 124 Rabbit Club lives off the well-trodden paths of the West Village NYU herd. Forty-plus Belgian, Czech, English, Irish, and German beers populate the menu; each comes in its own style of glass. The subterranean lair resembles the kind of catacombs where, one imagines, Trappist monks brew their divinely delicious beers.