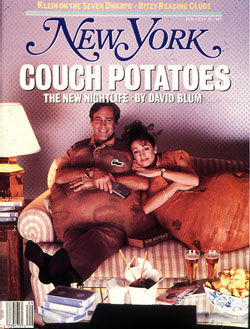 From the July 20, 1987 issue of New York Magazine.
We are dealing with a confirmed Couch Potato in Gil Schwartz, who describes a recent Thursday night as one of the most horrible, agonizing, and generally wretched evenings he has spent during his 36 years on the planet.
Schwartz has been married for almost a decade. He is a middle manager for a large corporation and has two children—Nina, four, and Willie, one. On the night in question, he stayed home long enough to kiss them good night.
Then the horror began:
"Around eight o'clock, I meet a couple of friends for dinner at Teacher's Too, on Broadway, where we all order the Chicken Gai Yaang," Schwartz reports. "At this point, I'm already tired. Then begins the inexorable pull southward. I'm dragged kicking and screaming by my friends to the Lion's Head, in Greenwich Village, where I stare wistfully at people younger than myself. Then we move on to some downtown nightclub where everyone was looking for Jay McInerney, hoping to have our conversation overheard by the next Hot Young Novelist.
"By now," Schwartz says, "I would much rather be at home drinking scotch from my own bottle of Dewar's and watching The Heartbreak Kid on cassette."
It's 11:30 P.M. Normally, at this hour Schwartz would be watching Honeymooners reruns, or snoring.
"But instead," he says, his voice darkening at the memory, "I am in a neighborhood far, far away … where there are no cabs."
Schwartz would prefer to be at rest, seated or supine, on something soft. He would prefer to have rented The Terminator for the fifth time from the Video Vault, ordered beef with broccoli from Hunan Balcony, and kept cozy in his Upper West Side apartment. Occasionally, he reads a book or a magazine. ("Once you leave your house," he observes, "it is very difficult to read a magazine.") He spent a lot of money renovating his apartment on an upper floor, and he would just as soon stay inside it.
For Schwartz, there is no choice between a night on the town and a night lying down. He is bored with nightclubs, tired of movie lines, sick of scenes. He is the prototype of a new urban species that has evolved in the years since the baby-boom generation decided to get married and have children.
He is one of the new Couch Potatoes.
Immediately, this raises some provocative questions. What about all those people in restaurants? And all those tickets sold for Broadway shows? Who's going to the ballet? The Palladium? The Loews 84th Street? And what about all those people who are still looking for the perfect spouse? Aren't they still going out every night? Is this some kind of blip on the sociological curve, one that doesn't really exist? How can anyone document what people aren't doing?
The Couch Potato phenomenon is the result of three increasingly important facts of baby-boom life: marriage, children, and home video (not necessarily in that order). Of course, every generation has its own natural ebb and flow of social activity. But in the last twenty years, drugs like cocaine provided the stamina for late-night life, and hallucinogens like LSD and marijuana made the world beyond apartments seem that much more exciting and different. Rock music and pop culture took off in a late-night direction, with discos and night-clubs open till morning for those who could never get enough. And those who were a part of the sixties "youthquake" have been especially resistant to the notion of growing up. Now they're doing it with a vengeance.
"We see it everywhere. People don't want to go out anymore; they'd rather stay in their living rooms," says Keith McNally, the 35-year-old co-owner of Nell's. "And fortunately, we made our club look as much like a living room as we possibly could. Frankly, I'm not the type that likes to go to discos and nightclubs; I'd rather stay home and listen to an album. And that seems to go for almost everybody."
A recent Gallup Poll bears out the stay-at-home theory. In an April 1986 survey that asked the question "What is your favorite way of spending an evening?" one third of all Americans chose the TV set as the preferred means of entertainment. The number of people who gave "resting, relaxing" as their favorite activity—which a Gallup spokeswoman said includes sleeping or stretching out on the sofa—had nearly doubled since 1974, to 14 percent.
As one might expect, sociologists take the stay-at-home trend seriously.
"The need to stay at home begins with a change in life-style, and of course marriage and children contribute to that in this generation," says Eviatar Zerubavel, a sociologist at the State University of New York at Stony Brook who has studied how people use their time. But he believes that part of the trend is a basic change in attitude toward the home itself.
"What we are really seeing," says Zerubavel, "is a reaction to bureaucratization, and a redefinition of privatization. As people use computers at home instead of working in offices, they will lose their sense of boundaries and the home will represent something less private. Instead of going to bars or the town square, they will be able to meet people via their computer terminals. And that will lead to a lack of desire to lead a public life."
Peter Cohn, a 31-year-old Manhattan screenwriter, puts it more simply. "The motto of this generation," Cohn says, "is TBIF—'Too Bad It's Friday.' "
Since Couch Potatoes spend most of their time indoors and in private, you may be wondering how to spot one. Here is a brief guide to the salient characteristics of a Couch Potato:
Couch Potatoes often share their living space with at least one other Couch Potato, usually a spouse, and often with at least one child, or New Potato.
Couch Potatoes own a VCR and are thinking of buying a new one, frequently rent Splash and the films of Paul Mazursky, and often feel that they belong to the wrong video club.
Couch Potatoes do not attend events at Lincoln Center.
Couch Potatoes have watched at least three recent episodes of Murder, She Wrote and usually figured out who did it before the first commercial.
Couch Potatoes love to live in New York because of all the wonderful cultural opportunities.
"I can either not go out," says VH-1's Jessica Falcon, "or go out and be miserable. It's an easy choice."
There is no way to prove that the number of Couch Potatoes has increased, but the National Center for Health Statistics documents the widely held notion that more people are getting married later and having children later—which is the most important motivational force behind the trend. In 1963, the center's studies put the median age for marriage at 21 for women and 24 for men; by 1984, the median number had climbed to 23 for women and 27 for men.
And children have followed. In 1984, the last year for which the center has figures, women 30 and older gave birth to 882,205 babies—a 69 percent increase over a decade earlier, when women in that age group had only 520,611 babies.
But while every generation gets married and has kids, one technological innovation has made this generation more supine than ever: the videocassette recorder, the magic machine of the new Couch Potato.
VCRs have come close to overtaking all forms of live, outside-the-house entertainment. In 1986, the number of video-cassettes rented (1 billion) matched the number of movie tickets that were sold. Close to 45 million homes now have VCRs—more than half of the nation's TV households. An Arbitron survey last November showed that in New York City, roughly 3 million households, or 44 percent, owned a VCR.
The growth has taken place largely over the last five years: In 1981, Americans spent only $141.8 million on videocassette rentals, and by 1985, that figure had grown more than ten times, to almost $1.7 billion. A recent survey showed that one week in March, 41 percent of American households with VCRs rented at least one videocassette. And on top of that, Americans bought 275 million blank videocassettes in 1986.
This isn't meant to suggest that other cultural offerings have suffered at the hand of the VCR. But many are dependent on suburbanites, tourists, and older people for business.
At the New York City Ballet, for example, more than half the season-ticket holders are 50 or older, and about half come from outside the city. The League of American Theatres and Producers reports that only one in four Broadway-ticket buyers comes from Manhattan; a spokesman has his fingers crossed that "when the baby-boomers' kids grow up, they'll come to Broadway." With The Mystery of Edwin Drood, the New York Shakespeare Festival went so far as to assemble yuppie focus groups to find out why more of them weren't buying tickets and what could be done to attract them.
And then there's that most telling statistic of all: couch sales. They're way up.
A spokeswoman at Conran's reports that sales of quality furniture in general have grown in recent years. "People want the absolute best furniture they can get," the spokeswoman says, "and of course they want it as cheaply as possible." But still, she reports that the store's most expensive, comfortable couch—the Burnham, which can cost as much as $1,111.78—is the most popular item in its upholstery line. "There's no question that people want more comfort in their couches," she says.
William Geist, who is both a confirmed Couch Potato and a chronicler of social trends for the New York Times, tells of standing in front of popular downtown nightclubs at ten at night pleading with doormen to let him and his wife into the exclusive domain. "But you have to let me in," the bushy-haired 42-year-old would beg. "We have a sitter!"
Years of frustration led him to believe that life would be much better spent at home in front of the television set. "Why fall asleep at parties," Geist asks, "when you can fall asleep in your own living room?"
A typical evening in the Geist house consists of dinner, watching a rented video-cassette or two ("My kids tend to make the choices," he says. "So we end up seeing Police Academy K through 12, and of course I've seen all the Friday the 13th movies several times"), and consuming a two-liter bottle of Pepsi and various aerosol-cheese products. The most exciting outdoor adventure he is likely to have, he says, is a drive around the neighborhood with his twelve-year-old son, during which they look at other people's houses and say absolutely nothing to each other.
Geist believes firmly in the Couch Potato principle: that once you're married and have children, your desire to meet strangers outside the house tapers off dramatically. "Your needs change," Geist says. "Frankly, instead of going to a party or a nightclub, I would much rather be at home watching last year's Masters on videotape with my family."
Jessica Falcon, a 30-year-old director of talent relations for VH-1, the soft-rock equivalent of MTV, is single, yet she seems in sync with Geist.
A typical evening for Falcon, unless she has to go out for work, is spent alone in her Cobble Hill apartment. It involves a mixture of television, reading, cooking, and cleaning. It does not involve going into a bar by herself or making absolutely certain she has a date.
"I can either not go out," she says, "or go out and be miserable. It's an easy choice. There is no satisfaction in going out and being with people who are drunk and drooling and stumbling around."
"Everyone on L.A. Law goes home and turns on their TV," says Marie. "Why shouldn't we?"
Falcon has bought her apartment, which has a backyard with a state-of-the-art Weber barbecue, and feels that with the investment of time and money in her home, there's no better place to be. She would enjoy nothing more than to be able to bring business home in the form of dinner parties ("Why spend $35 on a bowl of pasta when I can make it here for 35 cents?") and avoid the going-out scene entirely.
"Going out is for meeting people," Falcon says, "and I think people my age have decided that going out is probably the lousiest way to meet anybody that you'd ever want to see ever again. And without that reason, there is no real reason to go out, except maybe to eat or see a movie or a concert or something."
Newlyweds often make the best Couch Potato candidates. They have spent several years dating and courting and now they just want to stay at home.
Bill and Marie got married last fall and have spent virtually all of their evenings in the bedroom of their apartment. Watching television, they hasten to add.
"At the end of a long day, we're too tired to do anything else," Marie says. "What are we going to do in the living room? Listen to an album? Read aloud to each other? Talk about the prospects for glasnost? Let's not kid ourselves. We'd rather turn on the tube and see what's happening on L.A. Law."
Marie considers that thought for a moment. "I should add that everyone on L.A. Law goes home and turns on their TV after work, too," she says. "If they can do it, why shouldn't we?"
"When I was a kid," purrs the glamorous woman on the couch in her living room, "if you asked me what kind of guy turned me on, I'd have said he has to look like a movie star … be about six feet tall … have an Italian accent … and take me dancing every night." She pauses. "But I'm not a kid anymore," she says, looking into the camera. In walks an average fellow in an elegant blue business suit.
"Are we staying home again?" he asks.
"We're staying home again," she purrs.
A few weeks ago, that 30-second drama began to run on television in the form of a Canada Dry ginger-ale commercial. It grew out of an effort by copywriters at the Wells, Rich, Greene advertising agency to tap into a trend revealed by demographic surveys—that sophisticated people were staying at home. And that Canada Dry ginger ale was a soft drink that people preferred to drink at home—at night.
"We aimed the ad at people who'd made choices in their lives, who felt it was time to settle into a cozy one-on-one," says Marcia Grace, a Wells, Rich, Greene creative director and co-author of the commercial, directed by photographer Denis Piel. "This is what grown-ups do—stay at home—and we're saying, 'Hey, this is the drink of choice for people who stay at home.' "
These commercials run at times when they're most likely to reach the audience of baby-boomers who created this trend, during shows like Moonlighting and L.A. Law, which have gained their high ratings, in part, from the number of Couch Potatoes who tune in.
"It started with Hill Street Blues," says Gerald Jaffe, vice-president for research at NBC. "We saw how well we could do with this audience. Then it continued with Cheers and St. Elsewhere. The day we renewed Cheers, it was the lowest-rated show that had ever been renewed in television history. And the day we renewed St. Elsewhere, that was even lower."
Jaffe's point is simply that it didn't matter how badly those shows were doing with the national audience. The important thing, he says, was that the right people were watching them—the young, affluent professionals. NBC could go to advertisers and say, "Look, not many people may watch Cheers, but they're the kind that spend money to buy your products."
They went for it. Today, NBC is the No. 1 network, and it has all the best shows for Couch Potatoes.
Even though most evidence suggests that Couch Potatoes evolve slowly, you sometimes hear about the overnight transformation of a young, energetic New Yorker.
"I guess you could say that I've changed," says Matt Wagner, a recent and dramatic convert to the ranks of the Couch Potatoes, "from a stud to a spud."
A year ago, Wagner, a 30-year-old stockbroker, was renting a comfortable studio apartment in the West Eighties that could best be described as a bachelor pad, complete with a pet toucan. "I was probably out almost every night for one reason or another," Wagner says, either for dates, dinner, some form of entertainment, or just to be with his friends. "I had no reason to stay at home."
"You go out and everything's the same," says Matt Wagner. "I'd rather rent Godzilla vs. The Thing and eat a chicken."
But Wagner moved in with a woman who had a six-year-old son, Rafael, from her first marriage. So today, a year later, Wagner has abandoned his studio for a two-bedroom apartment and an instant family. The first thing he bought was a large and extremely comfortable leather couch.
His evenings now consist of family dinners, perhaps a football toss in Riverside Park, the reading of a bedtime story, and—of course—the ritual rental of a videocassette.
Wagner has no regrets at all.
"Manhattan has become like a theme park, sort of like Great Adventure," he says. "You go out and everything's the same and boring and expensive. You can't go bar-hopping without spending a fortune, and all you find are people who are as bored as you are. Frankly, I'd rather stay home, rent Godzilla vs. The Thing, and eat a chicken."
Of course, occasionally Wagner still gets that restless urge to go out. He will feel an inner compulsion to call all his friends and organize a large group activity that involves visiting a public place and interacting with lots of other people. But he is quickly learning his lesson: Once you are a Couch Potato, it is extremely difficult to go out.
"A couple of weeks ago, we went with another couple to El Morocco—we thought it sounded like a blast," Wagner says. "We got there and found out there was a $25 cover per person. They had this Lester Lanin-type band, and we felt like the only people there under 50. The food was awful and the drinks cost about $7 apiece. We were completely miserable, and the check came to more than $500, and we thought, 'Boy, we would have had a much better time in our apartment.' "
Even some owners of restaurants agree with that. "I probably stay at home more than most of my patrons," says Peter Du Pré, an owner of Amsterdam's Bar & Rotisserie who recently moved in with his girlfriend, Mary Harris. "Entertainment is so much a part of my work that I need a stark, sedate contrast to that. I like the quiet of my apartment."
Bill and Marie became Couch Potatoes over a longer stretch, and it happened by accident—mostly because their TV couldn't quite pick up the TV signal from the Channel 4 antenna at the World Trade Center.
"In the lobby of our building," Marie says, "there's a sign that says, CABLE TV MAKES STAYING HOME EXCITING! and it's from the cable company. We figured, Why not?"
So the cable man came by the house and he wired up Bill and Marie. The only question was where to put the TV. They could put it only in the living room or the bedroom, so they figured, What the hell?
A year later, Bill and Marie have this piece of advice for people who do not want to become Couch Potatoes: Make sure your television set and your bed are in separate rooms.
Ricky Ian Gordon is a 31-year-old composer who believes that the Couch Potato phenomenon can be explained in two words:
Betty Ford.
"It seems to me that people have been buckling under the pressure of an overactive life-style," Gordon says. "Now people go to the Betty Ford clinic to stop doing all the things that kept them awake and out of the house, and it's chic to go there. Now it's considered cool to stay at home, not do drugs, not drink alcohol, and go to sleep early. People are proud to admit all that," he says.
He pauses a moment to search for a better illustration of his point.
"I mean, look at Liza Minnelli!" he says.
Gordon moved to New York in 1977 and immediately began going to every cultural event in sight. He thought nothing of being out seven nights a week, getting little sleep, and rarely seeing his apartment.
"Now I only go to the really important events, and that's it," Gordon says. "If I go out for dinner, I want to be home by eleven so I can go to sleep."
But there are times when Gordon grows melancholy about the changes in his life, wistful for the days he saw everything and everyone and was more a part of the cultural scene.
"I saw Charles Ludlam's obituary," he says, "and I thought, 'Here was one of the most important forces in the contemporary American theater, and I never saw any of his shows.' And the reason was that I was sick of going out, and too tired to go down to the Village to see him."
Peter Sistrom is also very tired.
"I probably stay home more than most of my patrons," says Peter Du Pré, an owner of Amsterdam's. "I like the quiet of my apartment."
He is a 32-year-old associate at a large New York law firm. Eight months ago, he moved to New York to join the firm, and since then he has often worked twelve- to fifteen-hour days. And though he and his wife, Susan, struggled long and hard to find an apartment near the center of culture—they live less than ten blocks from Lincoln Center and fifteen minutes from the theater district—they haven't moved very far from their couch.
"I remember that Peter and I sat in Ray's Pizza at four in the morning a few years ago on a visit," says Susan, a writer. "I looked around and thought, 'Wow! New York is so great—you can go out at four in the morning and get a pizza!' Now the only thing we feel like doing at four in the morning is being sound asleep."
Since they moved to New York last October, the couple has gone to exactly one concert at Avery Fisher Hall, no plays, and perhaps half a dozen movies. A typical weekday evening involves some kind of food-delivery and television experience—perhaps a brief browse through the more obscure cable shows, or checking reruns.
"One of the great things about New York," Peter says, "is that it has so many channels."
"New York is so great," Susan agrees. "And I hope one day we get the opportunity to visit it."
It has become so fashionable to be a Couch Potato that certain people pretend to be one simply for the social cachet. But it is really rather simple to spot a phony Couch Potato.
For instance, Ogden Starr Jr., a 35-year-old bachelor who sells real estate, is not a 'Couch Potato.
Starr and some acquaintances were recently featured in a magazine fashion spread, "Young Fogies." The premise of the photo essay was that people enjoyed staying at home so much that they were dressing up to do it. The piece showed Starr and several other glamorous types lounging around their apartments in some extremely fancy duds, having a terrific time.
But then there is Starr's description of his Couch Potato life-style:
"I really prefer just spending an evening with four or five friends, going to a restaurant," Starr says. "I don't go to the theater very often—except, of course, to benefits. I love going to benefits. They're the best way to see things, because you get to see so many people you know. The other night I saw Alvin Ailey at a benefit, and that was terrific. I've also started going to the opera. It's loads of fun.
"We don't go to the nightclubs anymore—I mean, we all have jobs and want to be asleep early, and people are more concerned with health now, you know? On the weekends, maybe a bunch of us will go out to the country—my father has a house out there—and we'll relax."
Sorry, Ogden, but Couch Potatoes do not attend Alvin Ailey benefits.
Then of course there 'are those young people who continue to partake of New York nightlife—and refuse to acknowledge the Couch Potato trend. They still go to Nell's and the Palladium and theater and concerts. And they cannot be ignored.
"Maybe the scene has suffered a little," says Baird Jones, who has thrown parties since the late seventies. "But people are still going out, still lining up, still looking for a good time."
But Jones does note one rather subtle shift that suggests the Couch Potato movement may be affecting the club scene. It seems that people are going to the clubs earlier in the evening—sometimes as early as seven or eight. "That way," Jones says, "they can do their dancing, drinking, and partying and still be in bed by midnight."
Lest anyone assume that this story is an attempt to pass judgment on those people who've become a part of this burgeoning trend, it must be confessed that the author is himself a Couch Potato in good sprawling.
Do not be fooled by the fact that his answering machine is always on. He's usually not picking up, because he's watching The Equalizer and doesn't wish to be disturbed.
Or else it means that he is at his summer house in Ulster County, where he spends his weekends doing absolutely nothing.
In the old days, a summer house meant a lot of cocktail parties in the Hamptons. People were always running around and seeing everybody and playing tennis and softball. They had as many social obligations to fulfill on the weekends as they had on any weeknight. At night, they might even have ventured to a local nightclub or somebody's party.
These days, the country-house scene is a little different. Now people stay at home. They read books. They cook large meals on the barbecue. They get houses in secluded spots like Ulster County so they don't have to see anybody else. If they do entertain, they invite only a few people. The most exciting event of the weekend is the trip for the Sunday paper.
People who stay at home at their country house on weekends are actually part of a different trend. They are not, strictly speaking, Couch Potatoes.
They are Porch Potatoes.