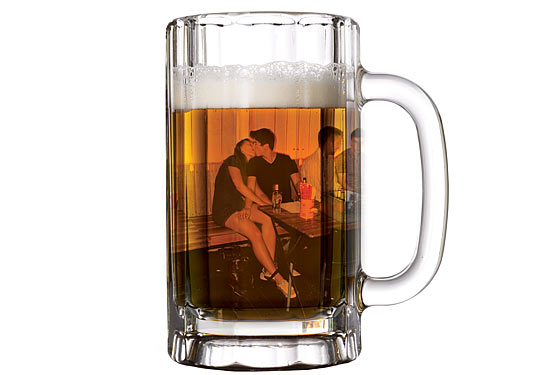 Der Schwarze Kölner
710 Fulton St., at S. Oxford St., Ft. Greene 347-841-4495
Story: Randi Lockemann is a German native, and Dale Hall lived there for seventeen years; last month, they put their accumulated lager and pilsner knowledge to use at this cheery black-and-white-tiled beer hall. Next spring, expect garden seating.
Drink This: Schneider-Weisse Aventinus ($7 for a half-liter). The rare dopplebock (a strong German lager) that's both chocolatey and fruity.
Spuyten Duyvil
359 Metropolitan Ave., at Havemeyer St., Williamsburg 718-963-4140
Story: The place for beer geeks, with an impressive range of imported brews, from Switzerland's sour, sage-flavored La Meule to a smoky Bavarian Schlenkerla Helles or Belgium's funky, citrusy Fantôme Saison. Last spring's expansion doubled the seating area.
Drink This: Orval ($12 for 11.2 ounces). The earthy, winelike pale ale made by Belgian Trappist monks is well carbonated.
The Standard Beer Garden
844 Washington St, nr. Little W. 12th St. 212-645-4100
Story: No draft beers yet, and Kurt Gutenbrunner's "sausage program" won't start until early fall, but the long shared tables on this brick patio are packed, and the two Ping-Pong tables are occupied from afternoon until midnight every night.
Drink This: Pilsner Urquell ($6 for twelve ounces). It's a standard import, but few pilsners can match this Czech's effervescence.
Washington Commons
748 Washington Ave., at Park Place, Prospect Heights 718-230-3666
Story: Sixteen rotating local and international brews served in proper stemware (Belgian Kwak comes in an hourglass-shaped flagon held in a wooden stand). The space is not so much a beer garden as a leafy courtyard with a fountain fashioned from silver beer taps.
Drink This: Captain Lawrence Reserve Imperial IPA ($6 for twelve ounces). Potent and bitter. All beers are discounted $2 till 8 p.m. on weekdays.
Berry Park
4 Berry St., at N. 14th St., Williamsburg 718-782-2829
Story: A former manager of the East Village's Zum Schneider, Christina Kornhuber reconfigured this warehouse into a rustic, hangarlike beer hall. The communal salvaged-wood tables seat 200 (it's particularly convivial during soccer matches, which are projected on the wall). There's also a 100-person roof bar with skyline views.
Drink This: Hofbräu Dunkel ($7 for a half-liter). Don't let this malty Munich lager's dark color dissuade you; it goes down smooth.
Zeppelin Hall
88 Liberty View Dr., nr. Grand St., Jersey City, N.J. 201-721-8888
Story: This Jersey City European-style beer garden opened in late June, in a condo complex four blocks from the Grove Street PATH. The indoor-outdoor expanse (combined capacity is 1,000-plus) is dotted with trees and 30-foot-long communal tables. Its Oktoberfest celebration runs through September 27.
Drink This: River Horse Double Wit ($5 for a half-liter). A fruity, spicy microbrew from Lambertville, New Jersey.
Studio Square
35-33 36th St., nr. 35th Ave., Long Island City 718-383-1001
Story: With graffiti murals and sangria on tap, this 30,000-square-foot megabar could not be more different from its nearby competitor, the scruffily authentic Bohemian Hall. But the sea of shareable tables (seating for 1,000!), bratwursts from Schaller & Weber, and twenty taps sparked by German classics like rich Spaten Oktoberfest keep it real.
Drink This: Franziskaner Hefe-Weisse ($7 for a half-liter). A lemony German beer made solely with malt, hops, and water.
t.b.d.
224 Franklin St., at Green St., Greenpoint 718-349-6727
Story: They added space this summer, annexing an adjoining lot with grass, gravel, and picnic tables. The selection skews toward local microbrews (Sixpoint, Captain Lawrence), poured slowly and pleasingly priced ($3 till 8 p.m. weekdays; half-price Monday). The upscale comfort food is courtesy of former Diner and Fatty Crab cook Jon Meyer.
Drink This: Sixpoint Sweet Action ($6 for sixteen ounces); it's the Red Hook–based brewery's light, citrusy flagship.