Far-Flung Watering Holes
Bungalow Bar
377 Beach 92nd St., at Beach Channel Dr., Rockaway Park; 718-945-2200
Drinking games:
100-person, low-stakes trivia nights. ("What city is home to the Eiffel Tower?")
Scenery:
Picturesque Jamaica Bay sunsets, complete with S trains crossing the water; new post-Sandy digs.
Novelty cocktail:
Vodka-pink-lemonade slushies served in glow-in-the-dark cups.
Acey Ducey's
101-17 Metropolitan Ave, nr. 71st Ave., Forest Hills; 718-575-5055
Drinking games:
Male wrestling on TV; Friday-night WAG parade.
Scenery:
Chummy local guys in hula-themed T-shirts; rosary-protected back bar.
Novelty cocktail:
On Sundays: a 32-ounce Bloody Mary garnished with a slider.
Female-Targeted Pubs
Campeón
9 E. 16th St., nr. Fifth Ave.; 212-675-4700
Feminine accents:
Hot-pink walls and giant-margarita piñatas alongside 36 flat-screens.
Drink specials:
The Most Interesting Cocktail in the World™, a margarita with an upturned Dos Equis.
Female-to-male ratio:
40–60
Grace
365 Third Ave., nr. 27th St.; 646-918-6553
Feminine accents:
Framed manifestos about the role of women in Irish society; name honoring a 16th-century Irish pirate queen.
Drink specials:
"Elizabethan-era" liquor (whiskey) and cocktails designed by female mixologists.
Female-to-male ratio:
55–45
Up-All-Night Clubs
HappyFun Hideaway
1211 Myrtle Ave., nr Charles Pl., Bushwick; no phone
Big night:
Saturdays, when the picnic tables are packed thanks to events like GURLid parties, which have included in-bar manicures.
Revelers:
Bushwick artists snacking on $6 nachos between MNDR songs.
Rite of passage:
Playing pinball on a refurbished machine, like one based on the Alec Baldwin movie The Shadow.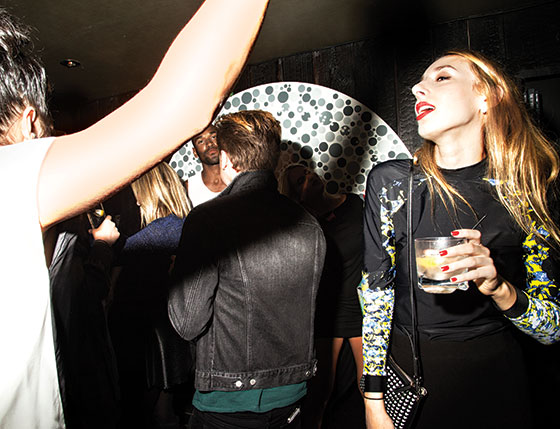 Up&Down
244 W. 14th St., nr. Eighth Ave.; 212-242-4411
Big night:
Friday, for Duh, whose rotating themes include tie-dye-costumed raves and Purim hamantaschen parties.
Revelers:
Lindsay Lohan and Hamish Bowles have been spotted on the dimly lit first-level dance floor.
Rite of passage:
Taking a selfie in the wall-of-mirrors staircase.
Friday-Night Gay Parties
Berlin Fridays at Providence
311 W. 57th St., nr. Eighth Ave.; 212-307-0062
Layout:
Three-floor banquet hall with a balcony overlooking a sweaty dance floor of shirtless 30-somethings.
Live entertainment:
Tattooed stars of the CockyBoys porn site swaying behind a backroom partition; insult comedy from Bianca Del Rio of RuPaul's Drag Race.
Gripe:
$11 for a well-vodka-and-soda.
Scarlet Fever at This n' That
108 N. 6th St., nr. Berry St., Williamsburg; 718-599-5959
Layout:
Tunnel-like space with a front "patio" where liberal-artsy folk steal e-cig breaks.
Live entertainment:
Drag queen Scarlet Envy and friends taking over the back runway for pop-music lip-sync performances.
Gripe:
Faulty bathroom-stall locks.
Additional reporting by Lauren Schwartzberg and Kurt Soller.