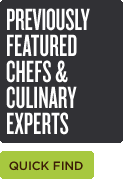 Check back
soon for
2012 updates!
We're putting together a stellar lineup of top-name chefs for the Spring 2012 New York Culinary Experience and will announce participants soon. Here's a list of the culinary stars who lent their time and talents to the 2010 event:


David Bouley
Bouley, Upstairs, Secession and Bouley Bakery

Trained at the Sorbonne and by some of Europe's most acclaimed chefs including Roger Verge and Fredy Giradet, David Bouley is the Chef-Owner of Bouley, Bouley Market, Secession and Upstairs. He has twice received a James Beard Foundation Award for "Best Chef", and has received "Best Restaurant" awards by the James Beard Foundation. Bouley was Zagat®'s top-rated restaurant in food and popularity, and no restaurant has been able to match Bouley's 29 food rating during its last three years.
Eric & Bruce Bromberg
Blue Ribbon

Born in New Jersey, brothers Eric and Bruce Bromberg trained—and earned first place honors—at Le Cordon Bleu in Paris. After working at a number of notable restaurants in Paris and New York, the Chefs Bromberg opened their first Blue Ribbon Restaurant in 1992—named in honor of their experience of being Americans trained in France and their commitment to providing a top-quality dining experience. They are now Chef/Owners of nine Blue Ribbon Restaurants, publishers of the Blue Ribbon Cookbook and were nominated as an "Outstanding Restaurateur" semifinalist at the 2010 James Beard Foundation Awards.
Jean François Bruel
DANIEL

Rhône Valley native Jean François Bruel's cooking combines the best of French tradition with American regional ingredients. He first joined DANIEL in 1996 as "Chef de Partie" before becoming sous chef at Café Boulud and then Executive Chef at dbBistro Moderne, where he earned the 2002 James Beard "Rising Star Chef" award. In 2003, Bruel was promoted to Executive Chef at DANIEL, which has earned four stars from The New York Times, three stars in the Michelin Guide and the James Beard Award for "Outstanding Restaurant."
Marco Canora
Hearth, Terroir

Marco Canora has earned rave reviews and a loyal following for his modern American menu influenced by his Italian heritage. He is the co-owner and executive chef of the James Beard Award-nominated Hearth and Terroir restaurants. His first cookbook, Salt to Taste, was released in October 2009 and nominated in 2010 for a James Beard Foundation Cookbook Award.
Andrew Carmellini
Locanda Verde

Andrew Carmellini brings his signature rustic Italian cuisine to Locanda Verde, a lively, casual Italian restaurant in TriBeCa's Greenwich Hotel. His craveable, highly seasonal menu has earned him two stars from The New York Times and New York magazine and Esquire's Best New Restaurant distinction.
Cesare Casella
Dean of The Italian Culinary Academy, Salumeria Rosi

Award-winning chef and Italian culinary authority Cesare Casella is the Dean of The Italian Culinary Academy (sister school of The French Culinary Institute) and Executive Chef/Partner of Salumeria Rosi. A frequent traveler between NYC and Italy, Casella has authored three books and designed a comprehensive training program on Italian cuisine for The Italian Culinary Academy. He appears frequently on national television including Food Network and "Molto Mario".
Ariane Daguin
D'Artagnan

When Ariane Daguin launched D'Artagnan in 1985, the company was the only supplier of game and foie gras in the country. Today, D'Artagnan is the leading purveyor of organic poultry, game, foie gras, pâtés, sausages, smoked delicacies and wild mushrooms in the nation. Ariane is a pioneer in the farm-to-table movement, dedicated to procuring the best from small farms that support humane and sustainable farming practices. She is the founding president of the Les Nouvelles Meres Cuisinieres, recipient of the James Beard Foundation "Who's Who of Food and Beverage in America" Award, and the Lifetime Achievement Award from Bon Appetit.
Gina DePalma
Babbo Ristorante e Enoteca

James Beard award-winning Pastry Chef Gina DePalma credits her close-knit Italian family for instilling a love and understanding of good food simply prepared from the best of ingredients. It's a philosophy she has carried forth in the kitchen of Babbo Ristorante and Enoteca since its opening in 1998. Chef DePalma travels frequently to Italy to reconnect with friends and family, and renew her love of Italian culture and cuisine. Her first cookbook, Dolce Italiano: Desserts from The Babbo Kitchen, was published by W.W. Norton & Co. in October 2007.
Alain Ducasse
Adour, Benoit and miX

Alain Ducasse, one of the world's most decorated chefs, is currently at the helm of three signature restaurants—in Monaco, Paris and London—each honored with three Michelin® stars. His wide variety of restaurants include the contemporary Adour at the St. Regis New York and Washington D.C., Benoit bistro in New York, miX in Las Vegas atop THEhotel at Mandalay Bay and the recently-opened miX on the beach on Puerto Rico's Vieques Island. He also leads three country hotels, cooking schools for professionals and the general public and a publishing house.
Didier Elena
Adour

Didier Elena, Executive Chef of Adour Alain Ducasse at The St. Regis New York, is a longtime collaborator with Alain Ducasse, having previously trained at Le Louis XV in Monaco, serving as Executive Chef of Alain Ducasse at The Essex House in New York and assisting in the development of Alain Ducasse's books, Flavors of France and L'Atelier d'Alain Ducasse. Chef Elena has also worked in many of France's most acclaimed kitchens, including Paul Bocuse, La Chèvre d'Or and Hotel Le Château des Crayères.
Todd English
Olives

English is a four-time James Beard Award winner and a recipient of Bon Appetit's "Restaurateur of the Year." He's published three critically acclaimed cookbooks, created a housewares line, The Todd English Collection, and hosts the Emmy-nominated PBS travel series "Food Trip with Todd English." Todd English Enterprises includes twenty-four innovative restaurants that span the country.
Mark Fiorentino
DANIEL, Café Boulud and DB Bistro Moderne

After graduating from the Scottsdale Culinary Institute, Mark Fiorentino worked in the pastry kitchen at the Sign of the Dove and helped to launch Ecce Panis, one of New York's leading artisanal bread bakeries. Since 1998, he has guided the bread kitchen that bakes each day for DANIEL, Café Boulud and DB Bistro Moderne.
The French Culinary Institute

The French Culinary Institute is one of a few schools in the United States offering an artisanal bread-baking program which teaches both the practical and theoretical sides of baking. This year, a select Chef-Instructor of The FCI—specially skilled in the art of creating sweet and savory brioche—will lead guests in an exclusive hands-on class in the school's state-of-the-art bread kitchen.
Alexandra Guarnaschelli
Butter

Chef Alexandra Guarnaschelli creates eclectic Greenmarket inspired cuisine at Butter restaurant in NYC. Guarnaschelli, who honed her craft working with some of the world's most notable chefs including Guy Savoy and Daniel Boulud, is also the host of "The Cooking Loft," which airs on Food Network on Saturday mornings at 9:30AM.
Shaun Hergatt
SHO Shaun Hergatt

Chef Shaun Hergatt's impeccably executed menu of modern Asian-accented French cuisine at SHO has garnered him a "Best New Chef" accolade from New York magazine, and "Best New Restaurant" accolades from both Esquire and New York magazines. As the young Chef de Cuisine of The Dining Room at The Ritz-Carlton, Sydney, he quickly earned international accolades. He subsequently worked at Atelier at the Ritz-Carton, Central Park and at The Setai in Miami before returning to NYC to open SHO Shaun Hergatt, his first solo project.
Ben Hershberger
Bouchon Bakery and Per Se

Ben Hershberger is the Head Baker of Chef Thomas Keller's Bouchon Bakery and Per Se in New York. He is a Certified Master Baker, and has worked as Head Baker at some of the world's top dining establishments such as the Phoenician Resort in Scottsdale, Arizona, and at two Ritz Carlton Resorts in West Palm Beach and Amelia Island, Florida. He was also a Chef/Instructor at the Florida Culinary Institute in West Palm Beach.
Peter Hoffman
Savoy, Back Forty

Peter Hoffman is the Chef/Owner of Savoy Restaurant, which he established in 1990 with his wife, Susan Rosenfeld, and of Back Forty, a casual tavern he opened in October 2007. Both restaurants work with a simple premise: to create delicious and memorable meals by sourcing the very best seasonal ingredients from local farmers. His work has been featured in The New York Times, Organic Style and The New Yorker and he has written for The New York Times, Gastronomica among other publications. Since 2000, he has chaired Chef's Collaborative, an organization educating chefs about sustainable food choices.
Craig Hopson
Le Cirque

The Executive Chef of Le Cirque, Craig Hopson formerly served as the Chef de Cuisine of New York restaurant's Artisanal and Picholine and the Executive Chef of One if by Land, Two if by Sea. Hopson was classically trained in the kitchens of Geneva and his homeland of Australia, and Paris where he met his mentor, the legendary Alain Senderens, who taught him the techniques of nouvelle cuisine. At Le Cirque, Hopson continues to uphold the legendary restaurantīs classical culinary style while adding his own modern perspective.
Michael Laiskonis
Le Bernardin

As Executive Pastry Chef of New York's Le Bernardin, Michael Laiskonis produces delicate desserts that are a flavorful balance of art and science, both contemporary and classic. Awarded Outstanding Pastry Chef in 2007 by the James Beard Foundation, his work has also helped the restaurant maintain four stars from The New York Times and three stars from the esteemed Michelin Guide.
Paul Liebrandt
Corton

Paul Liebrandt, renowned Chef and Owner of Corton, offers a culinary experience on par with the finest restaurants in the country in a relaxed and intimate atmosphere. His contemporary French menu reflects clean, precise and intense flavors. Of recent, Corton received two Michelin® Stars, three stars by The New York Times, four stars by New York magazine and was nominated for "Best New Restaurant" by the James Beard Foundation. Both Liebrandt and Corton continue to garner worldwide critical acclaim.
Anita Lo
Annisa, Rickshaw Dumpling Bar

A first-generation Chinese American, Anita Lo earned her degree in cooking at the prestigious Ritz-Escoffier school in Paris, where she graduated first in her class with honors. After interning at Michel Rostang and Guy Savoy in Paris, she worked at notable restaurants in New York City such as Bouley and Maxim's before opening Annisa in 2000 and Rickshaw Dumpling Bar in 2005. Among her many accolades are the "Best New Chef" award from Food and Wine, appearance on Crains New York's "100 Most Influential Women in Business" and defeating Iron Chef Mario Batali in the first season of "Iron Chef America".
Michael Lomonaco
Porter House New York

Michael Lomonaco currently operates the wildly successful Porter House New York at the Time Warner Center. He has hosted "Epicurious" and "Michael's Place" on cable TV and published two books, The '21' Cookbook and Nightly Specials. He is strongly dedicated to community support and charitable causes, co-founding the Windows of Hope Family Relief Fund for restaurant workers' families in the wake of September 11, 2001. In addition, he participates in fundraising and events that benefit worthy causes including City Harvest and Share Our Strength.
George Mendes
Aldea

Chef George Mendes' ability to blend modern techniques with the classic flavors of Spanish, French and Portuguese cuisines has helped make Aldea one of GQ magazine's ten best new restaurants of 2009. Mendes, a New York magazine 2009 "Best New Chef," honed his talents under the guidance of several culinary masters, including Alain Ducasse and Martin Berasategui, and cooked at Bouley, Wallsé and Tocqueville prior to opening Aldea, his first solo restaurant in New York City.
Morimoto
Morimoto

Through the seamless integration of Western and Japanese ingredients, Masaharu Morimoto has become one of the most influential and recognizable chefs in the world. The original Iron Chef is an award-winning chef and author with restaurants around the globe, including Morimoto Philadelphia, Morimoto New York City, and Wasabi by Morimoto in both New Delhi and Mumbai. Morimoto's culinary empire continue to expand with the 2010 openings of Morimoto Napa and Morimoto Waikiki.
Marion Nestle
NYU Professor in the Department of Nutrition


Nutrition expert Marion Nestle is Paulette Goddard Professor in the Department of Nutrition, Food Studies and Public Health at New York University. She writes the Food Matters column for the San Francisco Chronicle and blogs daily at foodpolitics.com. She is the author of many books, including Food Politics: How the Food Industry Influences Nutrition and Health, What to Eat and Pet Food Politics: The Chihuahua in the Coal Mine. Her forthcoming book, co-authored with Malden Nesheim, is Feed Your Pet Right.
Nils Norén & Dave Arnold
The French Culinary Institute

Chef Nils Norén, VP of Culinary and Pastry Arts at The FCI and former Executive Chef of Aquavit, has been featured on the "CBS Early Show" and "Top Chef Masters," as well as in numerous publications. One of the leaders in the high-tech cooking movement and Director of Culinary Technology at The FCI, Dave Arnold was named one of Esquire's "Best and Brightest." Nils and Dave are The FCI's dynamic tech team who combine culinary and technological know-how to explore the future of food.
Pichet Ong
Village Tart

Recipient of a "Top Ten Pastry Chefs in America" honor as well as several James Beard Foundation Award nominations, Chef Pichet Ong is renowned for mixing classic and modern flavors to create playfully sweet and savory foods. He was formerly the pastry chef at Spice Market, and his creations have been featured at leading New York restaurants including The Spot and Bubble Lounge. Chef Ong is currently working on Desserts on a Whim (a follow-up to The Sweet Spot) and the opening of Batch Bakery.
Zakary Pelaccio
Fatty Crab, Fatty 'Cue

Zakary Pelaccio is the Executive Chef and partner of two Fatty Crab restaurants in NYC and the recently opened Fatty 'Cue in Williamsburg, Brooklyn. Zakary is also a partner in Cabrito and former Executive Chef of 5 Ninth and Chickenbone Café. His restaurants reflect the distinctive facets of his classical training at The French Culinary Institute, stints at The French Laundry and Daniel and his travels across Europe and Asia. Zakary is on the advisory board of Heritage Foods USA.
Ben Pollinger
Oceana

Executive Chef Ben Pollinger's unique cooking style artfully blends the freshest seafood with the finest ingredients from a global pantry. His seasonal cooking received critical acclaim in 2008 when The New York Times' Frank Bruni awarded Oceana three stars, calling Pollinger's cooking an "exhilarating voyage." Pollinger has maintained Oceana's Michelin® star four consecutive years and received outstanding reviews from The New York Post's Steve Cuozzo and Crain's Gael Greene.
Missy Robbins
A Voce

Since joining A Voce in 2008, Executive Chef Missy Robbins has received critical acclaim for creating classic Italian specialties with a contemporary twist, highlighting flavorful ingredients and traditions from diverse regions throughout Italy. She brings her fresh approach, refined presentation and authentic flavors to the kitchens of both
A Voce Madison and the recently-opened A Voce Columbus. Prior to joining A Voce, Robbins was Executive Chef at Chicago's acclaimed Spiaggia restaurant.
Maury Rubin
City Bakery

Maury Rubin is the creator, baker and hot chocolate maker of City Bakery and Birdbath Neighborhood Green Bakery. He's been called "a baking impresario" by The New York Times and profiled by New York magazine and Food & Wine. He has been the hands-on manager of City Bakery's growth since it opened in 1990 to its current multi-level Union Square flagship location, along with three Birdbath bakeries in downtown Manhattan. Maury began baking on a whim while on a trip to Paris in 1986. He is the author and designer of Book of Tarts: Form, Function & Flavor at The City Bakery published in 1995 and winner of the IACP Cookbook Design of the Year Award.
Alain Sailhac
Dean of The French Culinary Institute

Alain Sailhac is Executive Vice President and Dean Emeritus of The French Culinary Institute. He began his distinguished career in France, subsequently cooking his way around the world, and ultimately took New York's restaurant scene by storm. He helped Le Cygne capture four stars from The New York Times, brought a three-star rating to legendary Le Cirque and was also the Executive Chef of the Plaza Hotel and the '21' Club in New York. In 2003, he was inducted into the James Beard Foundation's "Who's Who of Food and Beverage in America."
Marcus Samuelsson
Red Rooster Harlem

Recent winner of Top Chef Masters Season Two, Chef Marcus Samuelsson is an acclaimed chef whose blend of culture and artistic excellence first caught the attention of the culinary world at Aquavit, which received a three-star rating from the New York Times during his tenure as Executive Chef. In addition to being a successful cookbook author, Marcus has been featured on Iron Chef, Martha Stewart, Today Show and Live with Regis and Kelly. He recently served as guest chef at the White House, where he planned and executed the Obama administration's first state dinner.
André Soltner
Dean of The French Culinary Institute and Former Chef/Owner of Lutéce

André Soltner shares his artistry with students of The French Culinary Institute as Dean of Classic Studies. Recognized as America's "first superstar chef," Soltner is best known as the former Chef-Owner of the four-star Lutèce, considered the paragon of classic French cuisine. He has received dozens of distinctions including the Officier du Mérite National and the Légion d'Honneur from the French government.
Bill Telepan
Telepan

A graduate of The Culinary Institute of America, Bill Telepan apprenticed with the legendary Alain Chapel at his eponymous three-Michelin®-star restaurant outside Lyons and worked under Daniel Boulud at Le Cirque, Gilbert Le Coze at Le Bernardin and Alfred Portale at Gotham Bar and Grill. He was the Executive Chef of New York's JUdson Grill until 2004, and in 2005 opened his own restaurant, Telepan, on Manhattan's Upper West Side, "I wanted it to be a neighborhood spot, but also to excite diners with food that was beyond ordinary," he says, voted "Best Newcomer" in New York City's 2007 Zagat® Survey."
Jacques Torres
Dean of The French Culinary Institute, Jacques Torres Chocolate

Known as "Mr. Chocolate," Jacques Torres spent eleven years as Executive Pastry Chef at Le Cirque 2000 before creating his world-renowned chocolate company, Jacques Torres Chocolate. The Dean of Pastry Arts at The French Culinary Institute, Torres has received several distinctions including the James Beard Foundation "Best Pastry Chef of the Year."
Laurent Tourondel
BLT

Chef Laurent Tourondel continues to oversee operations for 10 restaurants around the world in destinations such as New York, Miami, Las Vegas, Scottsdale, Atlanta, Charlotte, Honolulu and Hong Kong. Tourondel was named Bon Appétit magazine's Restaurateur of the Year in 2007 and has worked at Relais & Chateau Troisgros in France and at Cello in New York City. He is also the author of two cookbooks, Bistro Laurent Tourondel and Go Fish, both from Wiley.
Back to Top