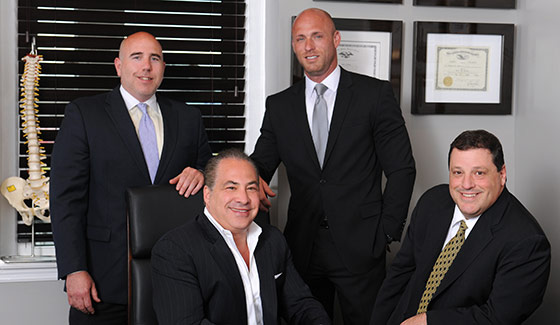 Since attorney Marvin Bergman hung his shingle outside a one-room law office more than 50 years ago, his firm has grown into Bergman, Bergman, Goldberg, Fields & Lamonsoff, LLP the powerful litigation partnership it is today. From offices in Queens, New York City, and its own building in Nassau County, the firm has continued to expand by never straying from its focus on maintaining the strongest personal relationships with its clients. As a result, unlike many firms, Bergman, Bergman, Goldberg, Fields & Lamonsoff, LLP still receives most cases through referrals from past clients. The firm has now represented four generations of families, and it is not uncommon for the great-grandchild of an original client to seek the firm's help. Michael Bergman attributes this longevity to the firm's practice of providing clients with one-on-one attention and continuous case updates, and also to its expertise: the firm's partners have been recognized and rated by New York Super Lawyers and have received five-star client reviews on Avvo, the online attorney rating directory.
"When clients come to our firm, they are entrusting us with the utmost responsibility—to protect their future following a devastating loss or injury," says Mr. Bergman. "From experience, we know that the only way to accomplish this goal is to truly understand what our clients are going through and how their lives have been affected by tragedy. To help a jury understand the depths of a person's loss, you have to feel it yourself first." With this empathetic approach, Bergman, Bergman, Goldberg, Fields & Lamonsoff, LLP has obtained many six- and seven-figure verdicts and settlements. Among those results, the firm's experienced litigators have in the past two years recovered $3.1 million for a crane operator who was injured when he fell from the crane platform, $1.5 million for a moped operator who lost part of his leg, $1 million for a woman who required spinal surgery following a rear-end collision, $1.25 million for a woman who fractured her ankle upon being struck by a car, and $3 million for a man who suffered a serious head injury at an event hall.
"These results were the product of our relationships with our clients, because we understood not only how our clients' injuries affected their own well-being, but also the profound impact the injuries had on the family as a whole," says partner Eric Lamonsoff. "By focusing on that impact, we were able to effectively illustrate the seriousness of our clients' injuries, and show how those injuries had altered their lives."
In addition to building strong client relationships, the firm employs unyielding negotiation tactics and an aggressive litigation style to ensure that clients receive full compensation in their case. From the outset, every case is fully prepared for trial, regardless of whether it involves an automobile or construction accident, a premises or products liability matter, or a medical malpractice suit. Moreover, cases are managed as a team, with the partners discussing every aspect with an eye toward maximizing recovery.
"When we reflect on our continued success, we know that it is entirely based upon our close relationships with our clients and good old hard work," Mr. Bergman says. "We recognize that clients are putting a lot of trust in us—their case represents their sole opportunity to obtain justice. So we do everything in our power to earn their respect, and we never waver from our goal of obtaining an award that fully compensates them for their injuries."