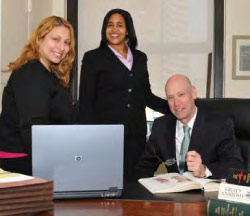 With more than thirty years representing the victims of automobile accidents, construction accidents, products liability, medical malpractice, and aviation accidents under his belt, personal injury attorney Lawrence B. Saftler's name is known far beyond the borders of Manhattan. His work, which has helped change the theory of the law in matters such as finding liability against the black car industry, among others, has drawn attention throughout his career. He has attracted clients from as far as Pakistan, Sweden, and Bangladesh, and even received a referral from the British Embassy. He has brought in multiple seven-figure verdicts and settlements for his clients, has spoken on behalf of the New York State Bar Association on Construction Accidents and Labor Law, and is among the fewer than 1% of US lawyers to call themselves a member of the prestigious Million Dollar Advocates Forum—and yet, more importantly than all of this, he is an honest, straightforward man with a reputation as a fighter in court, who has the utmost trust in his clients and their story.
"The more knowledge and experience you have creates a benefit for your clients when trying to arrive at a just result on their behalf," says Mr. Saftler.
The Saftler Law Firm is dedicated to seeking redress for those who have been injured as the result of negligence. Mr. Saftler's diverse client base is attended to by a bilingual staff and an associate, Tatia Barnes, who formerly worked as a District Attorney in Bronx County. All members of the firm stand ready to assist seriously injured accident victims.