Aquavit at Aquavit
65 E. 55th St., nr. Park Ave.; 212-307-7311
Once you've stepped up to the sweepingly modern Scandinavian bar, you'll be shouting "Skoal!" instead of clinking glasses. For your three bracing shots of aquavit ($17), you have an array of homemade flavors to choose from—cucumber, saffron, even coconut. Fortification comes in the way of a sampler of gravlax or some hearty Swedish meatballs with tangy lingonberries.
Tequila at Dos Caminos Park
373 Park Ave. S., nr. 26th St.; 212-294-1000
475 W. Broadway, at Houston St.; 212-277-4300
Among what just might be the city's most extensive collection of tequila are a goodly number from small, artisanal distillers. Put Chinaco, Tartida, and Oro Azul to the test by selecting one of the several flights categorized by age and priced from $14 to $40.
Shochu and Sake at EN Japanese Brasserie
435 Hudson St., at Leroy St.; 212-647-9196
At this airy space where ancient Kyoto meets industrial chic, adventurous samplers of shochu can request house flavors like mocha, ginger, and pineapple ($8 each). For traditionalists, the sake flight of crisp Biho, smooth Masumi Nanago, and bold Hira Izumi sticks to the tried and true ($16).
Martinis at Flatiron Lounge
37 W. 19th St., nr. Fifth Ave.; 212-727-7741
From the bar's own infusions to a flamed orange-peel garnish, owner Julie Reiner spares no effort when creating her intoxicating martini flights ($18). Rotating themes can address types of liquor (the French cognacs for "Flight to France") or historical eras of note (Prohibition-era cocktails for "Flight Back in Time").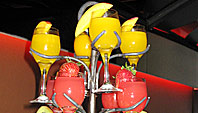 Wild Card at Sugarcane
243 Park Avenue S., nr. 20th St.; 212-475-9377
Don't fly solo on this one since $50 gets you four flights of three in an ornate iron "cocktail tree." Though the bar specializes in sake, shochu, and vodka, you can spice up whatever you're ordering by pairing your drinks with a spicy-tuna roll or some Peruvian-inspired seviche from the SushiSamba next door.