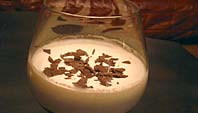 Grand Macchiato at Church Lounge
Tribeca Grand Hotel, 2 Sixth Ave., at Church St.; 212-519-6600
This brand-new wintry treat puts Starbucks to shame: A glass of hot espresso blended with Goslings Black Seal Rum and Frangelico is topped with a layer of foamy whipped cream and crumbled dark chocolate. Bar policy also allows imbibers to enjoy the concoction in the company of a pet—not that you'd need a St. Bernard toting a barrel of brandy.
Earl Grey MarTEAni at Pegu Club
77 W. Houston St., nr. W. Broadway; 212-473-7348
No hot drinks at Pegu yet, but the cool Earl Grey MarTEAni is a perennial pleaser. Despite the name and the tea-infused gin, the foamy pale yellow drink tastes little like your average cuppa. Fresh lemon peel gives it a bracing aroma and first sip.
Espresso Martini at Thor
107 Rivington St., nr. Ludlow St.; 212-796-8040
Thor's delicious milk-shake-like Espresso Martini is made with coffee-infused Patron tequila, Kahlua, Bailey's Irish Cream, simple syrup, and espresso and is garnished with whole coffee beans. Sip it in the spacious and austere lounge area or seated at tiny side tables flanked by Goth black-velvet armchairs.
Mocca Chocolata at Mocca Lounge
78-82 Reade St., at Church St.; 212-233-7570
If the nocturnal dance music at this sandwich-shop-by-day doesn't perk you up, turn to the cool Mocca Martini, made with fresh espresso and chocolate liqueur. Chocolovers have many options, including a Mocca Chocolata (thank you, Lady Marmalade) that's a piping-hot mélange of light and dark chocolate and Godiva liqueur, topped with a dollop of steamed milk.
Spiked Arnold Palmer at Lure Fishbar
142 Mercer St., at Prince St.; 212-431-7676
The bar's nautical porthole-shaped lights and masculine plaid carpet brighten up the coldest and dreariest of days. Try the Spiked Arnold Palmer (Earl Grey tea steeped in Pravda vodka, lemonade, and muddled fresh mint) and pretend your cruise ship is headed for sunnier climes.