1. Manny Howard might not have anticipated the main criticism of his tale of building a backyard farm in Brooklyn ("My Empire of Dirt," September 17): that it smacked of entitlement. Not everyone felt this way—one blogger called the story "awe-inspiring and insightful." But an online commenter was not impressed: "The more magazines like New York stick to covering the solutions of the wealthy, the more us plebes will assume you have to be rich to be green." Others took exception to the project's conceit. Lindsey Lusher of Brooklyn wrote that rather than "spending $11,000 on his garden to feed himself just two meals a day for a month," Howard might have joined the locavore movement and "purchased a subscription to one of many local farms." We might point out that this would have been cheating, given that Howard's goal was to grow and raise his own food. However, it would have saved severe trauma to his pinkie. So, he might have agreed to that point.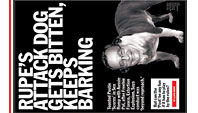 2. Lloyd Grove, former columnist at the Daily News, was up-front about his conflict of interest in profiling Post editor Col Allan ("Rupe's Attack Dog Gets Bitten, Keeps Barking," September 17). But the blog Jossip wasn't satisfied. It felt that incidents between Grove and Allan—one in which Chris Wilson of "Page Six" spat whiskey on Grove's former assistant, and Allan asked Wilson "Why didn't you punch him?"—constituted a beef that might have clouded Grove's journalistic judgment. Let's get real: If people were disqualified from writing about anyone who'd ever encouraged someone to punch or spit whiskey on their former assistants, well, no media profiles would get written in this town. Most other readers echoed the sentiment of Portfolio columnist Jeff Bercovici: "There is so much amazing stuff in this piece, I hardly know where to begin."
3. Speaking of Bercovici, on his Mixed Media blog he wondered whether our recent portrait of Matt Drudge ("Watching Matt Drudge," September 3) was the impetus for Drudge to quit his radio show. The theory was refuted by a commenter calling himself "Matt Drudge"—who claimed he'd announced the decision to his syndicate, Premiere Radio, before our article appeared, which Bercovici later confirmed. "So it seems our commenter 'Matt Drudge' is, in fact, Matt Drudge," he wrote. Matt Drudge, by the way, also posted on Bercovici's blog that "the NY Mag story was a riot! I thoroughly enjoyed it." What to make of that?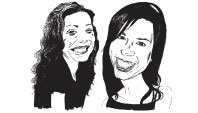 Fashion Week Is Finally (Fugging) Over
Last week, the Fug Girls, two fashion "outsiders" whose blog Go Fug Yourself follows the missteps of the celebrity class, blogged about Fashion Week on nymag.com. Here is a selection of comments from the girls' lovers and detractors:
"For the life of me, I cannot figure out why anybody would care what these two think about fashion. They have no experience, no credentials, and no style."
—Haute
"Okay. But Britney's not wearing pants, y'all."
—Rachel
"Because they're smart, Haute. Unlike some other people I could name."
—Abby
"Haute, because these girls represent what the 'real' people that will be wearing fashions think. Credentials? Experience? Wearing clothes every day and having to shop for said clothes from practically the day your [sic] born doesn't count? The designers should listen up!"
—MomaDoll


Top Five Fashion Shows
Traffic to our Website's live videos of last week's shows set Gwen Stefani's punky, gold-tinged L.A.M.B. line far ahead of the rest.
1. L.A.M.B.
2. Marc Jacobs
3. Vera Wang
4. BCBG
5. Oscar de la Renta
Please send e-mails to: comments@nymag.com