1. Last week's cover (October 8), showing Bill Clinton as the First Lady, was all over television—featured on Meet the Press, Face the Nation, all three evening network newscasts, and even The View. The New Republic's blog called it "hilarious." The Amp Power blog was unimpressed, declaring it the "worst all-time mag cover" and opining, incorrectly by the way, that "an intern must have surely made this."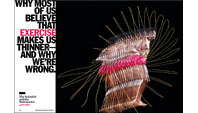 2. Gary Taubes's "The Scientist and the Stairmaster" (October 1), in which he argued that exercise does not lead to weight loss, could have inspired great happiness—no more going to the gym, everybody! Instead, many respondents were upset; some offered personal anecdotes about how their own workout habits flatly defy Taubes's thesis. Others offered their own scientific explanations. A small minority praised the author—"I love articles that question conventional wisdom," wrote blogger David Brake, "particularly if in doing so they refer to scientific evidence instead of just anecdotes." And we thrilled one reader, Bonnie Lyons Salkind of Great Neck, who wrote that after "recently turning 61, and walking four miles a day five times a week for the last twenty years," she was going to "find my old aquamarine gym suit from the fifties and start eating Twinkies." We know you're kidding, Ms. Salkind, but even Taubes agrees that Twinkies are bad for you.
3. On the last day of the Mets' tragic season, reliever Billy Wagner went to manager Willie Randolph and pitching coach Rick Peterson to apologize for comments he made to Chris Smith ("The Closer," October 8). "Our pitching coach has no experience talking to a bullpen," Wagner had told Smith. "He has no idea what it feels like. And neither does Willie." All the major dailies reported on Wagner's comments, as well as his apology. "As crappy as I've been this year, they've been fantastic in supporting me and finding ways to use me," Wagner said. On the Major League Baseball Website, Randolph said he was unfazed. "It just rolls off my back. It's irrelevant to what we're trying to do."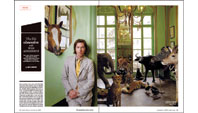 4. A cultural critic's job is to offer opinions; several readers have volleyed back recently:

David Edelstein's lackluster review of the magnificent film Into the Wild … itself deserves a poor review. Mr. Edelstein seems to have a personal problem with Sean Penn. Since when does the private life of a director or writer have anything to do with evaluating the artistic merit of a work of art?
—Vivien D. Wolsk, Manhattan ["The Forest for the Trees," September 24]
Hugo Lindgren's condescending tone in his review of Bruce Springsteen's Magic is typical of young critics who tend to marginalize the careers of older artists whom they can't relate to. Where your critic hears karaoke, we hear anthems.
—Tracy Nieporent, Manhattan ["Bruce Almighty," October 8]
In your otherwise helpful overview of Philip Roth's books, I looked in vain for any mention of Patrimony, a True Story, Roth's elegiac account of his father's life and dying. Roth's account of his own patrimony is every bit as good as his best novels and should be acknowledged as such.
—Justine Cullinan, Jamaica ["The (Near Complete) Roth Reader," October 1]
Excluding filmmaker Abel Ferrara, who more embodies New York than any of your boring, pandering cover mug choices, is downright criminal. Wes Anderson equals New York? Since when? Noah Baumbach? Who watches his movies? Ferrara's films are constantly pushing the boundaries of cinema. Go Go Tales is included in the New York Film Festival. Did you realize that?
—Christian Schaal, Manhattan ["Their New York Film Festival," October 1]
5. A book grows in Brooklyn: Manny Howard, who wrote "My Empire of Dirt" (September 17), about his efforts to grow all his own food for a month, has sold an expanded account of the article to Scribners.
Corrections: In "Look Book: Preschool Drop-off" (October 8), Lisa Slotkin is pictured with son Asher (left), not Jessica Meli with son Julian; in "Vu.: Market Research: Penthouses," the architect of Justin Portman and Natalia Vodianova's penthouse should have been listed as Arpad Baksa; James (not "John") Cavagnari served as decorator.
CONTENTION
"Taste Test: Gum," by Ben Mathis-Lilley (September 24), got chewed over by the blog the Darn News: "We're right there with you in the mint and fruit categories (Wrigley's and Adams Sour Cherry) but Bazooka Joe as the bubble-gum winner?! Repeat after us, citified liberals: big league-effing chew*."
*Translation for citified liberals: They're referring to Big League Chew, a brand of bubble gum that comes in a pouch.
Please send e-mails to: comments@nymag.com