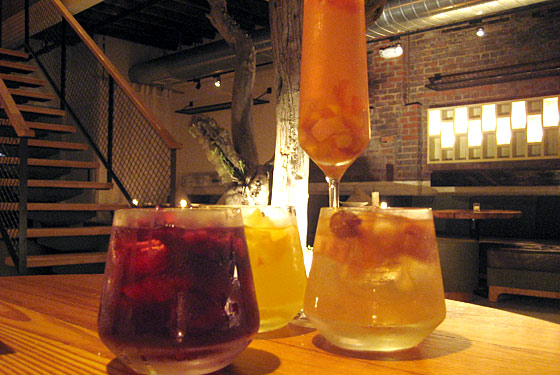 Pisco: Rayuela
165 Allen St., nr. Stanton St.; 212-253-8840
You can get a fine traditional red sangria at this progressive Latin eatery, but its stylo libre approach to cocktails also means a white variety that combines pisco (the potent Chilean brandy) with white wine, Bacardi Limon, and chunks of kiwi, pineapple, and orange. The Cava sangria is less cooling and more festive: At the bottom of the Champagne flute it comes in you'll find strawberries, peaches, and mangos that have been marinated in potato vodka. Another offering that incorporates sake and pear liqueur has a rich, earthy taste. Glass: $10. Pitcher: $30.
Rum and infused vodka: Barramundi
67 Clinton St., nr. Rivington St.; 212-529-6900
This Lower East Side mainstay uses rum instead of brandy in their tart white sangria, which is ladled from a jug on the bar. While you're sipping it at the open windows up front, see if you can taste the secret ingredient: house-infused vodka. Glass: $5. Pint: $8 (dollar off during happy hour, Daily, 6 p.m. to 9 p.m.).
Sake: Sumile Sushi
154 W. 13th St., nr. Sixth Ave.; 212-989-7699
If you're fortunate enough to snag a sidewalk seat on this sushi den's leafy residential block, celebrate with a complex sangria in which the acidity of Sancerre wine evens out the dryness of Suishin sake. A bed of cantaloupe, honeydew, mango, papaya, pineapple, and kiwi infuses the drink with a tropical flavor. Glass: $8. Pitcher: $15.
Cachaça: Carne Vale
46 Ave. B, nr. 4th St.; 212-777-4686
Booze usually balances a sangria rather than dominates it, but at this Brazilian rodizio, the bracing taste of premium cachaça comes on strong. It's combined with passion-fruit purée and the house sangria, a mix of red wines, Champagne, vodka, chopped fruit, and pineapple and cranberry juices. It's best enjoyed on the narrow back patio, when there's a live samba band on the weekend. Glass: $9. Pitcher: $45.
Gin, tequila, and beer: Boqueria
53 W. 19th St., nr. Sixth Ave.; 212-255-4160
If the concept of beer sangria rubs you the wrong way, think of Boqueria's signature drink (actually created at sister restaurant Suba) as more of a shandy: It's wheat beer with just a bit of lemon juice and triple sec. A rose variety marries the dry woodiness of gold tequila with the tartness of cranberries and pomegranate juice. White rum and apricot purée drive the white sangria while a hint of gin puts a twist on the traditional red. Glass: $8. Pitcher $32.
Limoncello: Dani
333 Hudson St., at Charlton St.; 212-633-9333
What do you get when you mix homemade limoncello and Italian brandy with muddled fruit and passion-fruit purée, adding a colorful float of red wine? Sicilian sangria, says Ben Scorah, the mixologist at this West Village Italian spot. Dani's kitchen was a filming location for No Reservations, but that's neither here nor there when you're sipping at one of the covered sidewalk seats. Glass: $10.