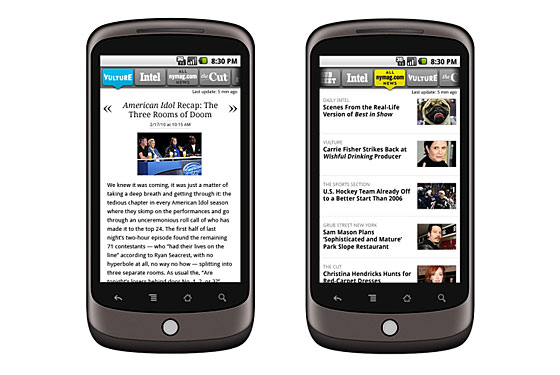 Now you can access five of your favorite nymag.com blogs—Daily Intel, Vulture, Grub Street, The Cut and The Sports Section—directly on your mobile device. The smart interface lets you scroll headlines by individual blog or from one stream featuring all five blogs.
The auto-refresh functionality loads full blog posts, not just headlines, so you can catch up on the subway or anywhere mobile service isn't available.
Even better, the app is totally free and works on all mobile devices running Android version 1.6 or higher. If you've got an Android phone, you can download our app from the Android Marketplace. Either search for it on your phone, or use your phone to shoot the QR code below and go directly to the download page.