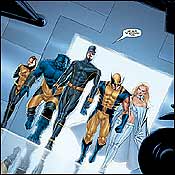 Two years ago, writer-director Joss Whedon had three shows on the air: Buffy the Vampire Slayer, Angel, and Firefly. Then came the cancellations. But even as the television networks began presenting their latest slate of reality vaudeville and Law & Order spinoffs, Whedon was busy planning his next project: not a TV pilot but a year's worth of a comic book, Marvel's Astonishing X-Men.
"Superheroes are one of the central myths of the twentieth century," Whedon says. "People in comics knew this so long ago, they completely deconstructed the superhero and built it up again." Whedon seems to be doing a bit of the same to his own career path. Granted, he's hardly the first cultural figure to draw from the comics: Michael Chabon won the Pulitzer for The Amazing Adventures of Kavalier & Clay; the characters in Jonathan Lethem's books keep acquiring superpowers. But Whedon may be the first television executive producer to take on the task of writing comic books for a niche audience—an unusual gambit, but one that comes naturally to a creator who thinks of himself as a geek who made good.
As every fanboy knows, comics have long since grown up from their juvenile origins, taking on a self-consciousness that could give Dave Eggers a run for his money. But the trend seems to be moving back to pure storytelling. Whedon's predecessor on X-Men is scripter Grant Morrison, who spent years on comics like Animal Man, taking a third-rate DC superhero and giving him the uncomfortable awareness that he was a fictional character; more recently, however, he has shifted toward writing cracking-good yarns. Whedon has settled on a similar back-to-basics approach. "I'm an old-fashioned storyteller to the point where I'm almost pedantic in my structure and moralism," he says. "I don't need to destroy the myth; all I want to do is make people care about these characters."
"His return to the printed page provides an added advantage: a genre-friendly audience guaranteed to stay the course."
For Whedon's first issue, drawn by John Cassaday, school's back in session at Xavier's mutant institute up in Westchester. This means skintight yellow-and-blue costumes, the revival of the Cyclops-Wolverine rivalry—which continues despite the death of Jean Grey, their mutual object of desire—and Whedon's trademark references to pop culture ("Did I miss the sorting hat?"). It also marks the return of the long-absent mutant Kitty Pryde, who was one of the first overtly Jewish superheroes when she debuted back in 1980. "If there's a bigger influence on Buffy than Kitty, I don't know what it was," Whedon says. "She was an adolescent girl finding out she has great power and dealing with it."
In fact, all of Whedon's TV work bears the stamp of the X books, and not just because many of his stars are, like X-Men's mutants, teenagers with unusual powers. When Whedon tried to write a show with a single brooding lead, the Buffy-spinoff Angel, the attempt fell flat—but once he surrounded the titular character with a team of misfit heroes, the series began to sparkle. Both Marvel's world and the Buffyverse are built on potent supernatural metaphors: X-Men's mutant gene suggests both racial difference and adolescence; Whedon's version of witchcraft is linked to both lesbianism and addiction (sometimes, messily, both at once).
But if Whedon himself views his project as a natural extension of his TV work, the printed page clearly provides at least one major advantage for the creator: a genre-friendly readership, guaranteed to stay the course. "In this weird way, TV's become like the movie industry," Whedon says. "It's all about the opening weekend—there's no such thing as a slow build. I don't think that's a healthy way to run a business." So Whedon is stepping away from the small screen for at least the next year, spending his days working on his other major project: a movie version of Firefly, the doomed sci-fi Western that he created for Fox, only to have his space vessel swamped by a wave of reality programming. (Called Serenity, and starring the original cast of the TV series, the film goes into production this month.)
But he's spending his nights with the X-Men. Was this shift prompted by a desire to avoid repressive notes from network-TV executives? "Actually, there's more people looking over my shoulder with the comics. I have to be careful: Nobody curses, nobody smokes, I can't show skin," Whedon says. "I mean, did you ever see Buffy? It was dirty."