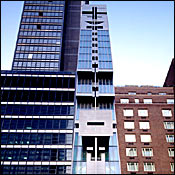 It is just a sliver of land, 25 feet wide, originally meant for a townhouse. But when the Austrian Cultural Institute announced a competition for its 11 East 52nd Street headquarters nearly a decade ago, some 226 architects vied for the commission. Raimund Abraham, a crusty, outspoken professor at Cooper Union, won, but we have had to wait nearly a decade to see his vision realized.
The renamed Austrian Cultural Forum finally has opened its pivoting glass doors, and New Yorkers now have a spectacular addition to the short list of new structures that qualify as works of art. Abraham, who just renounced his Austrian citizenship to protest Jörg Haider's participation in the coalition government, has long practiced as New York's resident architectural mystic. On a block of stock, repetitive buildings, the Forum's 24-story façade is haunting, part totem pole of evocative, occult forms, part elongated mask with a focused, threatening gaze. The building rises vertiginously in terraced wedges that seem about to slip like falling blades. At a time when other architects are pursuing lightness, transparency, and concept, Abraham suspends the cascade of wedges in shadow, and makes glass look opaque and heavy. The symmetries are fearful.
Abraham has spent a lifetime thinking about how form, space, and matter yield soul: For him, there's a different, subjective, rather than objective, way of being a Modernist. "My architecture comes out of the meaning of a site," Abraham says, "and here I was interested in the void holding out against the massive lateral compression from the buildings on each side.
"Architecture is dangerous," he adds, "because each building has to defend itself against others. Architecture is ultimately violent; it disturbs an existing equilibrium. I needed a façade of armor to shield the building from the rest of the city."
All structures above a certain height in New York must include setbacks to allow light and air to reach the street, and Abraham uses dark wedges that look like precarious tectonic plates protecting an interior life.
The design, then, is not just an architectural product but a spirited form whose monumental anthropomorphism – with suggestions of eyes, a nose, a mouth, and a brow – recalls the monoliths on Easter Island. Each angled segment corresponds to an interior function as though in a Freudian interplay between the conscious façade and a subconscious life inside. The cube projecting toward the street, like a pulpit or diving board, contains the director's office. The multistory brows above house offices and a four-floor apartment for the director and his family.
Monumental and formal outside, the intimately scaled interior contains a string of unique spaces. Entering visitors step into a succession of terraced exhibition rooms that lead down to the basement and up to the third floor in a flowing promenade that ends in a small, multiuse, double-height hall outfitted for music and film. "I wanted flowing space to overcome the narrowness," says Abraham.
The interiors are neither universal nor generic but specific, tailored, and unpredictable. The horizontally slotted window in the director's cube gives occupants seated at a meeting a framed view into the canyon of high-rise buildings outside. The tall vertical line on the front that recalls a nose corresponds to the staircase connecting the two floors of the library. Abraham has packed staircases, bathrooms, and elevators at the back of the building to push the habitable space forward to the windows and view.
The first several floors are intended for an active cultural program open to the public, and Abraham has created a spatially complex set of rooms, dense and intense rather than neutral. He challenges the director, Christoph Thun-Hohenstein, to find a resonance between the architecture and the Forum's program. Thun-Hohenstein has announced an ambitious year of programming around the theme of "Transforming Modernity," and he foresees experiments in artistic synthesis, with music composed for photographic exhibits, for example, and chamber music set in rooms arrayed in light grids. "The whole building," says Thun-Hohenstein, "is like a laboratory for us."
New Yorkers should stay tuned to see how well this intelligent and articulate piece of architecture can help provoke the life in the ambitious Forum it houses.
Austrian Cultural Forum
Designed by Raimund Abraham.